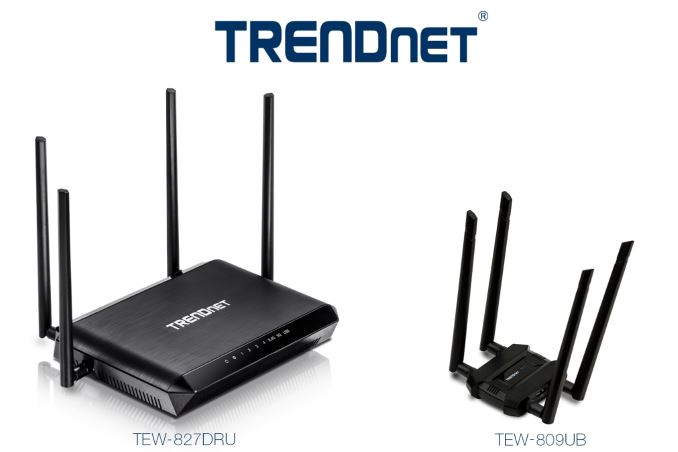 TRENDnet's CES suite had plenty of networking equipment ranging from outdoor long-range access points to industrial switches. It made clear that TRENDnet is focusing more on SMB, particularly in the emerging markets. However, the two announcements at CES were both related to their consumer efforts - one was the TEW-827DRU, a AC2600 MU-MIMO 4x4 802.11ac MU-MIMO router and the other was the TEW-809UB, a AC1900 USB 3.0 WLAN adapter.
The TEW-827DRU is a 4x4 802.11ac Wave2 router with MU-MIMO capabilities using the Qualcomm Atheros IPQ8064 (1.4 GHz dual-core Krait 300 CPUs) + QCA9980 platform. It supports 256-QAM on the 2.4GHz band to deliver 800 Mbps of throughput, while the 5GHz band delivers 1733 Mbps. TRENDnet has licensed Qualcomm's StreamBoost QoS engine for this product in order to bring down latencies for gaming applications. The unit features four Gigabit LAN ports and two USB 3.0 ports. Even though the press release went out at CES, the unit has been available on Amazon for a couple of months now. The press release suggests a retail price of $275, but Amazon already has it on sale at $238.
Note that this is not the latest QCA platform. The IPQ8065 + QCA9984 with 160 MHz channel support is the leading edge offering from QCA now, but routers based on that platform (example) will launch at a higher price point.
The other interesting announcement was the TEW-809UB, a AC1900 USB 3.0 WLAN adapter. It is a 3x3 solution (1300 Mbps in the 5GHz band and 600 Mbps in the 2.4GHz band). The specifications looked suspiciously similar to the D-Link DWA-192 which uses the Realtek RTL8814AU 802.11ac wireless chipset with a USB 3.0 interface. I confirmed with TRENDnet that the TEW-809UB also uses the same chipset.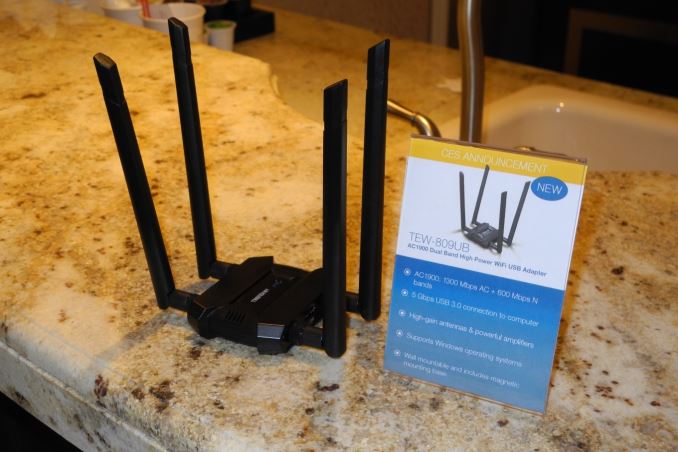 The DWA-192 goes for compactness and internal antennae. The TEW-809UB could potentially provide a better user experience due to the presence of external antennae. The unit comes with a 3.3ft USB 3.0 cable that should make it easy to optimally orient the device for both desktops and notebooks. Despite the marketing pamphlet indicating magnetic mounting options in the above picture, TRENDnet indicated that wall-mounting and desktop placement are the only available options. The MSRP will be $110 when it launches in early Q2.
Source: TRENDnet