Introducing the Dell Precision M6700
When you think about it, the enterprise workstation market really only has three key players. You have HP, who produce some excellent mobile workstations but have been stagnating horribly on the desktop side. You have Dell, who produce what are in my opinion the best desktop workstations but seem to be substantially less exciting on the notebook end. And you have Lenovo, who excels in neither discipline but offers a fairly balanced portfolio in exchange. This presents a problem, and it's a problem we're looking at today.
What we really want and need is a single vendor to order notebooks and desktops from and be able to call it a day. While HP's desktops aren't bad, they're overpriced compared to Dell's offerings. Today we have the updated Dell Precision M6700 on hand, a robust notebook featuring a full sRGB IPS panel with user-configurable gamma, a Kepler-based workstation GPU, and Intel's Ivy Bridge quad core processor. But with workstations it's not just about the internals, it's about the design and the experience. Did Dell come up with a worthy competitor to HP's EliteBooks, or did they just come up short?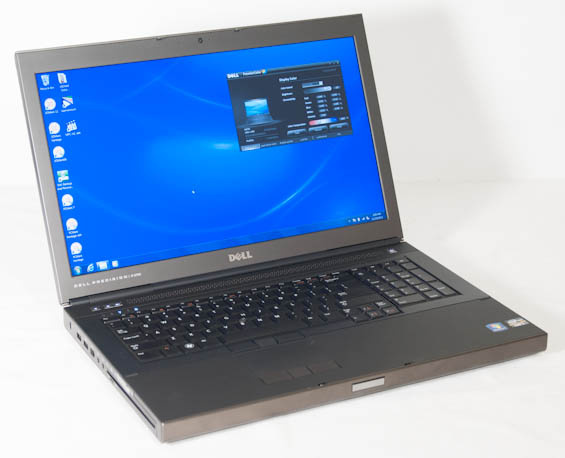 Three years ago, this wasn't the way things were. HP had great desktops and Dell had great notebooks, but the situation seems to have almost completely flipped. The design language on HP's enterprise class notebooks suddenly unified, offering a combination of style, serviceability, usability, and performance that was able to compete with Dell's Precision line as well as Lenovo's sadly declining ThinkPads. As you'll see, though, just as HP's desktop workstation department seems to be coasting, Dell's mobile workstation department is having a hard time playing catch-up.
Dell Precision M6700 Notebook
Processor
Intel Core i7-3920XM
(4x2.9GHz + HTT, 3.8GHz Turbo, 22nm, 8MB L3, 55W)
Chipset
Intel QM77
Memory
4x4GB Kingston DDR3-1866 (expandable to 4x8GB)
Graphics
NVIDIA Quadro K5000M 4GB GDDR5
(1344 CUDA cores, 601MHz/3GHz core/memory, 256-bit memory bus)
Display
17.3" LED Matte 16:9 IPS 1920x1080
LG Philips LP173WF3
Hard Drive(s)
Samsung PM830 128GB mSATA 6Gbps SSD

Seagate Momentus 7200.5 750GB 7200-RPM SATA 3Gbps HDD
Optical Drive
HL-DT-ST Slot-Loading DVD+/-RW GS30N
Networking
Intel 82579LM Gigabit Ethernet
Intel Centrino Advanced-N 6300 802.11a/b/g/n 3x3
Bluetooth 4.0
Audio
IDT 92HD93BXX HD Audio
Stereo speakers
Mic and headphone jacks
Battery
9-Cell, 97Wh
Front Side
Latch
Right Side
Wireless toggle
HDD caddy
2x USB 3.0
DisplayPort
Left Side
Kensington lock
2x USB 2.0
6-pin FireWire
Mic and headphone jacks
SD/MMC card reader
ExpressCard/54 slot
Slot-loading optical drive
Back Side
Vent
Ethernet
VGA
HDMI
eSATA/USB combo port
AC adapter
Operating System
Windows 7 Professional SP1 64-bit
Dimensions
16.41" x 10.65" x 1.3-1.42"
416.7mm x 270.6mm x 33.1-36.1mm
Weight
7.76lbs / 3.52kg
Extras
PremierColor display
Flash reader (SD/Mini SD, MS/Duo/Pro/Pro Duo)
USB 3.0
SIM card slot
Optional WWAN
Fingerprint reader
Backlit keyboard
Trackpoint
Warranty
3-year parts and labor
Pricing
Starts at $1,614
As configured: $4,533
On the hardware side, the Dell Precision M6700 certainly has a lot going for it. While Dell's BIOS doesn't allow for any overclocking, the Intel Core i7-3920XM is still an incredibly fast processor, with a nominal clock speed of 2.9GHz, able to turbo up to 3.6GHz on all four cores, 3.7GHz on two cores, or 3.8GHz on one core. These turbo speeds put it within striking distance of desktop Ivy Bridge CPUs.
The NVIDIA Quadro K5000M is an interesting story in and of itself. While last generation's mobile workstation GPUs continued to be served by die harvesting GF100, the K5000M inherits all the strengths and disadvantages of GK104. Single precision performance should be top flight, but GK104 is more of a gaming chip than a compute chip (similar to GF104/GF114), and so its double precision performance is liable to be below last generation's Quadro 5010M, and we'll see when we get to the workstation benchmarks. For this reason, the 5010M continues to be available. The K5000M is clocked slower than the current top of the line mobile gaming GPU, the GTX 680M, running at just 601MHz on the CUDA cores and 3GHz effective on the GDDR5, with no boost clock.
Internally, Dell also offers an mSATA port at SATA 6Gbps speed as well as two 2.5" drive bays and the ability to remove the optical drive and replace it with a third 2.5" bay, allowing for potentially four storage devices. Also included are a SIM card slot and space for a WWAN card. Externally you have a card reader, USB 2.0 and 3.0, ExpressCard/54, 6-pin FireWire, eSATA, and every modern display connector except DVI.
Rounding out the trimmings, our review unit has Dell's PremierColor IPS display which is touted to offer the full AdobeRGB gamut; this is essentially to compete with HP's own DreamColor display. Unfortunately we did run into some issues with PremierColor and our calibration/measurement software, ColorEyes Display Pro, which we'll discuss later on. But Dell has a healthy number of choices for displays, including a basic 900p display, 1080p, 120Hz 3D Vision Ready 1080p, and the PremierColor IPS panel.