Talk of a TV connected box from Google had been making rounds on the net for a few months. Google made the news official by introducing the Google TV platform at the 2010 Google I/O Developer Conference. Based on Android, with the Chrome browser built in, it is yet another avenue for Google to bring in ad-views from your television. In the crowded set-top box market, does Google TV stand a chance? Are people ready to get more of the web on their TVs?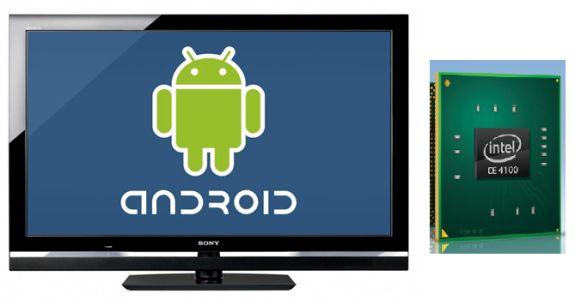 Over the past few years, we have seen many connected televisions with fancy widgets. However, they haven't exactly caught the fancy of the public. This may partly be due to the fact that these widgets were somewhat obtrusive ways of bringing web content on TVs. On the other hand, by bringing Android to TVs, Google is trying to deliver a HTPC experience to the consumer. In our opinion, for technophiles looking to get the web on a TV, a HTPC is a much better option, particularly considering the flexibility that it brings along. However, as HTPC enthusiasts well know, such systems are maintenance heavy. For the average Joe, a restricted experience such as Google TV might be a much better option. As a software platform, Google TV is brimming with possibilities.
Currently, only Sony's TVs and Blu-Ray players to be introduced in Fall 2010 are slated to support Google TV. It is not obvious whether firmware updates would enable Google TV on present day models. No other TV manufacturer has been announced as a Google TV partner. It is not clear when or whether some other company would be able to integrate Google TV in their models. Dish Network's subscribers can get it on their DVRs, but if the consumer's TV experience doesn't involve either of these two companies, he is forced to invest in a Logitech box or some other dedicated hardware to get Google TV. Unfortunately, such boxes probably do not make much sense in the current setup for many people. The average home is already brimming with STBs, DVRs, PVRs, Blu-Ray players and media streamers. Yet another box in the living room is unlikely to enamor consumers.
Dwelling more on the technical side, Google has joined hands with Intel to port the Google TV platform to the Intel CE4100. Promising products based on the CE3100 such as Conceptronic's
Yuixx
are yet to land in the hands of the consumers. It has also been
reported
that Intel's CE3100 powers the widgets on some of the sets from Toshiba and Samsung. We all know how those have turned out. One can only hope that Intel has more luck with the CE4100 compared to what it had with the CE3100. Android on CE4100 has the capability to upstage the HTPC as the TV-connected computer of choice, and Google knows perfectly well that the stock Android distribution would find it difficult to make the cut as a proper OS for this platform. A fork, in the form of Google TV, is the best bet, and we will hopefully see this initiative move forward to give a good experience to consumers.