Last month we mentioned NVIDIA's plans for their upcoming drivers: the 256 series of drivers (don't ask us why they jumped from 197 to 256). Today, NVIDIA has released the first beta of the 256 drivers. We'll keep this short as our previous article already covered what this release entails, but you can read the full press release or just grab the drivers from NVIDIA and start testing. If you need a few buzz words to keep you interested, the new release boosts GTX 400 performance while adding support for Blu-ray 3D, CUDA 3.1, and OpenGL 4.0.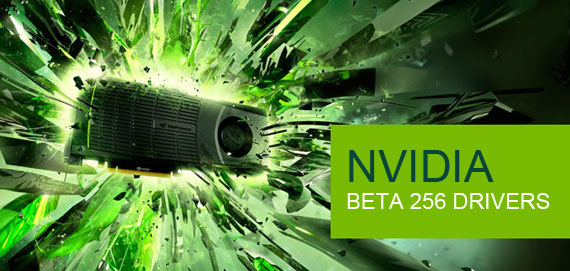 Perhaps more important for laptop users is that starting with the 256 series, all desktop and notebook drivers will launch in tandem, so you can get the 256 beta for any NVIDIA equipped desktop or laptop—including Optimus laptops—with one small exception. If you have a laptop with switchable graphics (i.e. Alienware M11x and ASUS UL30/50/80Vt to name a few) you'll have to go through your manufacturer for driver updates.
For those that prefer direct links, here are the desktop Windows 7/Vista 32-bit and 64-bit drivers, and for laptops the 32-bit and 64-bit releases. Those with other operating systems can search for your specific driver—Desktop and *nix (Linux, Solaris, and FreeBSD) users get 256 drivers across the board; XP remains with the 197 drivers for laptops but a 256 release is available for *nix.