Galaxy have pleasantly surprised us, and the folks at vr-zone. To the table, they bring their GTX 470 GC, a 100% non-reference design graphics card utilising an NVIDIA GeForce Fermi 470 GPU. Measuring 9 inches (compared to the reference 9.5 inches) and featuring a blue PCB, Galaxy have essentially mated a graphics card with a robot figurine.
This 470 uses a quad heatpipe design, aluminium fins and a detachable fan (to help with cleaning) in order to cool the pre-overclocked behemoth; the core recieves a mild overclock of 18Mhz to 625Mhz, whereas shaders and memory stay at the reference 1250Mhz and 3348Mhz (effective) respectively. This combines with the standard GTX 470 fare - DirectX 11, 448 CUDA Cores, 1280MB of GDDR5 memory, a 320-bit wide interface and 4x SLI compatible.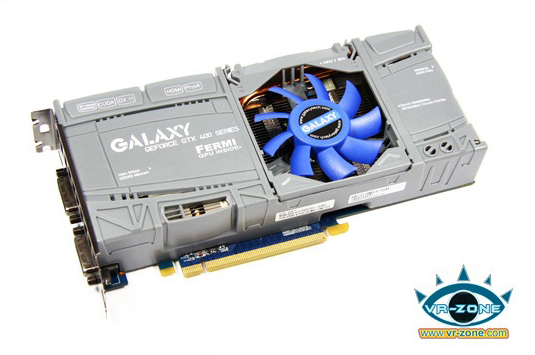 Buyers will find the 2 6-pin connectors on the end, as well as two DVI-D connectors and HDMI with integrated audio.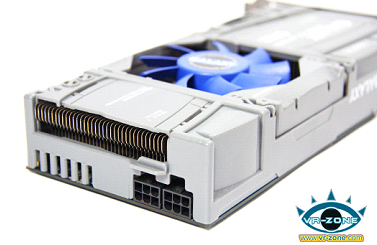 Initial reports state that the card reaches 88ºC on a full Furmark test, and that this card could be available in the US as early as today (May 7th).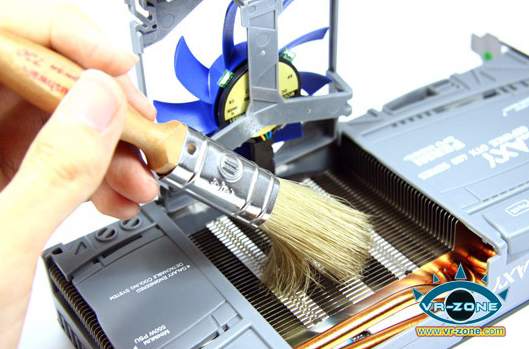 Looking at some of these pictures, there are a few things we like: the design is simple, yet futuristic; the detatchable fan for cleaning is a nice touch; and this custom cooler puts air out of the case (which is an issue with most custom air coolers). However, we notice there two sets of holes for mounting coolers. With a nice design and a very mild overclock, we can only imagine that the customer will be gouged on the price. But stick this in a colour matched Gigabyte motherboard and some blue Kingston HyperX memory, and you'll be looking at a very pretty setup indeed.