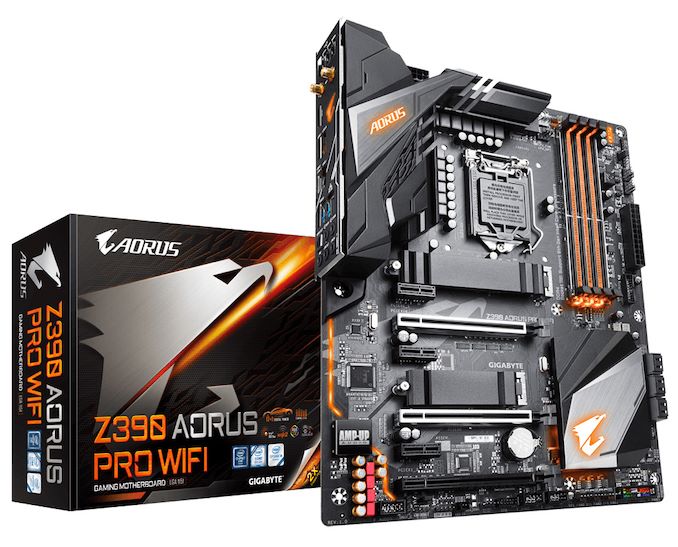 On Intel's desktop Z390 chipset, there are around 7 different ATX sized motherboards to choose from in the $180-200 price bracket. This not only puts pressure on manufacturers to deliver a high blend of premium features for a better price than the competition and use unique visuals like a peacock's plume to entice users. GIGABYTE's Z390 Aorus Pro WIFI is one with its $195 price tag. The Aorus brand is aimed squarely at gamers and the Z390 Aorus Pro WIFI looks to stake GIGABYTEs claim in a highly contested segment with a premium feature set at an affordable price.
The GIGABYTE Z390 Aorus Pro WIFI is one of three Falcon-inspired models from its Aorus branded product stack; what's interesting is that there's a total of just $25 between them. This includes the Z390 Aorus Pro ($180) which is identical to the Pro WIFI, but without the WIFI, and the Z390 Aorus Elite ($170). What users consider to be gaming features can be perceived differently with manufacturers usually altering the design, branding and software bundle to set the gaming and non-gaming boards apart. Some of the core features of the Z390 Aorus Pro WIFI model include a Realtek ALC1220-VB HD audio codec, an Intel I219-V 1 GbE NIC and an Intel 9560 802.11ac Wave 2 Wi-Fi module. GIGABYTE advertises the Z390 Aorus Pro WIFI to feature a 12+1 power delivery which is spearheaded by an Intersil ISL69138 PWM 7-phase controller. Cooling this is two solid heatsinks pieced together along a single heat pipe which is nestled neatly underneath the rear panel cover.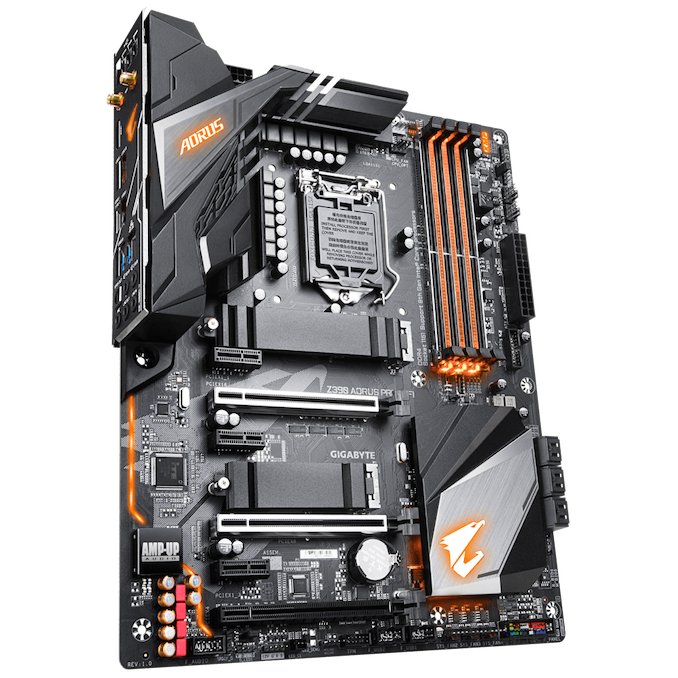 The majority of GIGABYTE's Z390 Aorus range all follow a similar theme with each other with the same black, orange and silver Aorus Falcon inspired design. The GIGABYTE Z390 Aorus Pro WIFI has plenty of RGB for users to sink their teeth into with four integrated and customizable zones; the audio PCB separation line which also creates an under-glow effect, the rear panel cover, the RAM slots and the Z390 chipset heatsink. If that isn't enough, GIGABYTE also includes a total of four headers comprised of two for standard 5050 RGB and two for addressable RGB LED strips.
Whether gaming is the intended use or not, the GIGABYTE Z390 Aorus Pro WIFI and its reasonable $195 price tag have plenty to offer. Taking up the bulk of the southern area of the PCB is the PCIe slots. These include a total of three full-length PCIe 3.0 slots which allow users to run up to two-way SLI and three-way Crossfire multi-graphics card setups (x8/x8/x4). The top two full-length slots with steel armor reinforcement take its lanes from the CPU, while the bottom full-length slot is wired directly into the Z390 chipset and is limited to x4.
Another notable aspect is the memory with four slots allowing for up to 128 GB of DDR4 RAM to be installed; this means the Z390 Aorus Pro WIFI supports the newer 32 GB UDIMMs. Speed wise, the Z390 Aorus Pro WIFI can support up to DDR4-4266 and allows for both ECC and non-ECC unbuffered memory to be used. Storage is standard for a board of this caliber with six SATA slots and two M.2 slots; both M.2 slots include their own individual heatsink. On the audio front, the Z390 Aorus Pro WIFI uses a Realtek ALC1220-VB HD audio codec which offers five 3.5 mm audio jacks on the rear panel as well as an S/PDIF optical output.
Looking at performance and when compared to the GIGABYTE Z390 Aorus Master we recently reviewed, the Z390 Aorus Pro WIFI is highly competitive. The Z390 Aorus Pro WIFI delivers one of the quickest POST times we've seen and competed well with other boards in our computational focused benchmarks. The flip side is negative DPC Latency performance with the worst score from any LGA1151 model tested. Regarding power consumption, the GIGABYTE Z390 Aorus Pro WIFI isn't exactly the most power efficient motherboard on the market, but it's certainly nothing to be concerned about and overall, the performance from our test suite is positive.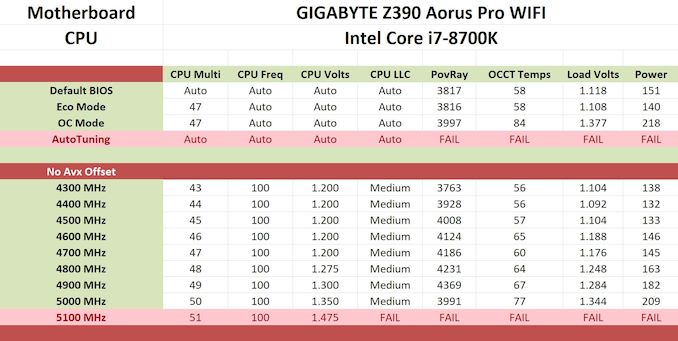 Our recent experience with the GIGABYTE Z390 Aorus Master ($290) wasn't what we've come to expect on LGA1151 and we concluded that the firmware could be better, especially with an inaccurate CPU VCore sensor. In regards to Z390 Aorus Pro WIFI ($195), the experience was a more pleasant one with an Intersil ISL69138 7-channel PWM controller running a total of twelve dual channel MOSFETs in a 2x6-channel configuration due to GIGABYTE using doublers. Monitoring the CPU VCore with both HWINFO and CPU-Z, the voltage readouts we're a lot closer to the mark than the Z390 Aorus Master, and that made the experience more pleasant. We managed to achieve a maximum stable overclock on our testbed Intel Core i7-8700K of 5.0 GHz. Unfortunately, the GIGABYTE firmware could still do with some work as we needed 1.350 V on the CPU VCore to get our chip stable; other models have done this at 1.300 V without much fanfare. The experience ultimately comes down to the load line calibration (LLC) settings at automatic which clearly doesn't give enough voltage than is needed by the processor.
On paper, the GIGABYTE Z390 Aorus Pro WIFI ($195) looks highly competitive with a respectable controller set, and plenty of support for USB and RGB. Its target is on gamers looking to use Intel's 8th or 9th generation processors without breaking the bank, but still looking for a premium user experience. A solid looking 12-phase power delivery adds to the Z390 Aorus Pro WIFI's allure, but it does sit in a highly contested market segment. The biggest competition comes from similar priced models including the ASUS Prime Z390-A ($200), the slightly cheaper MSI MPG Z390 Gaming Edge AC ($190) and the highly regarded ASRock Z390 Taichi ($200). It does however have the same Thunderbolt add-in card connector as the more expensive GIGABYTE Z390 Aorus Master ($290), which is a rarity in the current market. Standing out from the crowd isn't an easy task with so much competition, but GIGABYTE looks to cement its Aorus brand as the standout gaming brand in a market full of them.