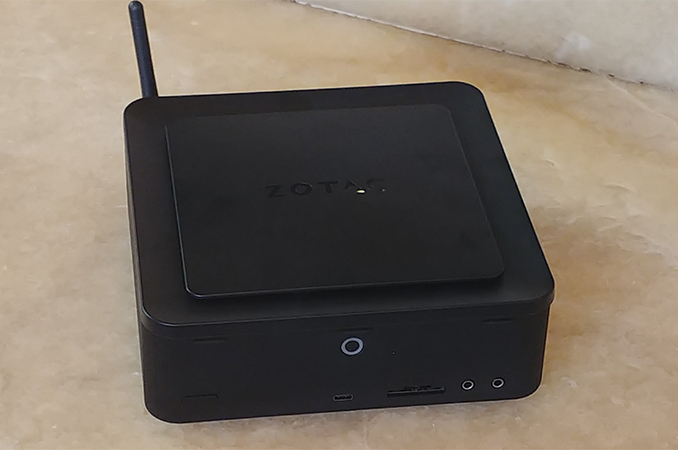 LAS VEGAS, NV — ZOTAC is preparing a small form-factor PC based on an AMD's Ryzen processor with integrated Vega graphics. The ZOTAC ZBOX MA551 will be among the first compact computers powered by AMD's code-named 'Raven Ridge' chips, and the system design should allow it support all AM4 APUs as well as a comprehensive set of connectivity features.
ZOTAC's ZBOX MA551 will exist in at least two variants equipped with AMD's quad-core Ryzen 3 2200G and Ryzen 5 2400G APUs with the Radeon Vega integrated graphics. The chips are rated to dissipate a maximum of 65 W of power (based on AMD's TDP data) and ZOTAC outfits the APUs with a cooling system that features a large copper heatsink and a blower. The cooler looks like a GPU cooler, so its peak performance likely exceeds 65 W and enables ZOTAC to install APUs with a higher TDP or for better boost. So far AMD has announced only two Raven Ridge SoCs for desktops, so if the company rolls-out APUs with higher power and cooling requirements, the MA551 will be ready to house them.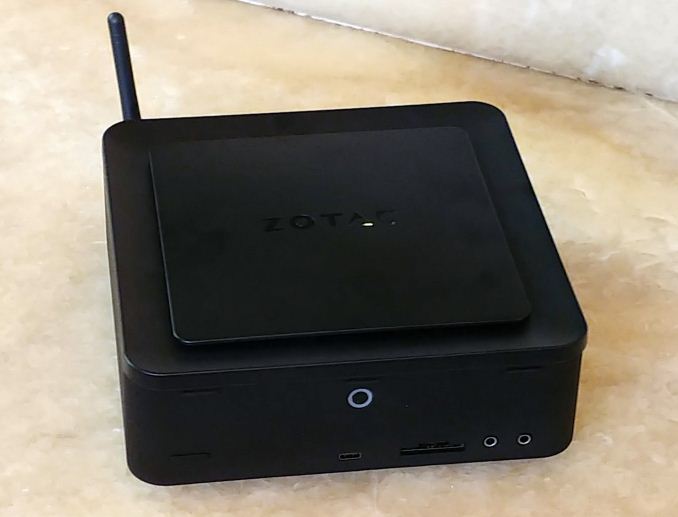 ZOTAC's ZBOX MA551 comes in a matte black metallic enclosure, with the internal architecture the mini-PC looking very simple, allowing the user to easily install key components as well as potentially upgrade them. The mini-PC can be equipped with up to 32 GB of DDR4-2400 memory using two SO-DIMMs, an M.2-2280 PCIe/SATA SSD, and a separate 2.5" storage device.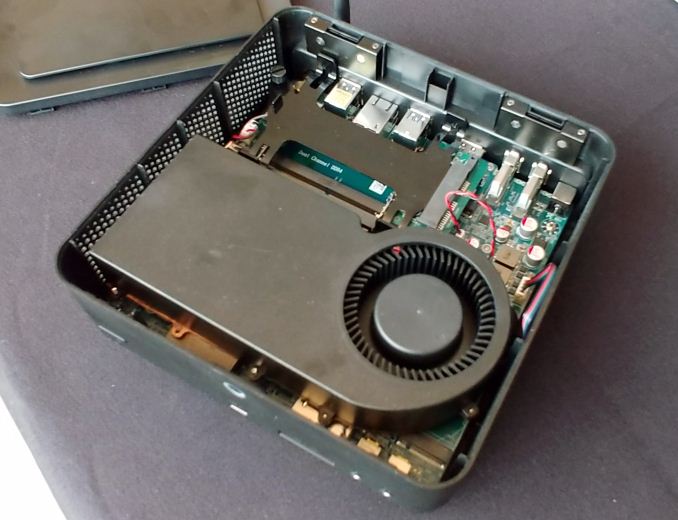 When it comes to connectivity, the ZBOX MA551 is outfitted with an 802.11ac + Bluetooth 4.2 module, a gigabit Ethernet connector, four USB 3.0 Type-A headers, a USB Type-C port, three display outputs (one DisplayPort 1.2, two HDMI 2.0) and an SD/microSD card reader.
Preliminary Specifications of ZOTAC's Ryzen APU-Based SFF PC
MA551
CPU
AMD Ryzen 3 2200G
4C/4T
3.5 - 3.7 GHz
6 MB cache
65 W TDP
AMD Ryzen 5 2400G
4C/8T
3.6 - 3.9 GHz
6 MB cache
65 W TDP
iGPU
Radeon Vega
8 CUs
512 SPs
Up to 1100 MHz
Radeon Vega
11 CUs
704 SPs
Up to 1250 MHz
Memory
2 × DDR4-2400 SO-DIMM slots
up to 32 GB of memory
Storage
M.2
M.2 2280 slot for PCIe/SATA SSD-
DFF
1 × 2.5" SSD/HDD
Card Reader
SD/microSD
Wireless
802.11ac Wi-Fi + BT 4.2
Ethernet
1 × Gigabit Ethernet with RJ45 connector
Display Outputs
1 × DisplayPort 1.2
2 × HDMI 2.0
Audio
3.5 mm audio-in
3.5 mm audio-out
USB
4×USB 3.0 Type-A
1×USB 3.? Type-C
PSU
External
OS
Microsoft Windows 10 or none
ZOTAC plans to start selling its Raven Ridge-based ZBOX MA551 sometimes in the second quarter, after AMD makes such processors widely available. Pricing is yet unknown.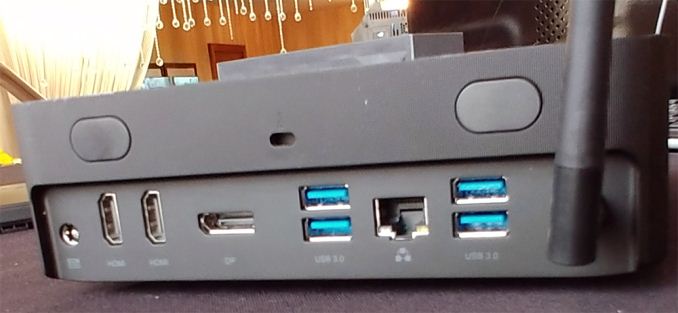 Related Reading