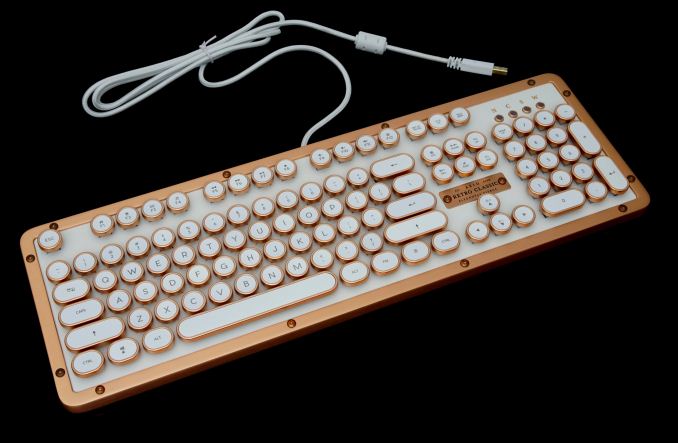 Mechanical keyboards are one of the most popular items for advanced PC users nowadays. Their reintroduction into the main consumers market was nearly a decade ago but their market growth was slow because of the initially high cost and low availability. Slowly but steadily, ever more manufacturers introduced new products, bringing new features and/or lower prices to the consumers.
Nowadays there are dozens upon dozens of mechanical keyboards available, for every user and budget. Even if the user is not a heavy gamer or typist, having a quality mechanical keyboard is often considered to be a sign of prestige, leading to a market overgrowth that everybody wants a piece of. New companies are being founded on a monthly basis and old names who never even marketed peripherals before introduced mechanical keyboards into their product catalogues.
In this review we will be having a look at a product from Azio Corp, a fresh face here in AnandTech. Azio is an American company, based in California, US. The company was founded back in 2005 and ever since then specializes on the design and manufacturing of PC keyboards, mice, and audio products. Recently, after a very successful crowdfunding campaign, the company released a new series of mechanical keyboards dubbed the "Retro Classic". The Retro Classic is one of the few mechanical keyboards that is entrusting its success almost entirely on its unusual aesthetic design. On the technical side of things, it also comes with new mechanical switches from Kailh that we have never seen before.
Packaging and Bundle
Azio supplies the Retro Classic in very thick and sturdy cardboard boxes. The design on the boxes is minimalistic, with just a picture of the keyboard itself on it. After all, it would be quite the paradox if the artwork on a box were to be more attractive than a keyboard basing its success on aesthetics.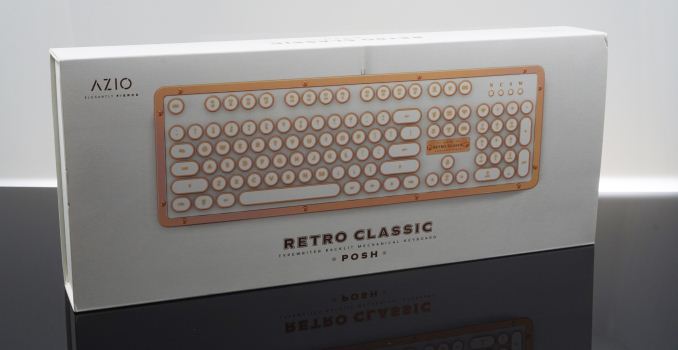 The Azio Retro Classic doesn't have any advanced technical features so, as you might expect, there are not any special items bundled alongside the keyboard. We found only a basic manual and a warranty card inside the box. Meanwhile the keycaps of this keyboard are not meant to be removed, so Azio does not provide a keycap puller. Typical keycap pullers will not work with the round shape of the keycaps anyway, only some wire pullers might but these might also scratch the paint off the keycaps.