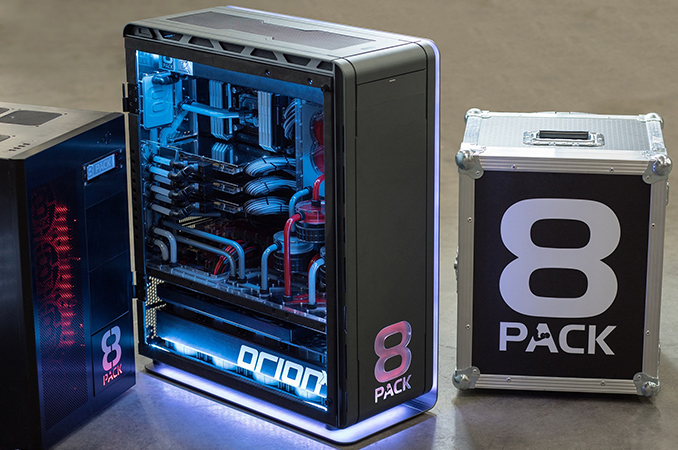 Overclockers UK has started to offer its top-of-the-range 8Pack OrionX computer that weds two completely different systems in one box: a multi-core overclocked Intel Core i7-6950X-based high-end desktop and a quad-core factory overclocked Intel Core i7-7700K-based gaming rig. The 8Pack OrionX was designed by former world #1 overclocker Ian Parry (aka 8Pack, we interviewed him 2013) for those who want to have the absolutely best performance in all applications and who can pay for such system. The limited edition rig is now available from OcUK for £24,000 ($30,116).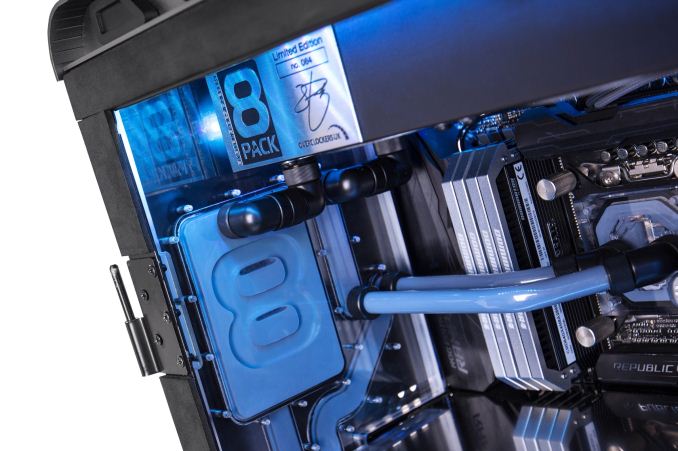 Dual Systems
Different types of workloads can benefit from different microprocessor architectures and even different CPU configurations. There are a number of workloads that scale well with an increase cores and there are applications that take advantage of high frequencies, IPC included. In a perfect world, one could dedicate hardware to multi-core or high-frequency as required. In fact, back at CeBIT 2005, ECS demonstrated taking this concept to pure crazy: its PF88 motherboard supported both AMD's Athlon 64 and Intel's Pentium 4 processors and allowing users to take advantage of both microarchitectures. The processors used the same graphics card and the same operating system, which optimized the cost of the setup and offered somewhat consistent user experience. But while the concept was interesting, there were multiple factors (apart from the cost of two processors) that prevented it from taking off even in the enthusiast space: switching between CPUs required opening up the system and changing jumper settings manually; it was impossible to install proper coolers on CPUs because they were located nearby each other; ECS had to use SiS chipsets that were not popular among the target audience at the time.
Today, Intel offers two completely different desktop platforms targeting different performance and power targets as well as different applications and pricing. The mainstream/gaming platform is based on CPUs with two or four cores running at rather high frequencies and the majority of games are tailored for 4C/8T processors because that is what most gamers use. This platform typically also uses the latest microarchitecture and supports the latest technologies. Meanwhile, Intel's high-end desktop platform is powered by CPUs with up to ten cores featuring a previous-generation microarchitecture with certain enhancements but lags a bit behind the latest technologies that Intel has to offer in terms of chipset. The HEDT platform can offer plenty of horsepower for professional applications tailored for multi-core CPUs, but due to relatively low frequencies of such chips, they not always deliver the highest performance in all games. All-in-all, ideally you are going to need different Intel CPUs for different tasks and this is exactly why Overclockers UK are offering the 8Pack OrionX. At a premium.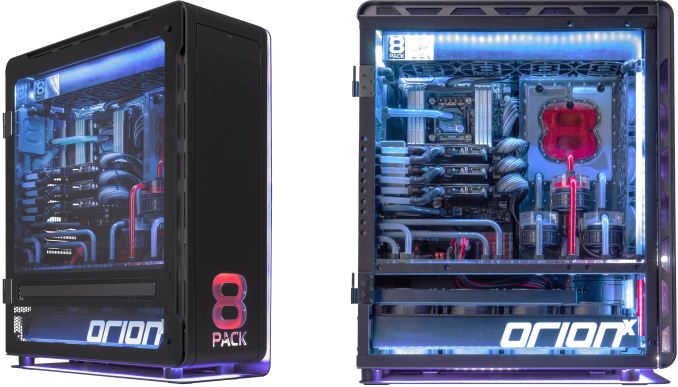 Conceptually, the 8Pack OrionX resembles the aforementioned platform from ECS, but rather than putting two CPUs on one board with a jumper, it simply squeezes two premium factory overclocked systems featuring high-end components available in one large case.
Chassis and Cooling
When we talk about PCs, we usually start with CPUs and GPUs because they define general capabilities of almost any platform. However, when we discuss a system with two CPUs, four or five GPUs and five SSDs, it makes more sense to start with the chassis and cooling.
The 8Pack OrionX PC comes in the Phanteks Enthoo Elite chassis that was developed to build 2-in-1 desktop PCs featuring an ATX motherboard and a Mini-ITX motherboard. Phanteks calls its chassis "the extreme full tower" because this 123-liter giant is 75 cm tall (29.5") and can fit in 13 3.5" drives, six 2.5" drives, a standard PSU of virtually any length (the 8Pack OrionX uses the Super Flower Leadex 2 kW PSU) and virtually any cooling system.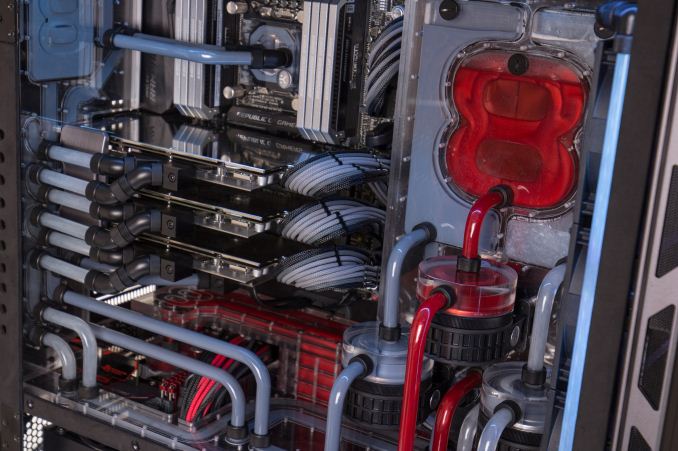 For cooling, the 8Pack OrionX uses a custom-built triple-loop cooling system with EK Supremacy Evo CPU water blocks, insane tubing and pass-through plates made of polished acryl. This involves custom reservoirs, as seen above, installed along the rear, front, and mid-plate panels of the case. The LCS has four pumps that are dynamically controlled. OcUK does not reveal too many details about the cooling system, but we suspect that one loop is dedicated to the Intel Core i7-6950X CPU, another is used to cool down three primary graphics adapters and the primary SSD of the X99 platform, whereas the third one is dedicated to the secondary system running the Intel Core i7-7700K and the NVIDIA TITAN X video card. In the past OcUK likes to offer Mayhem coolants, known for their striking color, although this isn't specifically mentioned.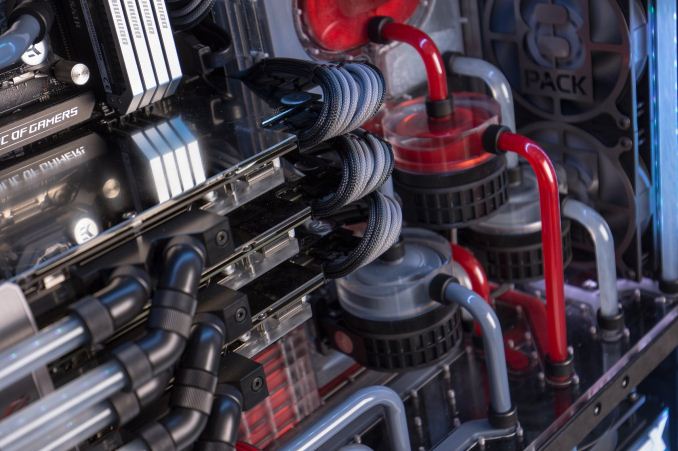 Since the LCS is extremely large and uses two massive radiators located on top and bottom of the chassis, the expansion capabilities of the Phanteks Enthoo Elite will be limited to the owners of the 8Pack OrionX (for example, it will be impossible to install a 5.25" ODD instead of front USB and audio ports), but this is a necessary tradeoff.
"Golden" CPUs and High-End Motherboards
Both CPUs are factory overclocked and Overclockers UK guarantees that the Intel Core i7-6950X will work at an AVX stable 4.40 GHz or higher frequency, whereas the Intel Core i7-7700K will work fine at 5.10 GHz or higher. Since overclocking potential of microprocessors vary, the manufacturer only advertises 4.4 and 5.1 GHz frequencies, but actual systems may run faster.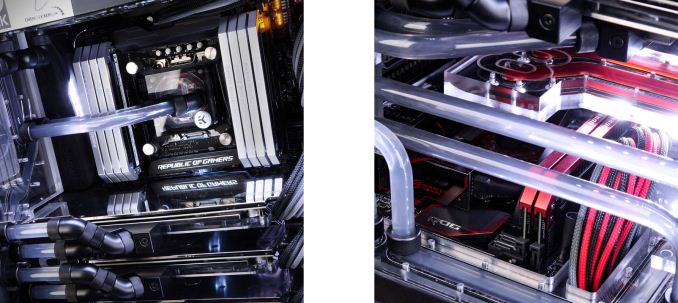 Overclockers UK chose ASUS' Rampage V Edition 10 and ROG Strix Z270I Gaming motherboards for its 8Pack OrionX systems. Both mainboards feature high-quality VRMs to guarantee stable operation of overclocked CPUs, offer plenty of USB 3.0 and 3.1 ports, GbE, 802.11ac Wi-Fi, 7.1-channel audio sub-systems and so on. Meanwhile, since the system lacks ODD space, it will be impossible to install Rampage V's additional front-panel SupremeFX Hi-Fi headphone audio sub-system (ESS ES9018K2M Sabre DAC, Cirrus Logic CS5361 AD converter, multiple amps) into the case, but maybe OcUK has an external solution for this add-on for those who want to have a high-end audio.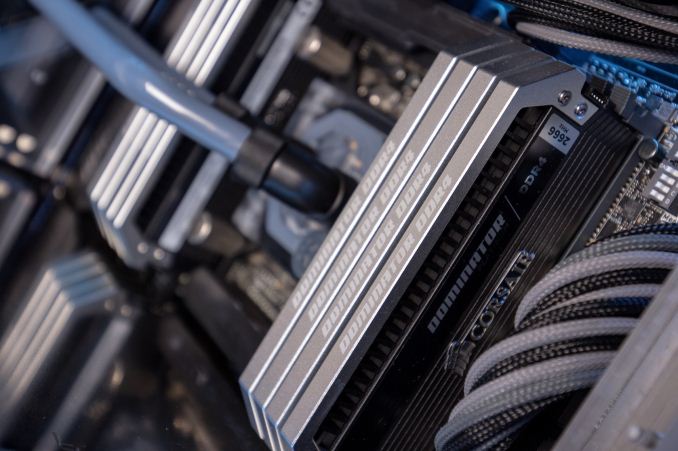 As for memory sub-systems, the manufacturer chose 8 GB Corsair Dominator Platinum DDR4 modules: eight of such DIMMs are installed into the X99 motherboard (making up for 64 GB) and two are used for the Z270 platform (making up for 16 GB).
Four NVIDIA TITAN X Cards in One Box
Since the 8Pack OrionX is designed a no-compromise system, it also uses the highest-performing graphics cards today: the NVIDIA TITAN X with 12 GB of GDDR5X memory. Moreover, an interesting thing is that NVIDIA does not advertise more than two TITAN X cards per system for gaming, however other non-gaming uses can take advantage. Three of the NVIDIA TITAN X cards are installed into the primary X99 motherboard and come with factory overclocked GPUs operating at 2 GHz. Meanwhile, the fourth one runs with the Z270 platform.
Keeping in mind that far not all games are compatible with the AFR rendering technique, even a dual-GPU sub-system is an overkill nowadays and NVIDIA officially does not support 3-way and 4-way GPU configurations for its GeForce GTX 10 (Pascal) family. Nonetheless, some may try to run older games at 4K resolution with FSAA and since some of those games support AFR, three GPUs might make sense. In any case, the overclocked TITAN X GPU can offer a very high level of performance in modern games even when working alone.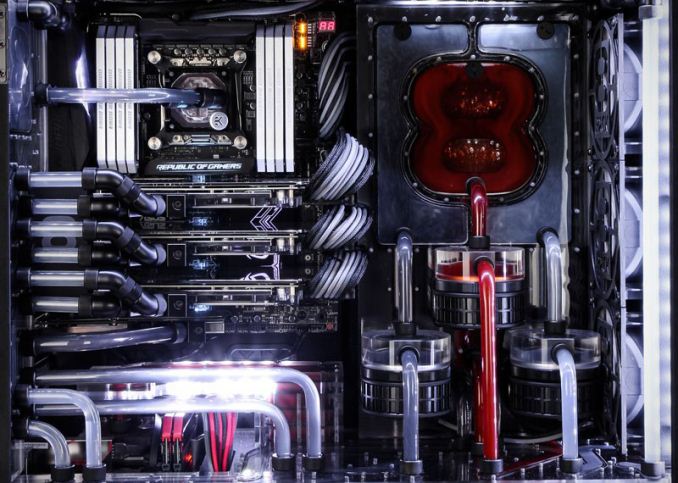 Meanwhile, many prosumers use GPU-accelerated applications and this is exactly where 10752 stream processors of three TITAN X GPUs will show their potential. In fact, specifically for people looking forward extreme FP32 performance, OcUK offers an option to install the fourth TITAN X into the X99 system.
The manufacturer mentions overclocking for the NVIDIA TITAN X card plugged into the Z270 motherboard, but does not specify exact GPU frequency here. In any case, this card inside the 8Pack OrionX will offer something more than the "regular" TITAN X.
Five SSDs and 20 TB of HDD Space
The storage sub-system of the 8Pack OrionX is reported as being tailored for the workloads of each platform. In total, the rig comes with 4.2 TB of solid-state storage and 20 TB of HDD storage space.
The X99 system is equipped with three layers of storage. The primary SSD of the X99 is the Intel 750 1.2 TB NVMe SSD that is based 20 nm MLC NAND flash memory and offers sequential read speed up to 2.5 GB/s as well as sequential write speed up to 1.2 GB/s. To ensure that the SSD does not throttle under high loads, it is liquid-cooled. The secondary SSD-based layer of the X99 system is comprised of two Samsung 850 Pro 1 TB SSDs working in RAID 0 and thus delivering up to 1.1 GB/s read performance. The final layer uses Seagate's top-of-the-range helium-filled BarraCuda Pro 10 TB drive.
Being primarily aimed at gaming, the Z270 part of the 8Pack OrionX is equipped with a simpler (if this word is applicable to this rig at all) storage sub-system. The primary storage is based on two Samsung 960 Pro 512 GB SSDs running in RAID 0. Meanwhile, there is another Seagate BarraCuda Pro 10 TB attached to the Z270 motherboard to keep all the data that is not stored on the SSDs (or backup copies).
8Pack OrionX Specifications
X99 Primary System
Z270 Secondary System
CPU
Intel Core i7-6950X
10C/20T
OC to 4.4+ GHz
25 MB L3 Cache
140 W
Intel Core i7-7700K
4C/8T
OC to 5.1+ GHz
8 MB L3 Cache
91 W
PCH
Intel X99
Intel Z270
Motherboard
ASUS Rampage V Edition 10
ASUS ROG Strix Z270I Gaming
Graphics
3 × NVIDIA TITAN X
or
4 × NVIDIA TITAN X

GPU overclocked to 2 GHz
NVIDIA TITAN X

Unknown OC
Memory
8 × 8 GB DDR4-2666
Corsair Dominator Platinum
2 × 8 GB DDR4-3200
Corsair Dominator Platinum
Storage
Primary SSD
Intel 750 1.2 TB
PCIe NVMe
2 × Samsung 960 Pro 512 GB
RAID 0
Secondary SSD
2 × Samsung 850 Pro 1 TB
RAID 0
-
HDD
Seagate BarraCuda Pro 10 TB
Seagate BarraCuda Pro 10 TB
Bays
13 × 3.5" drives, 6 × 2.5" drives
Wi-Fi
IEEE 802.11ac Wi-Fi + BT 4.0
IEEE 802.11ac Wi-Fi + BT 4.1
Ethernet
Intel I218V GbE
Intel I211-AT GbE
Intel I219V GbE
Display Outputs
Front
HDMI 2.0
MB
-
1 × HDMI
1 × DP
Graphics Card
Every card:
1 × HDMI 2.0b
3 × DisplayPort 1.4
1 × DVI-I
1 × HDMI 2.0b
3 × DisplayPort 1.4
1 × DVI-I
Audio
7.1-channel
Realtek ALC1150
SupremeFX Shielding
Sonic software enhancements
7.1-channel
Realtek ALC1220A
SupremeFX Shielding
Sonic software enhancements
USB
Front
2 × USB 3.0 Type-A
1 × USB 3.1 Type-C (shared)
2 × USB 3.0 Type-A
1 × USB 3.0 Type-C (shared)
Rear
2 × USB 3.1 Type-C
2 × USB 3.1 Type-A
4 × USB 3.0 Type-A
2 × USB 2.0 Type-A
1 × USB 3.0 Type-C
3 × USB 3.0 Type-A
4 × USB 2.0 Type-A
Other I/O
Earphone, microphone 3.5-mm jacks on the front panel
SPDIF, PS/2 on the back panels
Dimensions
W×H×D
270 × 750 × 615 mm
10.6 × 29.5 × 24.2 inch
Volume
123 L
Chassis
Phanteks Enthoo Elite (PHES916E)
PSU
Super Flower Leadex '8Pack Edition' 2000 W PSU
OS
Windows 10 Pro
Windows 10 Pro
When it comes to bespoke PCs from boutique PC makers, the look is as important as performance because such systems have to be distinct from others. Without any doubts, the look of the 8Pack OrionX is different, mostly because of the complex LCS and lighting.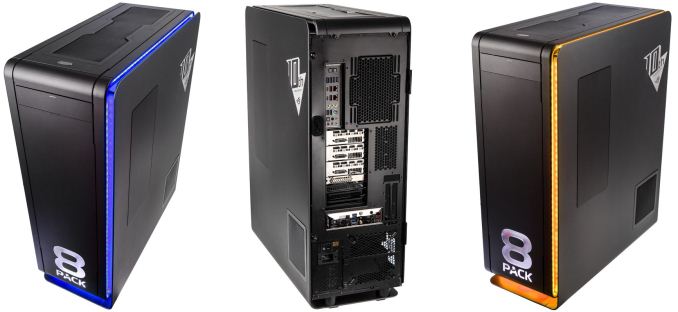 First, the Phanteks Enthoo Elite has its own RGB lighting on its right side and on the bottom. The lights can be customized from the front panel of the rig. Secondly, Overclockers UK offers a choice of different watercooling fittings and fluid colors. As it is shown in the pictures, different liquid colors may be used for different LCS loops. The SI also offers different PSU cable braiding to match the color scheme of a particular system. Finally, there are multiple RGB stripes installed inside the 8Pack OrionX and their color can be set by OcUK or by the owner using appropriate ASUS software.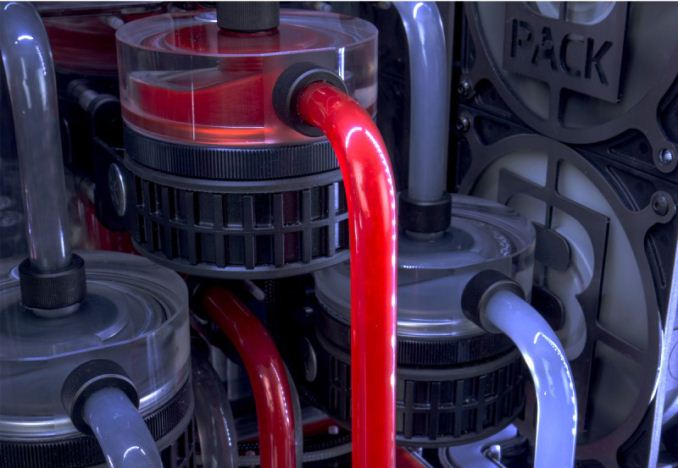 The manufacturer does not keep the 8Pack OrionX in stock and each PC is built-to-order by OCUK and Ian Parry who then tunes each one to its own stable maximum. What the manufacturer advertises right now is the base model and actual specs can be modified upon request. For example, some people may prefer to have only two graphics cards installed into the X99 system, or 32 or 64 GB of memory installed into the Z270 platform.
Pricing
The base price of the 8Pack OrionX is £24,000 ($30,116), but it may increase or decrease depending on exact configuration. The base model does not look like a PC for everyone even despite the price because there are not a lot of applications that can take advantage of three NVIDIA TITAN X graphics cards. Moreover, two systems in one box make sense for those who would like to physically separate their work projects from their gaming or entertainment, but for some reason prefer not to buy two separate PCs (or do not want to work with VMs).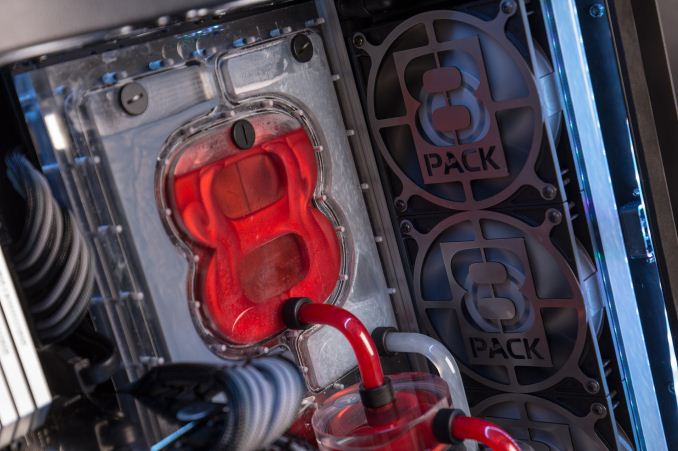 But even if money is not a problem, the minimum lead-time for these systems is 42 working days, which means over two months and OcUK warns that delays may occur. When speaking with 8Pack at the last OCUK event, We were told that these sorts of high-end systems do sell sufficiently to warrant their development costs. Buyers apparently come from all over the world, even if not for the aesthetics but the raw performance. Undoubtedly a self-build is cheaper, but some customers want the support package as well, or financially sufficient to have a system integrator build what they want. Just fire up Minecraft and away you go...
Related Reading:
Source: Overclockers UK