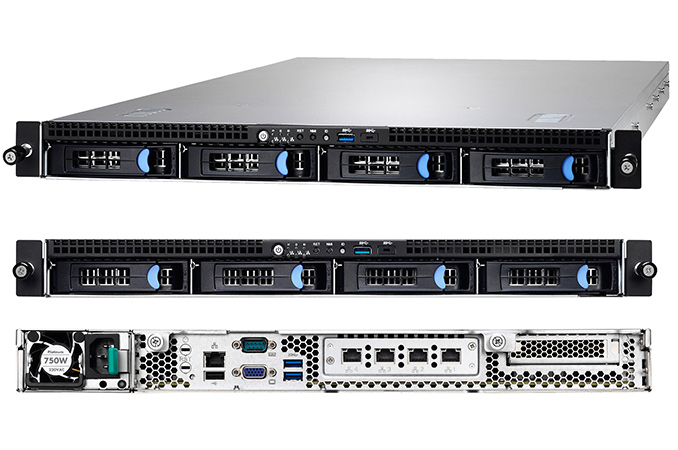 At this week's OpenPOWER Summit in San Jose, California, Tyan has introduced its new IBM POWER8-based 1U servers designed for high-performance computing (HPC) as well as in-memory applications. The new machines are designed to target niche markets that do not require extreme processing performance, but need a lot of RAM. The new Tyan GT75 expands the range of Tyan's POWER8-based machines and helps IBM's POWER8 platform to compete against Intel Xeon in niche markets.
Nowadays over 95% of servers are based on Intel's Xeon microprocessors, which does not make producers of servers and operators of large datacenters happy because they have one supplier of key components that controls platform development and prices. Three years ago, IBM teamed up with Google, Mellanox, NVIDIA and Tyan to establish the OpenPOWER Foundation to develop servers based on IBM's processors collaboratively. So far, IBM POWER-based servers have not gained a lot of market share, but it looks like they are starting to gain traction as companies like Tyan are expanding their POWER8 hardware offerings.
The Tyan GT75 machines (just like the Tyan TN71-BP012 servers launched a year ago) are based on one IBM POWER8 Turismo SCM processor with eight or ten cores and can be equipped with up to 1 TB of memory. The systems feature 32 R-DDR3L DIMM slots using four IBM Centaur memory buffer chips (MBCs) and support 32 GB modules, which are considerably more affordable than 64 GB or 128 GB memory sticks.
Comparison of IBM POWER8 Turismo CPUs Compatible with
Tyan's SC75 and TN71 Servers
POWER8 8-Core
POWER8 10-Core
POWER8 12-Core
Core Count
8
10
12
Threads
64
80
96
Frequency (nominal)
2.328 GHz
3.325 GHz
2.095 GHz
2.926 GHz
2.561 GHz
L2 Cache
512 KB per core
2 MB per CPU
512 KB per core
5 MB per CPU
512 KB per core
6 MB per CPU
L3 Cache
8 MB eDRAM per core
64 MB per CPU
8 MB eDRAM per core
80 MB per CPU
8 MB eDRAM per core
96 MB per CPU
DRAM Interface
DDR3L-1600, memory connects to CPUs using the IBM Centaur MBCs
PCI Express
3 × PCIe controllers, 32 lanes
TDP
130W
190W
130W
190W
190W
While the GT75 servers (BSP012G75V4H) feature only one CPU, each IBM POWER8 core can process up to eight hardware threads simultaneously thanks to 16 execution pipelines. The chips also have massive caches (512 KB L2 per core, 8 MB eDRAM L3 per core as well as 16 MB per MBC), which are particularly useful for memory-intensive applications.
Comparison of Tyan GT75 Servers
BSP012G75V4H-B4C
BSP012G75V4H-Q4T
BSP012G75V4H-Q4F
CPU
IBM POWER8
8-Core
2.328 GHz
130 W/169 W TDP
IBM POWER8
10-Core
2.095 GHz
130 W/169 W TDP
IBM POWER8
10-Core
2.095 GHz
130 W/169 W TDP
Installed RAM
8 × 16 GB R-DDR3L
16 × 16 GB R-DDR3L
32 × 16 GB R-DDR3L
RAM (subsystem)
Up to 1 TB of DDR3L-1333 DRAM, 32 RDIMM modules, four IBM Centaur MBCs
Storage
2 × 512 GB SSDs
2 × 1 TB SSDs
4 × 1 TB SSDs
Tyan Storage Mezzanine
MP012-9235-4I
(4-port SATA 6Gb/s IOC w/o RAID stack)
LAN
4 × GbE ports
4 × 10 GbE ports
4 × 10 GbE ports
Tyan LAN Mezzanine
MP012-5719-4C
Broadcom 1GbE LAN Mezz Card
MP012-B840-4T
Qlogic+Broadcom 10GbE LAN Mezz Card-
MP012-Q840-4F Qlogic 10GbE LAN Mezz Card
The Tyan GT75-BP012, which is a 1U server that is designed for in-memory computing, HPC and virtualization, can be equipped with up to four 3.5" hot-swappable SAS 12G/SATA 6G HDD/SSDs, four network controllers (1 GbE and 10 GbE) as well as a 750 W PSU. The server uses the PLX PEX8748 PCIe switch and one PCIe 3.0 x8 expansion slot. Tyan did not reveal the price of the system, but said that it would be available already in April.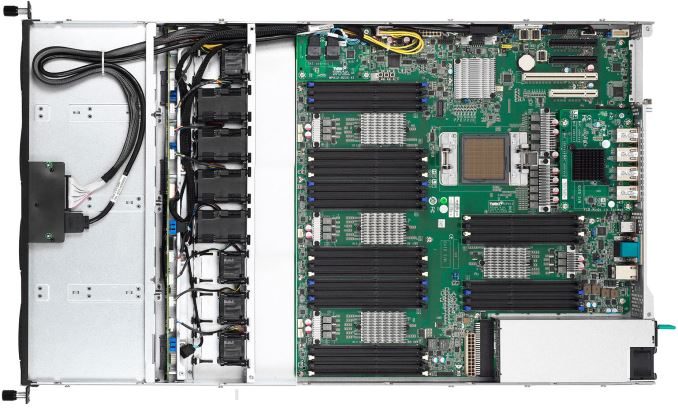 The new 1U machines complement the Tyan TN71-BP012 launched in March, 2015. The TN71 is a 1-way 2U platform for data analytics and applications, it supports 12 3.5" hot-swappable SAS 12G/SATA 6G HDD/SSDs, four 10 GbE network ports as well as two 1200 W PSUs for redundancy reason. This machine supports IBM POWER8 Turismo SCM processor with up to 12 cores and is generally more powerful than the GT75.
Source: Tyan