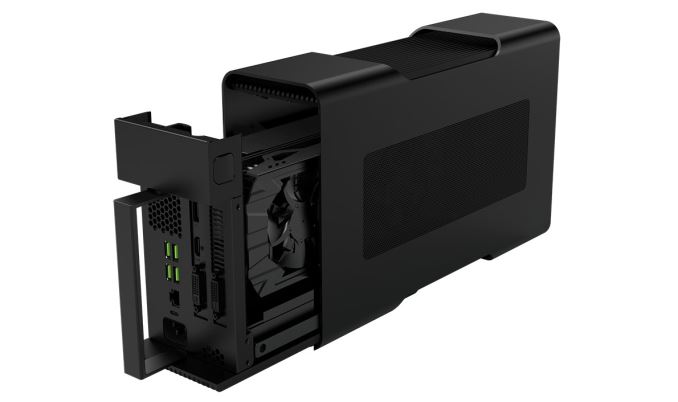 Back at CES 2016, Razer announced their Core Thunderbolt 3 external graphics (eGFX) chassis. Built around the new Thunderbolt 3 standard and its long-awaited official support for external video cards, the Razer Core is the first eGFX chassis to hit the market. We got a bit more information about it with last week's AMD XConnect announcement, and now today at GDC Razer is releasing the full details on functionality, compatibility, and availability.
Jumping right into things, the Razer Core is what can be considered a full size eGFX chassis. The unit is large enough to accommodate a double-wide video card up to 12.2 inches long, which covers almost every video card on the market. The only notable exceptions here are cards that use external radiators (e.g. Radeon R9 Fury X) and the small number of ultra-high-end triple-wide card designs such as some of MSI's Lightning cards. The toolless design is able to handle both open air and blower type video card coolers, however given its smaller size relative to a full PC case, I think it's going to be worth looking into just how well open air cards do.
Razer Core Thunderbolt 3 eGFX Chassis Specifications
Max Video Card Size
Double-Wide, 12.2" Long
(310 x 152 x 44mm)
Max Video Card Power
375W
Connectivity
4x USB 3.0
1x Gigabit Ethernet
Laptop Charging via Thunderbolt 3
Chassis Size
4.13 x 13.9 x 8.66 inches
(105 x 353 x 220mm)
Internal PSU
500W
System Requirements
Thunderbolt 3 eGFX Certified PC
Thundebolt 3 w/Active Cable
Windows 10
Shipping Date
April 2016
Price
$499 ($399 w/Razer laptop)
The chassis itself measures 4.13" x 13.9" x 8.66" and contains an internal 500W PSU, with Razer rating it to drive up to a 375W video card. At 10.89lbs it is technically portable, though clearly not ideal for the task given its handle-less design. Rather Razer intends this to be a fixed docking station for laptop users, as demonstrated both by the additional ports made available on the Core – 4x USB 3.0 Type-A and a gigabit Ethernet port – and by the fact that it's capable of charging laptops over its Thunderbolt 3 connection.
The Core is the first of what we expect will be several TB3 eGFX chassis. As we briefly mentioned in our AMD XConnect overview, the Core is essentially the pathfinder product for the TB3 eGFX standard, with Intel, AMD, and Razer working together to put together the first devices and validate them. Consequently the Core is so far only validated to work with two laptops – Razer's Blade Stealth and new 2016 Blade – however it should work with any future laptops that are also eGFX certified.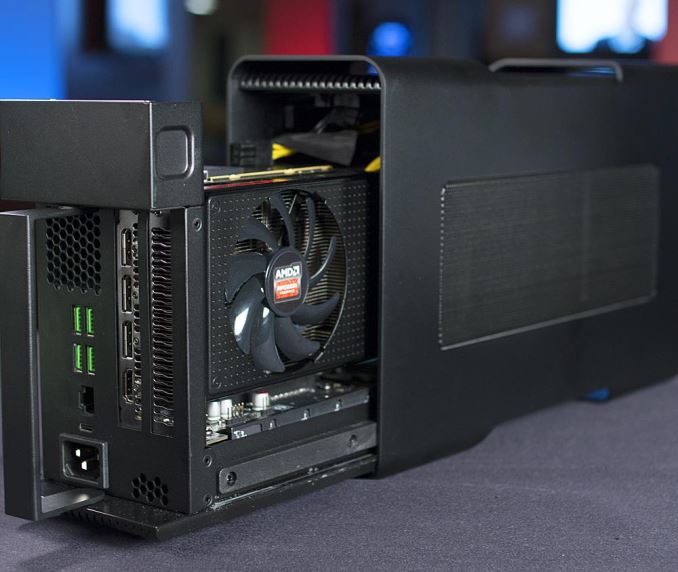 As for video card compatibility, while the Core was initially developed with Intel and AMD, Razer has confirmed that the chassis does support both AMD and NVIDIA video cards. The full compatibility list is posted below, but for AMD cards it's essentially all of their latest generation (290 series and newer) video cards. Meanwhile on the NVIDIA side all of the company's Maxwell 1 and Maxwell 2 cards are supported, starting with the GTX 750 Ti. Though given the price of the Core, it goes without saying that the expectation is that it will be paired up with high-end video cards as opposed to lower-end models.
Razer Core Video Card Compatibility List
AMD
NVIDIA
Radeon R9 Fury
GeForce GTX Titan X
Radeon R9 Nano
GeForce GTX 980 Ti
Radeon R9 300 Series
GeForce GTX 980
Radeon R9 290X
GeForce GTX 970
Radeon R9 290
GeForce GTX 960
Radeon R9 280
GeForce GTX 950
GeForce GTX 750 Ti
While the Core supports both AMD and NVIDIA cards, how well each brand is supported is looking a bit hazy. As part of the eGFX development cycle, AMD's drivers are fully capable of and validated for eGFX plug 'n play operation, allowing Windows to gracefully handle losing the external GPU with both planned and accidental disconnects. In the case of an accidental disconnect, Windows will stay up, while applications using the GPU may crash. However NVIDIA's drivers have not yet been validated for plug 'n play operation, and it sounds like at this moment NVIDIA is still hammering out the final bugs. That said, NVIDIA has committed to having drivers ready by the time the Core ships in April, so we'll have to see where things stand next month.
Finally, let's talk about availability and pricing. Razer will begin taking pre-orders for the Core tonight through their website, with the chassis set to ship in April. As for pricing, the first eGFX chassis on the market will not come cheap: Razer is setting the base price on the chassis at $499, and after the cost of a high-end video card to put in the Core, we're looking at a total price tag of $1000 or more. However Razer is offering a $100 discount on the Core if it's purchased alongside a Razer Blade or Blade Stealth laptop – bearing in mind that these are the only two laptops eGFX certified at this time in the first place – which brings the effective cost down to $399. Razer also notes that this offer is also retroactive for customers whom already purchased a Blade Stealth earlier this year, as the ultrabook and the Core were announced together at CES and the company doesn't want to penalize early buyers who were intending to grab the Core anyhow.