During CES this year it was clear that one of the overriding themes was external graphics solutions. Intel's Thunderbolt line of ICs has historically been the source of musings, and we saw first and second generation Thunderbolt enclosures being demonstrated at previous events. Several reasons were given for them not being released, including limited bandwidth and the ability to hot-plug were cited as well as other factors. Third generation Thunderbolt offers up to 40 Gbps of bandwidth over an active cable, and it sounds like some implementations are now supporting hotplug, meaning that we will see some entering the market. However, ASUS' implementation is considerably different.
The External GPU Dock, over Type-C
If we look at several items on the market, namely the newly announced GX700 laptop from ASUS with a water-cooled graphics card, or the MSI GS30 series of laptops, or even something like the MSI AIO with an external graphics card - the trend is to pass the PCIe lanes through an interface as if the connection is transparent to the PC. This has a variety of limitations such as hot plug probably won't be enabled and it requires a reboot to switch between the graphics, but it does provide a stop-gap solution for sure.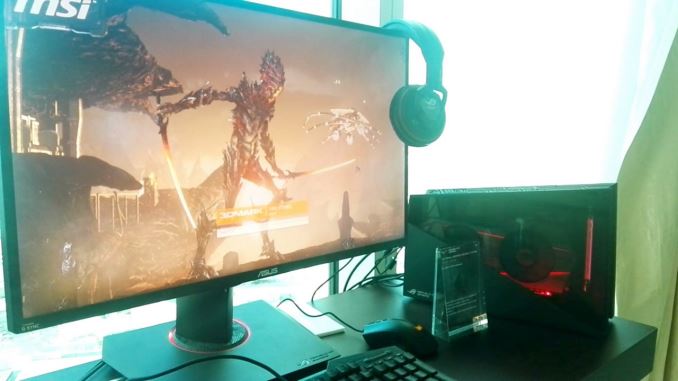 The external GPU dock on display from ASUS is a little different again to the laptops and AIO mentioned in the previous paragraph, by taking the PCIe lanes and passing the data over a Type-C interface. Using a proprietary IC, ASUS is able to carry 32 Gbps of data over a passive Type-C cable (note, Thunderbolt 3 is limited to 20 Gbps over passive) to a dock that can decode the data. That being said, there were two data cables going from the dock to the laptop, making me think that this is actually two lots of 20Gbps maximum and the IC logic is there to reconstruct the bits from different PCIe lane data streams.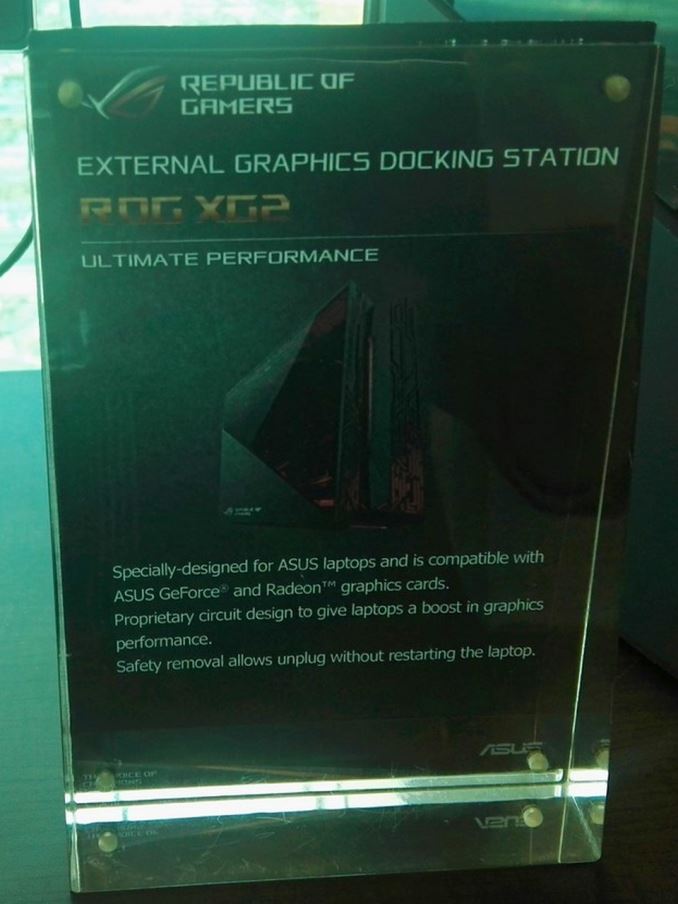 The enclosure on display we are told is near final, and uses the same Mayan pattern-like design as ASUS' current range of small gaming PCs. The dock is designed to take any serious single GPU card up to 350W, and because the data comes over PCIe, the card can also be overclocked as if it was directly attached as in a normal desktop. Here's a video:
So there are a few things worth mentioning. The external dock does need an external monitor to run. Because the dock requires ASUS proprietary technology and only ASUS laptops will have it, we are told that the laptops will carry a mini-DisplayPort input connection, meaning that the GPU can be hooked straight back into the laptop if necessary. If the dock has sufficient power, it can also be used to charge the laptop via a USB-C charging connector as well, meaning that the laptop does not need to be attached to power when this is occurring.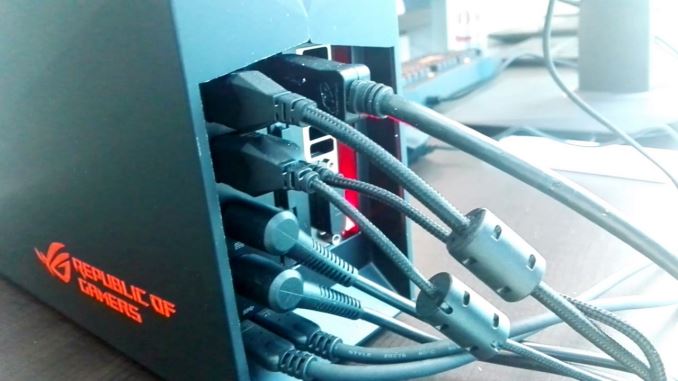 External graphics is a minefield of coping with errors. If the dock is removed, the system should crash, but the idea here is that a user can simply bring their laptop home and start doing powerful gaming. ASUS is saying that their solution can survive a hot-plug event, merely by causing the program that needs the GPU to close – but each GPU will need to be validated in this environment separately as time goes on. The other element is that if this ends up purely for ASUS laptops, there needs to be a few models (both gaming and business oriented) that can support it. No doubt we will see more as time goes on.