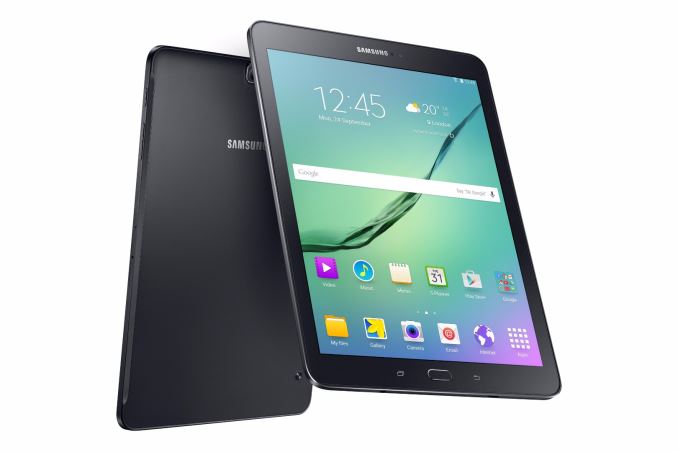 Today Samsung announced the Galaxy Tab S2, the followup to last year's Galaxy Tab S tablets. In our review of the Galaxy Tab S 8.4 and 10.5 we ultimately concluded that they were easily the best tablets that Samsung had made to date, but were held back by their Exynos 5420 SoC which was just decent at the time. This year Samsung is changing up things significantly, with the move to a new form factor, two new display sizes, and a much newer SoC. Look below to see the specs of Samsung's new flagship tablets for 2015.
Samsung Galaxy Tab S2 Series
Model
Samsung Galaxy Tab S2 9.7"
Galaxy Tab S2 8.0"
SoC
Samsung Exynos 5433 4x Cortex A57 @ 1.9GHz 4x Cortex A53 @ 1.3GHz Mali T760MP6 @ 700MHz
RAM/NAND
3GB LPDDR3, 32/64GB NAND + microSDXC
Display
9.7" 2048x1536 SAMOLED
8.0" 2048x1536 SAMOLED
Dimensions
169 x 237.3 x 5.6mm, 389g
134.8 x 198.6 x 5.6mm, 265g
Camera
8MP Rear Facing 2.1MP Front Facing
Battery
5870mAh (22.3Wh)
4000mAh (15.2Wh)
OS
Android 5.0 Lollipop
Connectivity
802.11a/b/g/n/ac + BT 4.1, GNSS, microUSB 2.0
Cellular
Optional LTE SKU available
As far as specifications go, the Galaxy Tab S2 is improved over the original Galaxy Tab S 8.4 and 10.5 in most respects. Inside it sports Samsung's Exynos 5433 SoC, which has four Cortex A57 cores with a peak frequency of 1.9GHz, and four Cortex A53 cores that go as high as 1.3GHz. Paired with the SoC is 3GB of LPDDR3 memory plus 32 or 64GB of internal memory, and a microSD slot to expand that by up to 128GB officially. Andrei took a look as Exynos 5433 in his review of Samsung's Exynos edition of the Galaxy Note 4 earlier this year, and performance was quite impressive. If the Exynos 5433 in the Tab S2 is running in AArch64 mode it could mean further performance improvements, but we'll have to wait and see if this is the case.
While Exynos 5433 is certainly no slouch, I do find myself wishing that Samsung had decided to use Exynos 7420. Not only is it faster and more power efficient due to its 14nm manufacturing process, but there's also improvements to memory bandwidth with the adoption of LPDDR4 memory. Samsung's tablets always seem to lag a bit behind their flagship phones, which is unfortunate for heavy tablet users. Samsung's listed specifications for the Tab S2 also seem to confirm that the HEVC decoder in Exynos 5433 is still not being exposed to the operating system, which is disappointing as someone who has begun to move some of their library over to the new encoding standard.
Beyond the SoC and memory we find an 8MP rear-facing camera and 2.1MP front-facing camera on both sizes of the Tab S2. The Tab S2 doesn't support UHD video recording, but it does support recording 30fps video at 2560x1440 which is an uncommon resolution for video recording. Being 4 times the number of pixels as 720p it could be useful for recording and then downscaling to a 1280x720 resolution to reduce artifacting.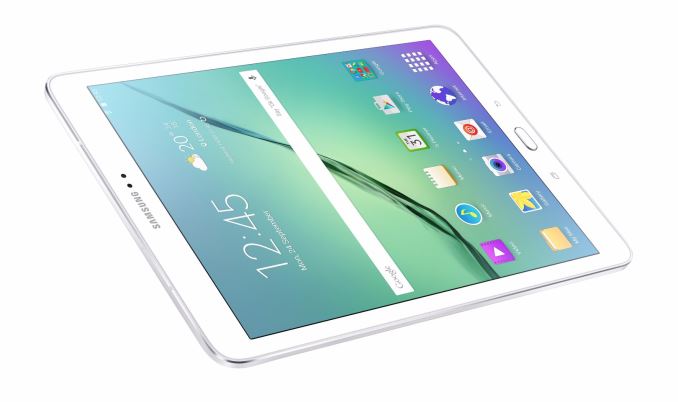 On the display side, both sizes of the Tab S2 sport a 2048x1536 SAMOLED display. This is a significant change for Samsung, who has traditionally shipped 16:10 tablets. I've already noted several times in previous tablet reviews that 16:10 is an aspect ratio that is good for watching videos and really nothing else, and is too extreme to allow the interface to naturally work in both portrait and landscape without any extreme changes to how the UI is fit onto the display. Google launched the 4:3 Nexus 9 not long ago, with ASUS recently following with their Zenpad S, and Samsung launching their own Galaxy Tab A tablets. It seems that after five years of 16:10 tablets the Android manufacturers have realized that it just isn't comfortable or practical, and are finally moving to more proportionally balanced displays for future tablets.
While I appreciate the move to 4:3, it does pose a problem as far as specifications on paper go. This is because both models of the original Galaxy Tab S had a 2560x1600 resolution, which is higher than the 2048x1536 of the Galaxy Tab S2. I honestly don't think the difference matters at these screen sizes with these resolutions, but it's something Samsung will have to deal with. At this time we also don't know what type of subpixel arrangement these tablets use. I noted in my Venue 8 7840 review that even at 360ppi there was noticeable artifacting caused by the PenTile subpixel arrangement. Since both models of the Galaxy Tab S2 are of an even lower pixel density I hope they use a conventional RGB subpixel arrangement or Samsung's S-Stripe arrangement.

As for the design of the Tab S2, it seems to be similar to the Galaxy Note 4 in how it sports a metal frame around the edges but a plastic back. However, there are no more dimples or strange textures on any of the edges of the device, which I think makes for a much cleaner and aesthetically superior appearance. While it's not a full metal unibody like the iPad Air 2, both models of the Galaxy Tab S2 have one thing that make them stand out from other tablets. At 5.6mm thin they appear to be the world's thinnest tablets, snatching the title from Dell's Venue 8 7840 which was previously billed as the thinnest at 6mm thick. At 389g the 9.7" model is also one of the lightest full size tablets that I've seen, and I'm very eager to see how it feels in hand compared to the iPad Air 2. Even more impressive is the 8.0" model which is also 5.6mm thick, and has a mass of only 265 grams. That's extremely light for a powerful tablet, even at an 8" size, and it sounds like it will be a great tablet for keeping on your person at all times.
According to Samsung's press release both tablets will be available in global markets starting in August of this year. SamMobile reports that the tablets will be 399€ and 469€ for the WiFi and LTE 8" models respectively, with the 9.7" WiFi and LTE models being 499€ and 569€. From their photos it's clear that they'll be available in black and white, and I would imagine that pricing in the United States will follow the standard € = $ conversion for the pricing.
Source: Samsung Mobile Press