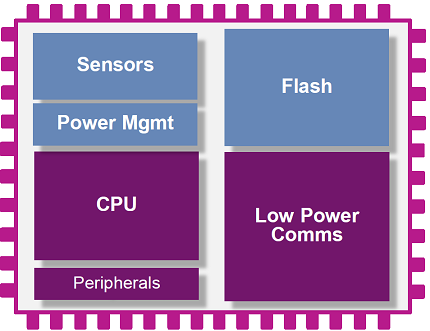 Today Imagination is launching a new set of licensable wireless intellectual property (IP) called 'Ensigma Whisper' to complement its portfolio of other SoC IPs. This announcement gives Imagination a more complete portfolio of large SoC IP blocks and notably differentiates Imagination from ARM who does not have a comparable wireless IP offering. Imagination claims the patented power optimizations makes Whisper the highest efficiency wireless IP available.
Customers licensing Ensigma Whisper receive access to Imagination's 'Radio Processing Unit' or RPU. This RPU is a complete set of IP from antenna to software, including all parts in between such as RF transceivers and baseband processing.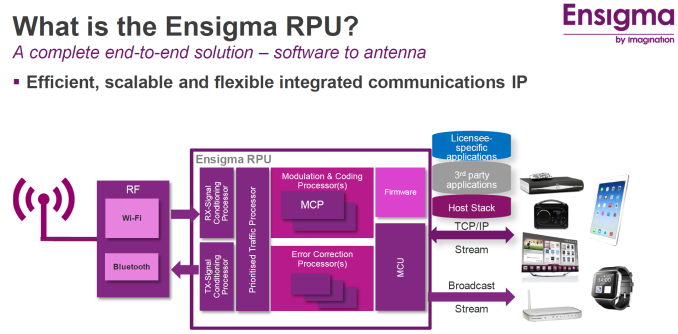 Imagination considers the Ensigma Whisper brand to be a collection of different wireless IPs, and is launching three models today. The C5300 is a Bluetooth LE (Low Energy) solution, C5400 is Wi-Fi 802.11n 1x1 and the C5401 is a combination model featuring both with separate paths enabling simultaneous operation. Here's a gallery of the Imagination overview slides for each model.
Imagination plans to fill out the Whisper line with more protocols such as LTE CAT 0/1, 802.15.4 and 802.11ah. This will provide more mobility as well as mesh networking capabilities.
Imagination actually already had wireless IP in their portfolio via the high power Ensigma Explorer series, but to meet the stringent size, cost, and power requirements of SoCs targeted to IoT and wearable applications Enigma Whisper was a redesign from the ground up. During the press briefing we were given an opportunity to ask questions and this avenue yielded some interesting details.
While most of us know that devices tend to sleep more than they are awake, Chakra Parvathaneni, vice president of the Ensigma business operations at Imagination, provided some numbers sourced by profiling a variety of IoT and wearable devices. Chakra stated that for every 300ms of time, a typical IoT device is only awake 4ms. Furthermore, when a device is connected to a populated WiFi network, only 1 out of every 100 times RX packets are processed is there also TX activity. As a result Imagination focused its optimization efforts on sleep power and RX efficiency.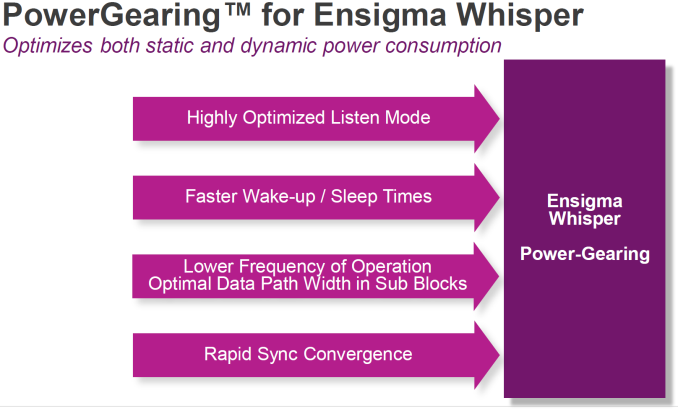 One of these optimizations is a patented technique called early packet abortion, which works in tandem with rapid sync convergence. Imagination's internal data showed that on a populated Wi-Fi network a huge number of packets being synchronized to and decoded by a given device are actually for other devices. These are normally discarded but only after significant signal processing (and thus power). To prevent this waste, after decoding a packet actually intended for itself, Whisper saves metadata about the synchronization and decoding operations performed. In continued operation, as long as the connected access point does not change, Whisper uses this meta data to take short cuts in synchronizing and decoding future packets. This improves efficiency for self-addressed packets and allows early abortion of packets intended for other devices.
Other optimizations discussed by Chakra are that the Ensigma Whisper baseband was optimized to operate at 20 or 40 MHz frequencies (depending on wireless channel width) and use an 8-bit data path. Chakra mentioned this is a significant improvement over traditional designs that operate at 80 MHz and use a 10-bit data path.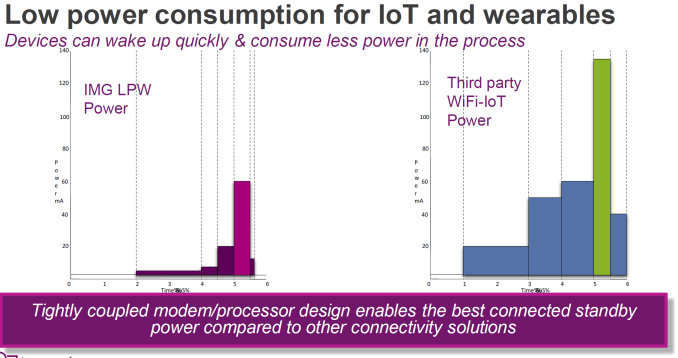 The Imagination supplied data shown above gives the benefits of these optimizations. While we cannot do independent verification of this data yet, it is great to see continuous development in wireless power efficiency.
Finally, Imagination states that the embedded microcontroller of the Ensigma Whisper can be loaded with custom firmware to provide protocol layer 2 processing and even application level logic, eliminating the need for a paired general purpose CPU. If a general purpose CPU is needed, Imagination would love to sell you its MIPS CPUs, but stated Ensigma Whisper is compatible with almost any CPU type (including ARM).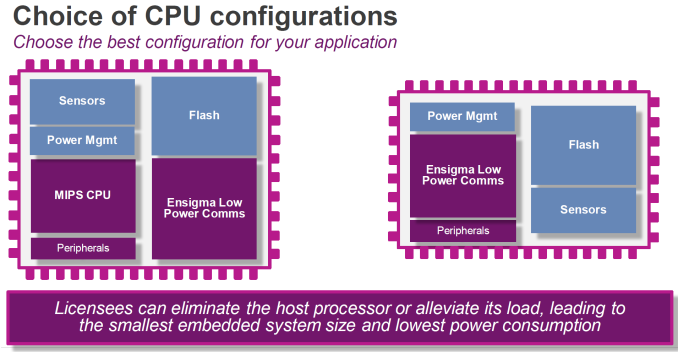 On the software side, Imagination offers connectivity of devices to internet servers via their Flow Cloud stack. Flow Cloud provides features such as device and user management, data logging, event handling, asynchronous messaging, e-payments, and even internet radio.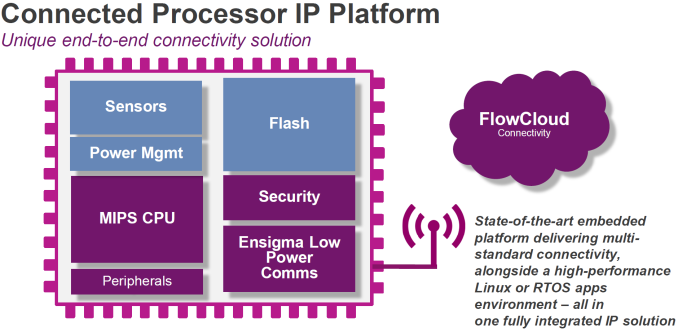 Ensigma Whisper is available now for licensing, so we should see devices containing it later this year.
Source: Imagination Technologies