Of the four major motherboard manufacturers, three of them separate their main lines into channel (regular), overclocking and gaming, with one other also having a low power range. ASUS does it a little differently by having the Republic of Gamers line as a combination gaming/overclocking product stack and then the TUF (The Ultimate Force) range which acts as a longer warranty and an engineered product designed for longevity. The newest member of this line is to be the X99 Sabertooth, which ASUS is showcasing at CeBIT.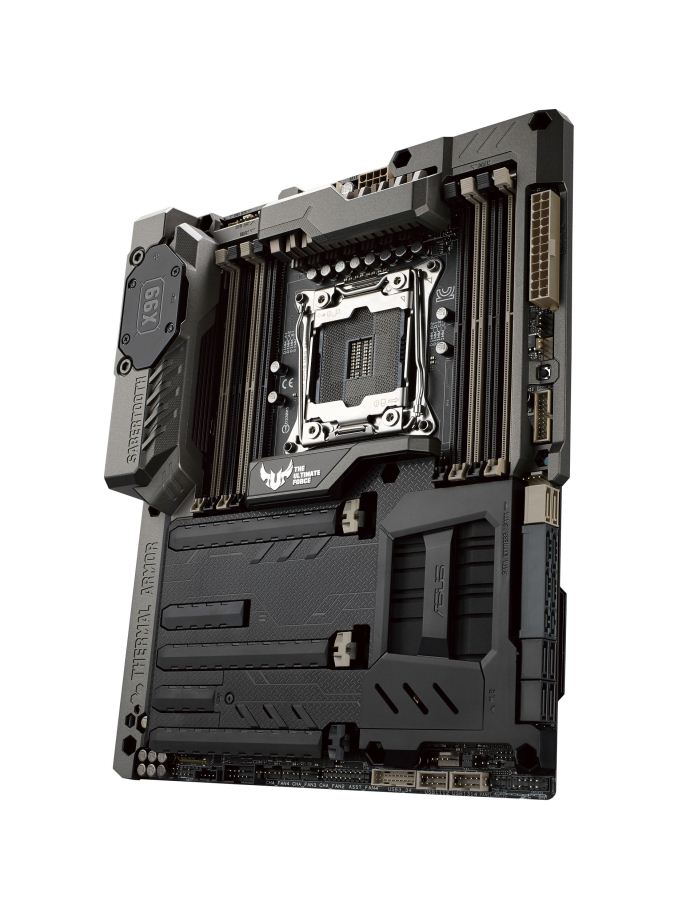 Like some of the Z97 TUF models, such as the Mark S which we reviewed in November, the X99 version gets the front and rear reinforcement plates labelled as the TUF Fortifier as well as slot dust guards to help protect unused slots. The rear panel comes with a covered shroud allowing for directed airflow over the power delivery heatsinks. New to the TUF line is a set of USB 3.1 Type-A ports onboard in teal blue, presumably provided by an ASMedia controller.

New features for X99 include the TUF Detective which is a combination hardware and software feature that connects a specific dedicated USB port on the rear to a smartphone or tablet, allowing the user to remotely turn-on, restart, clear CMOS, view voltages and live system clock speeds. This is somewhat similar to ROG Connect on the gaming motherboard line, but focuses on smartphone/tablets and removes overclocking.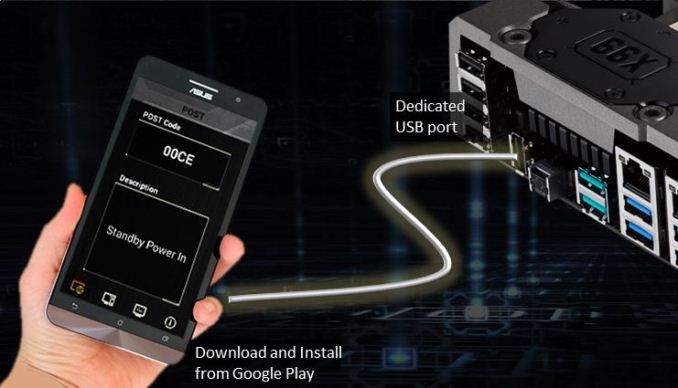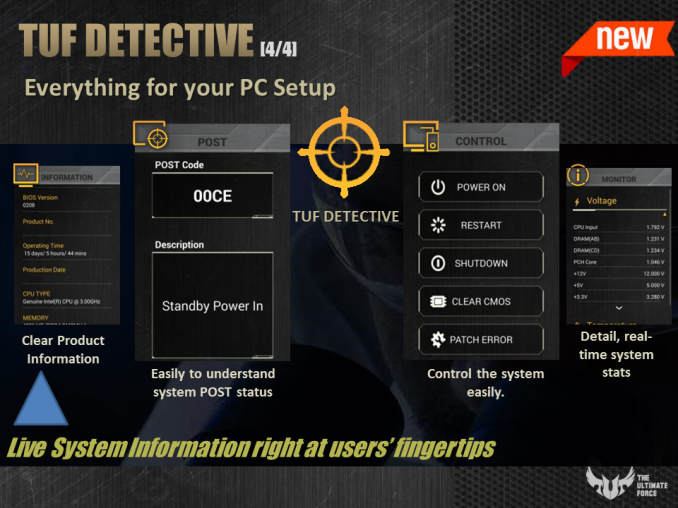 Other TUF features include an upgraded electrostatic discharge protection for the IO ports, an integrated controller for 11 fan speeds and 12 sensors as well as software to manage the directed and partitioned control of the fans. As with all TUF boards, where applicable there is a five year warranty, which is two years more than normal.
An interesting mention in the press release is that the board is listed as 'the world's first consumer desktop motherboard to support all NVM Express storage devices', 'including M.2 as well as SFF-8639 via a mini-SAS HD connector on a 'Hyper Kit' expansion card'. This also apparently allows compatible drives to take advantage of PCIe 3.0 x4. A clause in the press release stats that Hyper Kit is an 'NVM Express M.2 adapter' included with the motherboard, initially available in North America only. No images of the Hyper Kit were provided, nor a list of compatible drives, although given ASUS' PR strategy that might change when it goes on release in the various regions.
No direct word on when the motherboard will be available, which is typical with press releases from ROG. TUF boards are usually light on extra controllers and such, although this one has dual SATA Express, USB 3.1 and the Hyper Kit, and so it might fall in a wide range of pricing depending on ASUS' strategy.
Source: ASUS