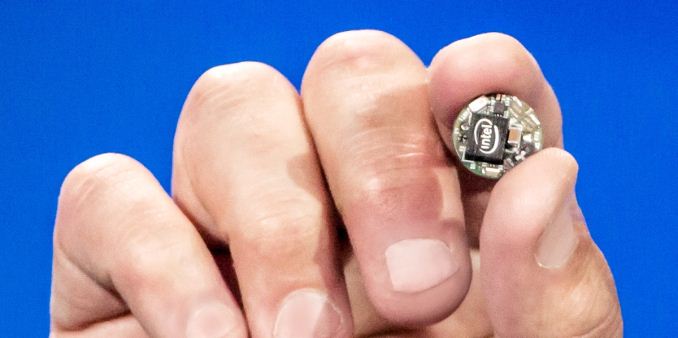 Yesterday, Intel announced a new module targeted to wearable technology: Intel Curie. This module continues Intel's push into IoT and wearable technology started with the Intel Edison. While we thought Edison was small, at just above the size of a US postage stamp, Curie goes even further. Intel has not revealed exact dimensions, but the overall package appears to be the size of a US dime, or small button. The circular PCB shape is also fairly unique and novel. Curie is so small it could theoretically be integrated into rings.
Despite its size, Curie packs in a reasonable amount of functionality. Curie is headlined by a new SoC Intel claims is their first purpose-built for wearables: the Quark SE. Curie was only just announced so we do not have complete specifications yet but I have compiled what is available.
Intel Curie
Intel Edison Development Platform
CPU
Quark SE @ ? MHz
Dual-Core Silvermont Atom @ 500MHz +
Quark @ 100MHz
RAM
80kB SRAM
1GB LPDDR3 (2x32bit)
WiFi / BT
"BT Low Energy"
2.4/5GHz 802.11a/b/g/n, BT 4.0
Storage
384kB flash
4GB eMMC
I/O
Battery charging PMIC
SD + UART + SPI + GPIO + USB 2.0 OTG
OS
Open source Real-Time OS
Yocto Linux v1.6 (CPU)
Open source Real-Time OS (MCU)
Dimensions
Approx. US dime
(~18mm diameter)
35.5 x 25 x 3.9 mm
Sensors
Integrated DSP sensor hub with pattern matching 6-axis combo sensor (accelerometer and gyroscope)
-
Intel did not specify if the Bluetooth antenna was built into the PCB or needs to be added on. As Curie integrates sensors and a battery charging PMIC directly whereas Edison provides interfaces to connect to those same features, it is clear Intel designed Curie to be stand alone. Therefore, accounting for the other hardware that needs to be built around Edison, the size difference grows.
Intel's Curie does not include an applications processor and instead relies entirely on the MCU. This may seem limiting compared to powerful Galaxy Gear or Android Wear devices, but there are many devices such as Fitbit and even the Microsoft Band that also exclude an applications processor. This should enable Curie to be exceptional for battery life, however Intel provided no power consumption figures.
Curie will ship in 2H 2015 and be bundled with Intel IQ Software Kits. Intel IQ is a set of algorithms, device software, smartphone apps, and cloud integration (management, analytics, user and company portals) and breaks down into two components: Body IQ and Social IQ with corresponding biometric and connectivity focuses.