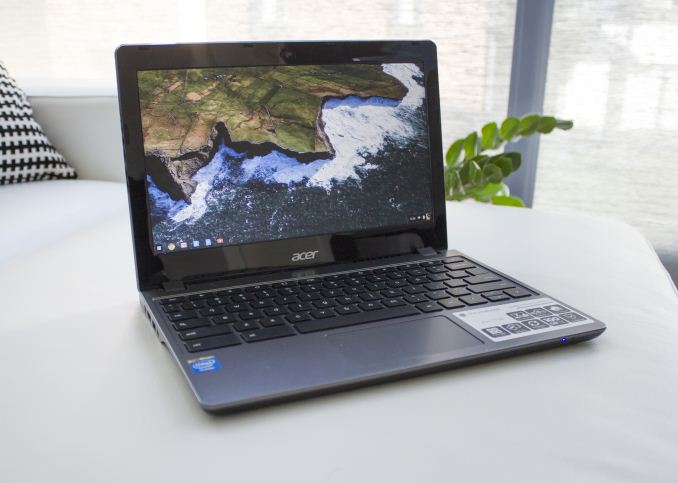 While the whole netbook boom kind of died with the introduction of tablets, Chromebooks have been gaining more and more traction recently. The original Windows netbooks failed to provide a smooth user experience due to the lack of operating system optimization, and Windows was simply way too heavy to be run with such limited resources. Chrome OS on the other hand was designed specifically for netbook-like devices. Google took a totally different approach by designing the Chrome OS around web and cloud-based services, which allowed the OS to be run with very little onboard storage.
Most of today's Chromebooks actually ship with either a small mSATA/M.2 SSD or have an eMMC package onboard, which is a bit ironic since Chromebooks are generally the cheapest laptops around, yet if you buy a Windows laptop that costs twice as much you will most likely end up with a traditional hard drive for storage. That is an enormous benefit that Chromebooks have because the lack of a hard drive enables much thinner and lighter designs, which translates into a better user experience.
The majority of the Chromebooks have 16GB of onboard storage with some high-end models having twice that. For the intended usage where everything is done in the web, that is sufficient, but when you need local storage for offline occasions (e.g. when traveling), 16GB or 32GB will not get you far. There is always the option of carrying external storage to expand the internal storage, but there is another alternative: upgrading the internal SSD.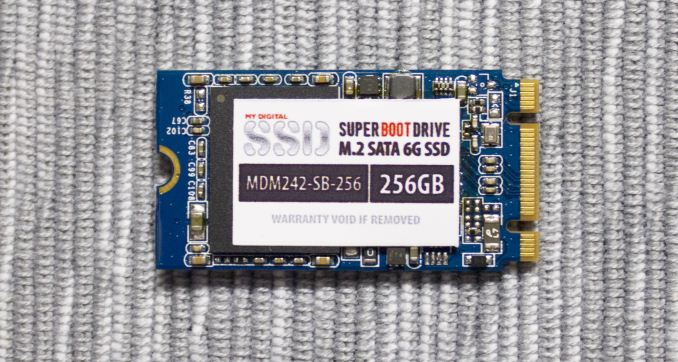 For the purpose of this review, MyDigitalSSD sent us a 256GB Super Boot Drive in M.2 2242 form factor along with Acer's C720-2848 Chromebook.
Acer C720-2848 Chromebook Specifications
Display
11.6" 1366x768
Processor
Intel Celeron 2955U (2/2, 1.4GHz, 2MB, 15W)
Graphics
Intel HD Graphics (200MHz, 1GHz max Turbo)
Memory
2GB DDR3
Storage
16GB SSD (M.2 2242)
Connectivity
WiFi (802.11 a/b/g/n), Bluetooth 4.0, 1x USB 3.0, 1x USB 2.0, SD card reader, 1x HDMI
Dimensions
11.34" x 8.03" x 0.78" (W x D x H)
Weight
2.98lb
The C720 is what you would expect a Chromebook to be. The display is a bad TN panel, the trackpad does not always feel responsive, and the overall build is just plastic. It feels cheap, but the positive thing is that it really is cheap, as the C720-2848 currently retails for just $200. I cannot really give an objective review of the laptop itself as I have not used any other Chromebooks, but overall I am fairly impressed with what $200 gets you nowadays.
MyDigitalSSD Super Boot Drive M.2 2242 Specifications
Capacity
8GB
16GB
32GB
64GB
128GB
256GB
Controller
Phison S9 (PS3109)
NAND
Toshiba A19nm MLC
Sequential Read
Up to 545MB/s
Sequential Write
Up to 410MB/s
Warranty
Three years
Like other MyDigitalSSD's SSDs, the Super Boot Drive is based on a Phison controller and comes in a variety of capacities. The M.2 2242 currently tops out at 256GB since the form factor limits the number of NAND packages to two, and with 16GB die 128GB packages are the biggest that are available in the open market.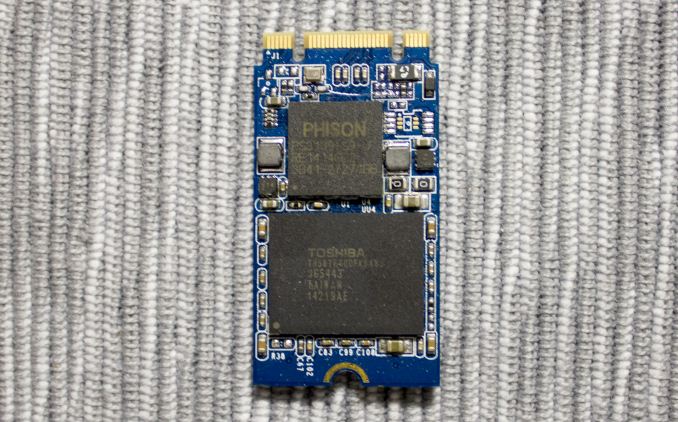 Notice that there is no DRAM at all. The M.2 2242 form factor lacks the space for a dedicated DRAM chip, so the NAND mapping table and host IO caching is done in the internal caches of the controller (usually a few megabytes of SRAM). There is a bit of a performance penalty from doing that as the internal caches are much smaller, but it is the only viable way to squeeze a full SSD into such small area.
Test Systems
There are two major items we want to look at in this review: first, we want to investigate the upgrade procedure for the Acer C720 Chromebook and examine Chrome OS performance, and second we're going to look at the MyDigitalSSD Super Boot Drive as a standard SSD and run our usual storage tests. For AnandTech Storage Benches, performance consistency, random and sequential performance, performance vs. transfer size and load power consumption we use the following system:
| | |
| --- | --- |
| CPU | Intel Core i5-2500K running at 3.3GHz (Turbo & EIST enabled) |
| Motherboard | ASRock Z68 Pro3 |
| Chipset | Intel Z68 |
| Chipset Drivers | Intel 9.1.1.1015 + Intel RST 10.2 |
| Memory | G.Skill RipjawsX DDR3-1600 4 x 8GB (9-9-9-24) |
| Video Card | Palit GeForce GTX 770 JetStream 2GB GDDR5 (1150MHz core clock; 3505MHz GDDR5 effective) |
| Video Drivers | NVIDIA GeForce 332.21 WHQL |
| Desktop Resolution | 1920 x 1080 |
| OS | Windows 7 x64 |
Thanks to G.Skill for the RipjawsX 32GB DDR3 DRAM kit
For slumber power testing we used a different system:
| | |
| --- | --- |
| CPU | Intel Core i7-4770K running at 3.3GHz (Turbo & EIST enabled, C-states disabled) |
| Motherboard | ASUS Z87 Deluxe (BIOS 1707) |
| Chipset | Intel Z87 |
| Chipset Drivers | Intel 9.4.0.1026 + Intel RST 12.9 |
| Memory | Corsair Vengeance DDR3-1866 2x8GB (9-10-9-27 2T) |
| Graphics | Intel HD Graphics 4600 |
| Graphics Drivers | 15.33.8.64.3345 |
| Desktop Resolution | 1920 x 1080 |
| OS | Windows 7 x64 |