Companies such as Motorola, Apple, Nest, and Fitbit have been targeting the Internet of Things (IoT) and wearables market with devices for the past several years. However, if the smartphone revolution was any indication, we are merely at the tip of the iceberg for these devices. Even Apple acknowledged as much by naming the processor inside the Apple Watch the "S1", clearly planning for future revisions.
Today, hoping to capitalize on this next wave of technology proliferation, MediaTek is formally launching their Labs program for IoT and wearables. This is one of many announcements we will see over the next year as companies look to enter this market.
MediaTek Labs' goal is to be a central hub for developers to collaborate on everything from side-projects to big business device production. With Labs, MediaTek provides software and hardware development kits (SDKs and HDKs), technical documentation, example code, and discussion forums. MediaTek was a late entry into the smart phone market in 2009/2010 but has since exploded in popularity largely due to very complete reference designs and aggressive pricing. MediaTek aims to reproduce this success, only earlier, for the IoT and wearables space.
When discussing hardware, it's important to keep in mind there are actual several sub markets. I've reproduced a slide and table from MediaTek that does a decent job laying out the differences.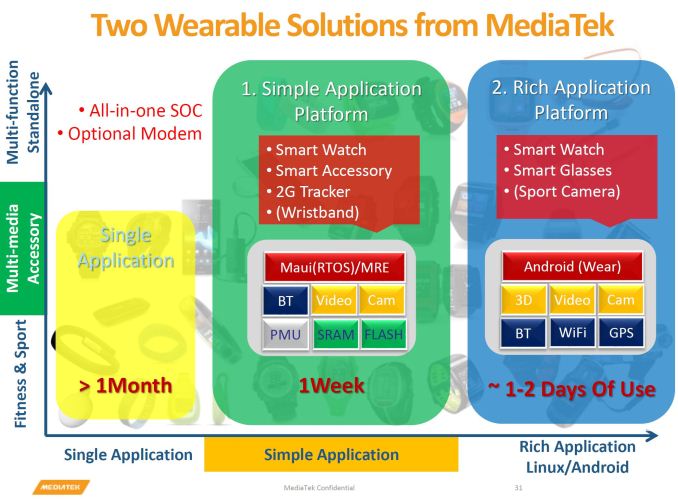 MediaTek's IoT and Wearables Market Segment Description
One Application Use (OAU)
Simple Application Use (SAU)
Rich Application Use (RAU)
Examples

Fitness Tracker
Health Tracker
Simple Bluetooth

Smart Wristband
Smart Watch
Child/Elderly Safety
High-end Smart Watch
Smart Glasses

Hardware

MCU (<100 MHz)
Bluetooth
Sensor

MCU (100-300 MHz)
Bluetooth
Sensors

AP (>1GHz w/ multi-core)
Bluetooth
Sensors
TFT Display

Optional Hardware
LED Display
LED or TFT Display
GSM/GPRS
GPS
Wi-Fi
See-Through Display
GSM/GPRS
GPS
Wi-Fi
OS
None
Mostly RTOS
Mostly Linux
Price Point
Lowest
Middle
Highest
Battery Life
Long (>7 days)
Medium (5-7 days)
Short (2-3 days)
Characteristics

Limited computing power, focusing on one task (such as sports, health, find device)

Mostly non-display or with very simply LED display

May have multiple functions and can update apps

Also need outdoor/indoor positioning

Focus for MediaTek LinkIt and Aster (MT2502) chipset

Multiple apps and functions

Sophisticated UI with more powerful graphics and multimedia features
One thing I do not like about this table is it insinuates these markets are mutually exclusive. While I agree there are indeed hardware and software differences between sub markets, with low enough sleep power and smart enough software, a single device could contain both a high performance applications processor (AP) as well as a low power microcontroller (MCU). In fact, that's exactly what Intel's Edison platform and many smart phones do, such as the Moto X. Nevertheless, hybrid devices are certainly more complicated and there is a lot of success to be had focusing on a single task.
For example, the popular Pebble smart watch and Nest thermostat each contain a simple MCU with no high performance AP. This is exactly what MediaTek is targeting with their first platform release on labs: LinkIt. LinkIt actually refers to MediaTek's new MCU operating system, which is launching alongside a new SoC named Aster or MT2502. Additionally, a hardware development kit from partner Seed Studio is available through Labs, as well as a software development kit to aid in firmware development and to help port existing Arduino code.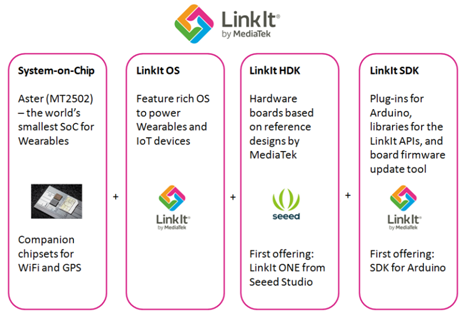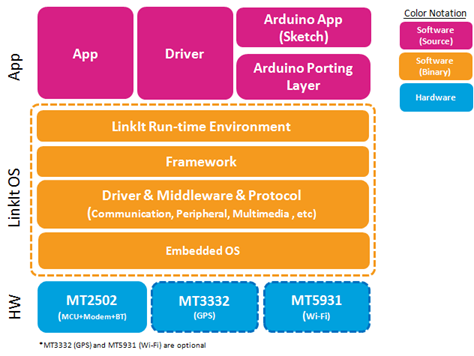 The core of this kit is of course the new Aster MT2502 SoC. MediaTek feels it is uniquely positioned with an SoC that contains an MCU, Power Management Unit (PMU), Memory, Bluetooth 4.0, and a GSM and GPRS Dual SIM modem (850/900/1800/1900MHz). The total size of the SoC is 5.4x6.2mm. If GPS/GLONASS/BEIDOU or WiFi b/g/n are desired, MediaTek provides compatible external ICs for each.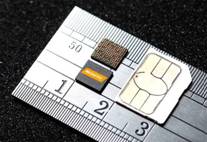 MediaTek Aster MT2502 SoC
Size
5.4mm x 6.2mm
Package
143-ball, 0.4mm pitch, TFBGA
CPU
ARM7 EJ-S 260MHz
Memory
4MB RAM integrated
Storage
4MB Flash integrated
PAN
Dual Bluetooth 4.0
WAN
GSMS and GPRS dual SIM modem
Power
PMU and charger functions
Low power mode and sensor hub function
Multimedia
AMR speech codec, HE-AAC music codec, Integrated audio amplifier, JPEG decoder/encoder, MJPEG decoder/encoder, MPEG4 decoder/encoder
Interfaces
LCD, VGA camera, I2C, SPI, UART, GPIO, SDIO, USB 1.1, Keypad, Serial Flash, JTAG, ADC, DAC, PWM, FM Radio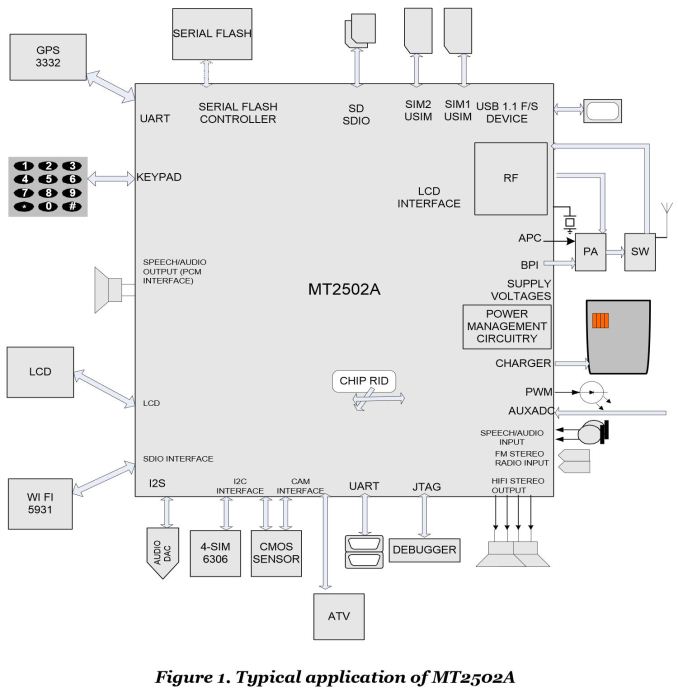 Developers eager to get their hands dirty can do so as of today for $79. The LinkIt One development board is available and shipping from Seed Studio. This board combines the Aster MT2502A SoC, MT5931 for WiFi, MT3332 for GPS, audio codec, SD card, many I/O interfaces similar to Arduino, and Arduino shield compatibility.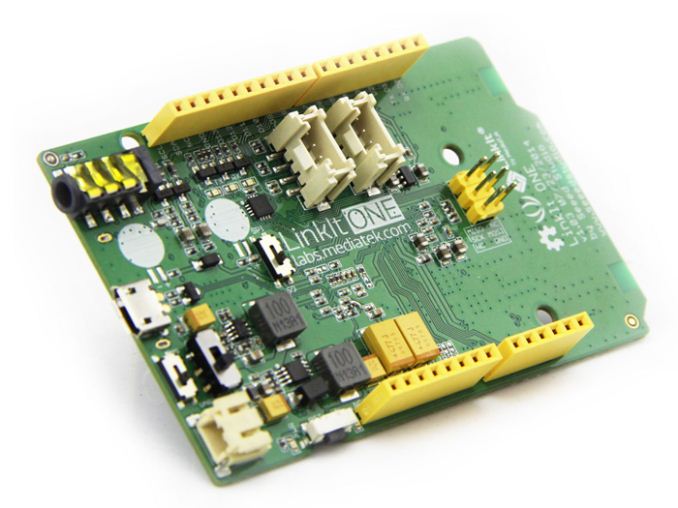 It will be a while before we see non-prototype designs featuring LinkIt and Aster hit the market, but if MediaTek has its way that will only be the start. MediaTek plans on releasing more SDKs, HDKs, and chips through their Labs website and partners over the next few years. As of this writing MediaTek has already posted a beta SDK and emulator for Android targeting the higher performance IoT and wearable devices. While I am not personally sure just what additional smart devices I need in my life right now, I actually think that gets me more excited about the future than otherwise.