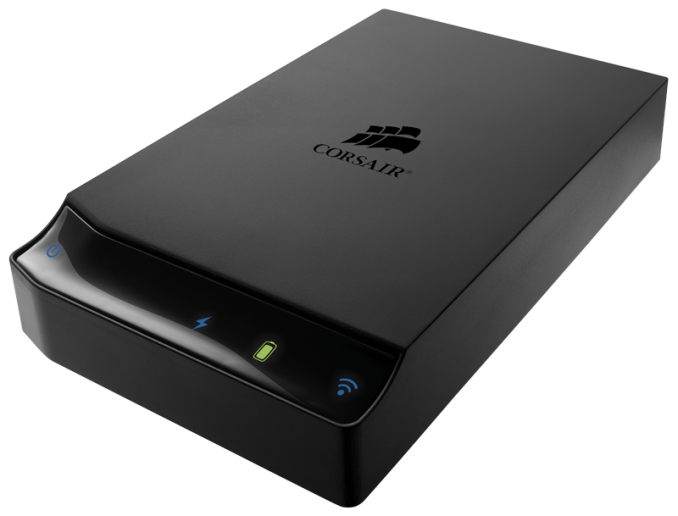 If you need access to tons of movies, music, etc. on your iOS or Android device – or perhaps a PC or Mac as well – Corsair's latest Voyager Air 2 wireless drive might prove useful. Featuring support for up to 1TB of storage and powered by a rechargeable battery that offers up to seven hours of battery life, the palm-sized device at its most basic level can function as portable USB 3.0 storage, but that's not really taking advantage of the additional features.
The Voyager Air 2 as you might guess from the name also supports 802.11n/g/n connections. Unfortunately, it looks like it's only 2.4GHz connections, which means it won't provide faster speeds for 5GHz 11n users and those equipped with 11ac users are also out of luck. On the bright side, the WiFi can connect to a wireless hotspot and provide wireless passthrough for Internet sharing, but again the 2.4GHz spectrum means this won't be useful in crowded WiFi environments.
The device also supports Airplay, DLNA, and cloud syncing with Corsair's version 2.0 software. Airplay allows the device to work with AppleTV products, DLNA support means it can work with a variety of Blu-ray players, came consoles, and other devices, and the cloud syncing supports synchronization with Dropbox and/or Google Drive. The onboard media server will also automatically organize media files, allowing you to browse TV shows by name/season/episode and music by artist/album/title/genre. For Windows and OS X PCs/laptops, you can also access content on the device through a web interface.
Availability is scheduled for June, with an MSRP of $180. That makes the new Voyager Air 2 less expensive than the 500GB Voyager Air, though the original Voyager Air also included Ethernet support. Other than a slightly modified enclosure and dropping the 500GB option, the Air 2 appears to be nearly identical in terms of specs to the original product. That's not necessarily bad, as the Voyager Air received good reviews, but it would have been nice to see a few additional updates – most notably 802.11ac support.
Source: Corsair