The Samsung XP941
In June last year, Samsung made an announcement that they were mass producing the industry's first native PCIe SSD: the XP941. In the enterprise world, native PCIe SSDs were nothing new but in the consumer market all PCIe SSDs had previously just used several SATA SSDs behind a PCIe bridge. Samsung didn't reveal many details about the XP941 and all we knew was that it was capable of speeds up to 1,400MB/s and would be available in capacities of 128GB, 256GB and 512GB. Given that the XP941 was (and still is) an OEM-only product, that wasn't surprising. OEM clients often don't want the components they are buying to be put under a public microscope as it may lead to confusion among their customers (e.g. why isn't the drive in my laptop performing as well as the drive in the review?).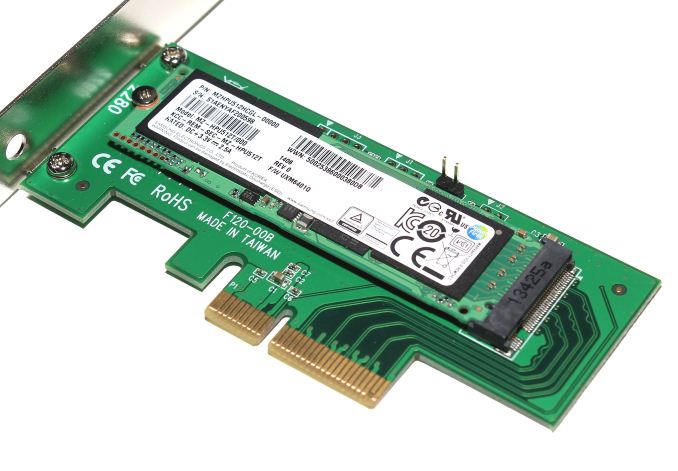 Photography by Juha Kokkonen
The XP941 is available only in M.2 2280 form factor. The four-digit code refers to the size of the drive in millimeters and 2280 is currently the second largest size according to the M.2 standard. Basically, the first two digits refer to the width, which per M.2 standard is always 22mm (hence the 22 in the code) and the last two digits describe the length, which in this case is 80mm. There are four possible lengths in the M.2 spec: 42mm, 60mm, 80mm and 110mm, and the purpose of different lengths is to allow manufacturers to design drives for multiple uses.
The reason for the variable size comes from mSATA, where the issue industry had problems with the fixed size. That's why Apple, ASUS, and others went with custom designs in order to fit more NAND packages on the PCB. I believe 80mm (i.e. 2280) will be the most popular form factor as it's capable of holding up to eight NAND packages but especially drives that are aimed for tablets and other ultra mobile devices may utilize the smaller 2242 and 2260 form factors.
As the XP941 isn't available in retail, Samsung isn't sampling it to media. Fortunately an Australian Samsung OEM retailer, RamCity, was kind enough to send us a review sample. The SSD we received is the highest capacity 512GB model, so we should be able to reach the maximum potential performance. RamCity actually sent us two 512GB drives and I couldn't resist putting the two in RAID 0 configuration in order to see what kind of throughput two drives could offer.
RamCity also sent us a PCIe 3.0 x4 adapter for connecting the drive to our testbed. The adapter in question is a Lycom DT-120, which retails for around $25. There are also other adapters in the market, such as Bplus' dual PCIe 2.0 x4 adapter, but the Lycom is the cheapest I've seen and is likely the best option for the average buyer.
Samsung SSD XP941 Specifications
Capacity
128GB
256GB
512GB
Controller
Samsung S4LNO53X01 (PCIe 2.0 x4)
NAND
Samsung 19nm MLC
Sequential Read
1000MB/s
1080MB/s
1170MB/s
Sequential Write
450MB/s
800MB/s
950MB/s
4KB Random Read
110K IOPS
120K IOPS
122K IOPS
4KB Random Write
40K IOPS
60K IOPS
72K IOPS
Power (idle / active)
0.08W / 5.8W
Warranty
Three years (from RamCity)
The XP941 is based on Samsung's in-house PCIe controller. Samsung isn't willing to disclose any exact details of the controller but I would expect it to be quite similar to the MEX controller found in the 840 EVO, except it utilizes a PCIe interface instead of SATA. The controller supports up to four PCIe 2.0 lanes, so in practice it should be good for up to ~1560MB/s without playing with the PCIe clock settings (it's possible to overclock the PCIe interface for even higher bandwidths). In terms of the software interface, the XP941 is still AHCI based but Samsung does have an NVMe based SSD for the enterprise market. I would say that AHCI is a better solution for the consumer market because the state of NVMe drivers is still a bit of a question and the gains of NVMe are much more significant in the enterprise space (see here why NVMe matters).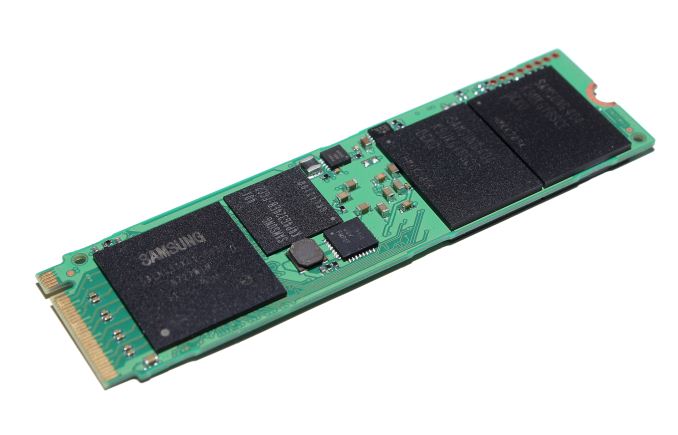 NAND wise the XP941 uses Samsung's own 64Gbit 19nm Toggle-Mode 2.0 MLC NAND. There are only four packages on the PCB, two on each side, which means we are dealing with 16-die packages. I'm not sure if Samsung has a proprietary technology for NAND die stacking but at least they seem to be the only manufacturer that is packing more than eight dies in a single package. From what I have heard, other manufacturers don't want to go above eight dies for signal integrity reasons, which directly impacts performance, but Samsung doesn't seem to have issues with this.
Again, no details such as the P/E cycle count are known but I'm guessing the NAND is still rated at the same 3,000 P/E cycles as its 21nm counterpart. Samsung's datasheet doesn't list any specific endurance for the drive, though that makes sense since it's an OEM drive and the warranty will be provided for the whole product (e.g. a laptop) where the drive is used in.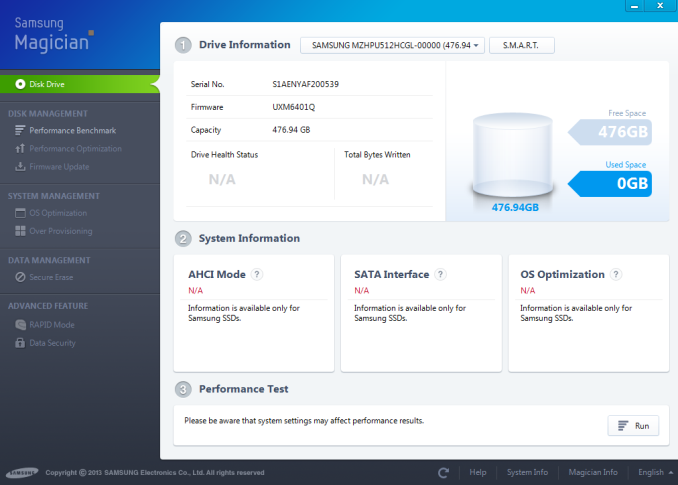 The XP941 shows up in Samsung's Magician software but it's not recognized as a Samsung SSD. This has been typical for Samsung's OEM SSDs as even though they sometimes share the same hardware and firmware as their retail counterparts, the Magician functionality is disabled. It makes sense because PC OEMs often source their drives from more than one SSD OEM, so it wouldn't be fair to buyers if one drive had additional functionality while the other didn't.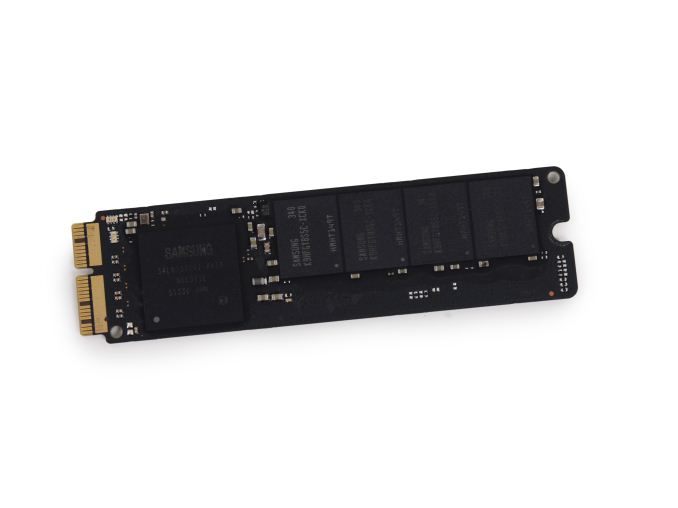 The SSD in 2013 Mac Pro - courtesy of iFixit
The XP941 is hardware wise the same drive that you can find inside 2013 Macs, although most of the laptop version are limited to PCIe 2.0 x2 interface. However, the form factor and interface Apple uses are custom and the larger form factor allows for eight NAND packages and thus support for a 1TB model.
Test System
CPU
Intel Core i5-2500K running at 3.3GHz
(Turbo and EIST enabled)
Motherboard
AsRock Z68 Pro3
Chipset
Intel Z68
Chipset Drivers
Intel 9.1.1.1015 + Intel RST 10.2
Memory
G.Skill RipjawsX DDR3-1600 4 x 8GB (9-9-9-24)
Video Card
Palit GeForce GTX 770 JetStream 2GB GDDR5
(1150MHz core clock; 3505MHz GDDR5 effective)
Video Drivers
NVIDIA GeForce 332.21 WHQL
Desktop Resolution
1920 x 1080
OS
Windows 7 x64
Thanks to G.Skill for the RipjawsX 32GB DDR3 DRAM kit