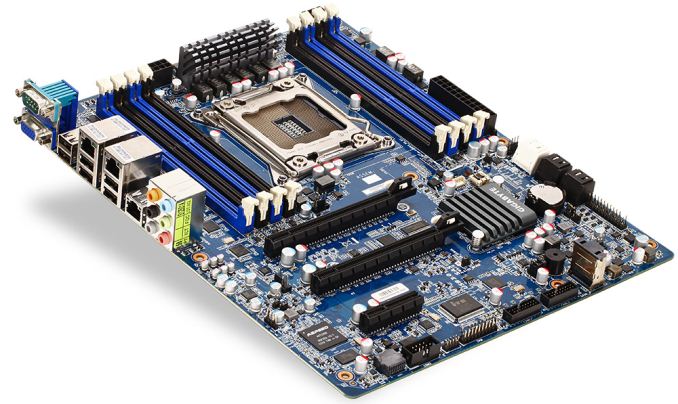 Server motherboards, unlike consumer motherboards, are never bought for looks. It is all about function, and the GIGABYTE Server GA-6PXSV3 we are reviewing today is aiming to supply enough at the lower end of the extreme workstation segment. Here we have an ATX motherboard akin to our usual socket 2011 platform but with server level features such as Xeon/RDIMM ECC support, an ASpeed AST2300 remote management controller and a focus on virtualized environments.
GIGABYTE GA-6PXSV3 Overview
During my stint as a researcher at university, the systems under our desks that we used for simulation and writing up reports were all oriented to stability and performance. This meant dual Xeons, large amounts of ECC memory and a motherboard to match. While I had no use for additional connectors beyond USB ports, these sorts of products have to be able to use SAS and RAID in storage, enough network management and be validated for multiple usage scenarios. GIGABYTE is pushing the GA-6PSXV3 as a cheaper variant of the GA-6PSXV2 with different connectors but the focus is on virtualization with a workstation. This points to our dual Intel 82574L NICs, 6 SATA ports, Mini-SAS (for four SATA 3 Gbps ports), support for SLI/Crossfire, a TPM header, a serial port and an ASpeed AST2300 2D management controller which we have seen on GIGABYTE Server motherboards in the past.
One of the motherboard features that GIGABYTE likes to promote is its support for 1866 MHz with a full set of 8 DIMMs on E5 26xx v2 CPUs. As we have noted in our consumer product line memory scaling articles (such as this one on Ivy Bridge), moving beyond 1600 MHz helps get out of a potential performance black hole. Unfortunately we are still bounded by JEDEC specifications at 1866 (so CAS 12/13), but our previous testing points to frequency being more important if the value MHz/CAS is around the same.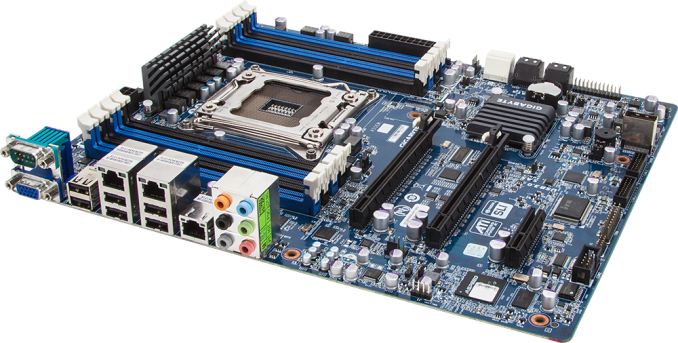 For readers who are more used to X79 consumer line products, this C604 based GA-6PXSV3 motherboard might look a bit empty (only two PCIe 3.0 x16 slots), but ultimately the workstation/server side of this platform is on maintenance and longevity. Surprisingly for a socket 2011 motherboard we get two USB 3.0 headers on board and no USB 3.0 on the back panel.
There was one flaw in testing I came across that GIGABYTE has not been able to reproduce. With the gaming benchmarks when using dual GPUs, the Sleeping Dogs benchmarks failed to complete, resetting the system after a couple of seconds of running. For two weeks we went back and forth, however GIGABYTE could not recreate the issue. The error was similar to that of a memory failure on the GPU, and this happened using several GPUs on this motherboard. These GPUs were fine on the same PSU and a different motherboard. This suggests that my motherboard at least had problems supplying power to the PCIe slots when two power hungry devices are present.
For performance we tested the GA-6PXSV3 with two E5 26xx v2 Xeons and a Core i7-4960X. The results of the Xeons were published in a review of those Xeons, and the i7-4960X results will be the focus of this review for comparison against other socket 2011 products. On the whole, we expect consumer products to perform slightly better in our benchmarks than the server parts for two main reasons. On server parts we usually are limited in DRAM speed which decreases performance (unable to set values or no direct XMP support), but also consumer products tend to be more aggressive on CPU Turbo Boost responsiveness whereas server motherboards are more lax. The GIGABYTE GA-6PSXV3 is no different in this regard – the X79 product in our comparison does have a noticeable quantitative advantage in our benchmark tests, but it does not have external management, SAS support, dual Intel NICs or RDIMM ECC support. That is ultimately what you are paying for at the end of the day.
Visual Inspection
Aside from the server-like aesthetics, there are efforts to make the GA-6PXSV3 easier to use in terms of color coordination. The DIMM slots are color coded for primary and secondary slots, the SATA ports are white for SATA 6 Gbps and black for SATA 3 Gbps, and the PCIe slots are at least all the same color too.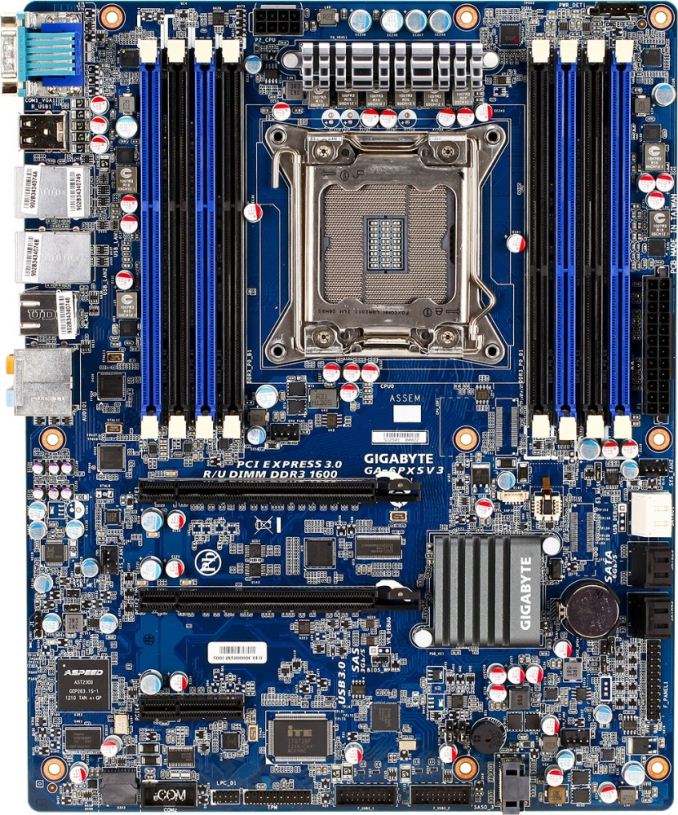 The main socket area is right up against Intel specifications, and users of consumer LGA2011 motherboards might be concerned regarding the power delivery setup with such a small heatsink. GIGABYTE Server has told me in the past that their power delivery is designed for long operation, and because this is a server motherboard, this will be at stock frequencies for the CPU so there is no need to over-engineer the power delivery in case of overclocking. Typically these motherboards are in a good airflow environment as well, allowing the heatsink to at least have some surface area for heat removal. On our open-air test bed that has minimal airflow, the heatsink did not get that warm to touch, suggesting an efficient system in place. Notice there is only one 8-pin 12V connector for the CPU giving additional power, rather than two we sometimes see on X79 platforms.
Another difference to the consumer platform is fewer fan headers. GIGABYTE provides four here, two 4-pin within reach of the socket (below the socket, below the 24-pin ATX) and two 4-pin in seemingly odd places (below the CR2032 battery and to the left of the second PCIe slot). Fan controls for this motherboard are limited in the BIOS, however they can be monitored through the management software.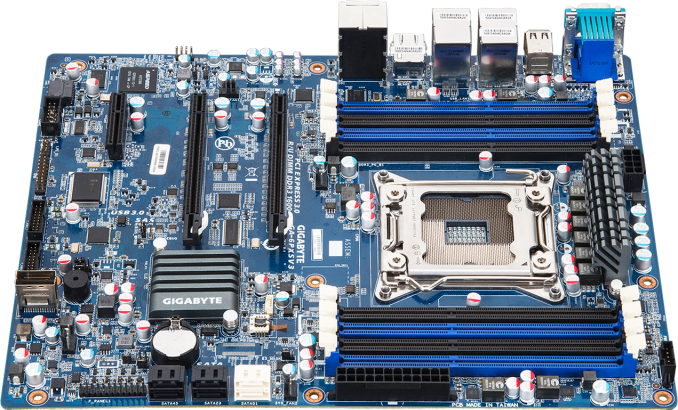 Along the right hand side of the motherboard, after the 24-pin ATX power connector and a fan header, are the SATA ports provided by the chipset. The white ports are SATA 6 Gbps and the black are SATA 3 Gbps. Beneath this is the GIGABYTE front panel connector. There are no power/reset buttons on this board or a two-digit debug display due to the management system.
On the bottom of the motherboard, from right to left, we have the mini-SAS connector, which will support four SAS 3 Gbps connections. This is followed by two USB 3.0 headers, powered by an Etron controller. The TPM and COM headers follow, along with a removable BIOS chip.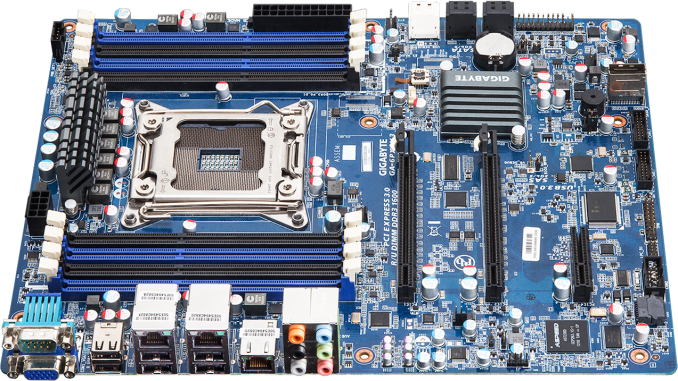 The Aspeed AST2300 is on the left hand side of the motherboard, paired with 128MB of video memory. This 2D interface chip allows normal OS entry via the onboard VGA port without a GPU in the PCIe slots. This is limited to 1920x1200p60, but should be sufficient for any compute or virtualized topology.
The full-sized PCIe slots use the full x16 lanes each, leaving eight lanes from the CPU unused. These x16 slots are both SLI and Crossfire capable. The final PCIe slot is a PCIe 2.0 x4 from the chipset (that runs at x2) for additional control cards.

The rear IO of the motherboard gives the aforementioned VGA port, a serial port, six USB 2.0 ports, dual Intel 82574L gigabit Ethernet ports, a single 10/100 port for management, and audio jacks connected via a Realtek ALC892 codec.
The use of the C604 chipset on the GA-6PXSV3 gives the following layout: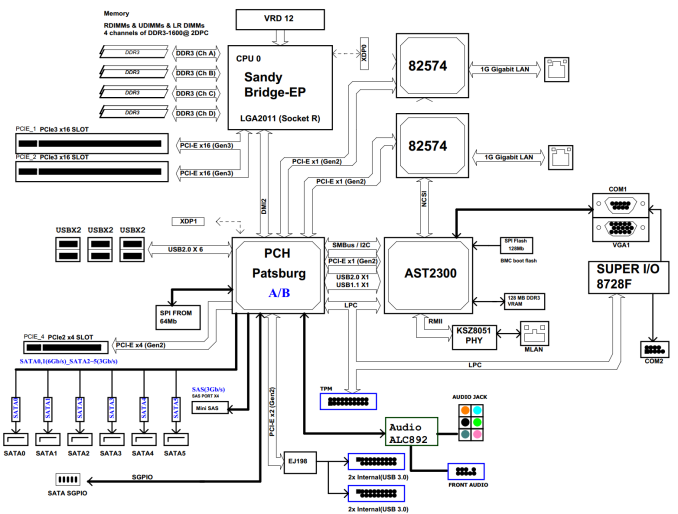 The diagram shows the connectivity, giving one default NIC, four SAS ports and 8 PCIe 2.0 lanes. Out of the 40 lanes available to the CPU, 32 are used for graphics and the other eight are unused. As GIGABYTE has used additional network ports, USB 3.0 controllers and so on, this shows where the extra chipset lanes have been assigned, similar to a consumer X79 product. (It should be noted that the PCIe 2.0 x4 slot shown in the diagram actually runs at x2 speeds in order to make the sum of the PCIe 2.0 lanes from the chipset compatible with how many it actually has.)
Board Features
GIGABYTE GA-6PXSV3
Price
Link
Size
ATX
CPU Interface
LGA 2011-0 (Bridge-E/EP)
Chipset
Intel C604
Memory Slots
8 x DDR3 DIMM Slots, ECC and non-ECC UDIMM/RDIMM
UDIMM up to 8GB/module, RDIMM up to 32GB/module
1066-1600 MHz at 1.35V, 1066-1866 MHz at 1.50V
Video Outputs
VGA via Aspeed AST2300
Onboard LAN
2 x Intel 82574L
1 x 10/100 Management
Onboard Audio
Realtek ALC892
Expansion Slots
2 x PCIe 3.0 x16
1 x PCIe 2.0 x4
Onboard SATA/RAID
2 x SATA 6 Gbps, RAID 0/1/5/10
4 x SATA 3 Gbps, RAID 0/1/5/10
1 x mini-SAS (4 x SAS 3 Gbps), RAID 0/1/10
USB 3.0
4 x USB 3.0 (Etron) in 2 headers
Onboard
2 x SATA 6 Gbps
4 x SATA 3 Gbps
1 x mini-SAS to 4 x SAS 3 Gbps
2 x USB 3.0 Headers (Etron)
4 x Fan Headers
TPM Header
Serial Header
PMBus Connector
Clear CMOS Jumper
2 x Recovery Jumpers
Power Connectors
1 x 24-pin ATX
1 x 8-pin CPU
Fan Headers
1 x CPU (4-pin)
3 x SYS (4-pin)
IO Panel
6 x USB 2.0
VGA
Serial
2 x Intel 82574L GbE NICs
10/100 Management NIC
Audio Jacks (ALC892)
Warranty Period
3 Years
Product Page
Link
In the consumer world, we are more accustomed to more SATA ports, USB 3.0 on the back panel, and at least for diagnosing issues, power/reset buttons. If a user purchases the GA-6PSXV3, they have to make sure there are two USB 3.0 header connectors on the chassis/drive bay to make sure that the system can be fully used. I would perhaps also recommend in the future that the management NIC is a different color as to differentiate it from the other network interfaces. In order to be more adaptable and flexible to more users, GIGABYTE should have gone down the route of splitting the PCIe x16 slots into two lots of x8, using switches such that when the first of the pair is occupied only then it gets the full x16 speed. I am sure there are situations that may warrant several single slot PCIe devices.