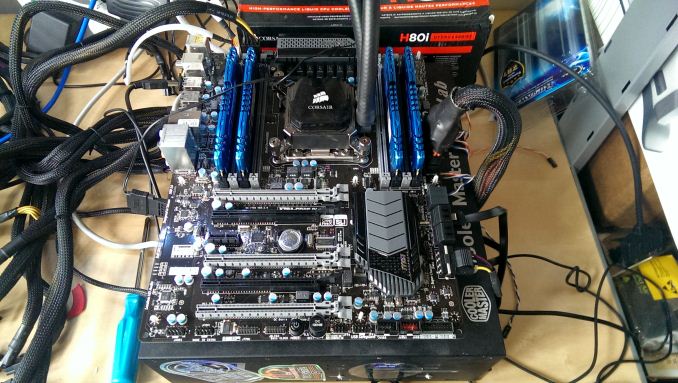 Breaking into the X79 game at this late stage is a rough business. The major action was at the Sandy Bridge-E launch, and the Ivy Bridge-E release was a minor bump in comparison. Due to the lack of a new chipset, only a few motherboard vendors put a new product onto the market for the IVB-E launch. One of them was MSI, with the slightly non-conventional X79A-GD45 Plus, which we are reviewing today.
MSI X79A-GD45 Plus Overview
When pulling the MSI Z79A-GD45 Plus out of its box, I was a little surprised, if I am honest. Typically with X79 motherboards we see a layout conducive to a 4-way GPU allocation, and there really is only one way of doing that unless you extend out the motherboard. With the GD45 Plus, MSI has modified it at least for 3-way PCIe allocation, similar to most mainstream (Z77/Z87) PCIe layouts. The argument for this might be on the side of 'the first GPU always gets one slot of airflow' when using a dual slot GPU, but even in dual GPU layouts on other X79 motherboards, the GPU still has space there. The other element is that MSI are going more for additional PCIe cards rather than GPUs, and so the odd PCIe lane layout might benefit this. The reason why the first PCIe slot is shifted down one to accommodate this layout is due to the large number of resistors on the top of the motherboard, which seems slightly abnormal.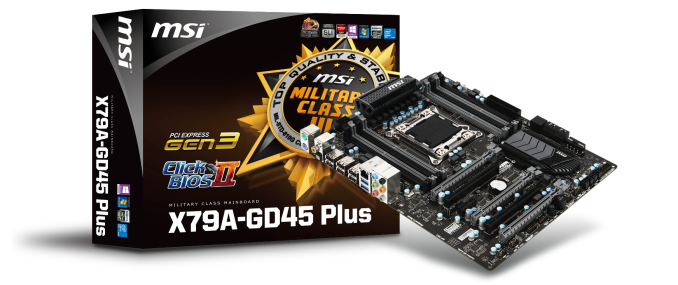 On the hardware side of things, MSI has gone somewhat minimal, especially when there are no extra SATA 6 Gbps ports, no WiFi and only one network port. The focus is almost more on the look of the motherboard, which in black and grey can be rather soothing. Audio comes in at the base Realtek ALC892, which is pretty much the low end standard for the Ivy Bridge-E platform, and this is paired with an Intel NIC, rather than anything Atheros Killer based as seen on other products in MSI's spectrum.
For our benchmarking suite, the X79A-GD65 Plus does rather well, given that it uses MultiCore Acceleration when XMP is applied (adjusts all multipliers up to the top turbo limit no matter the loading). The DPC Latency is lower than any Haswell motherboard we have tested, although the audio selection (ALC892 + Sound Blaster) gave a lower SNR than most of the other motherboards we have tested. Boot time is quite long (18.3 seconds with two GPUs), and our rather bad CPU struggled past 4.4 GHz in terms of overclocking, which is almost along the lines of the other X79 motherboards we have tested.
For the extra features, such as software and BIOS usability, MSI gets big thumbs up for their continuing use and execution of Live Update 5, which configures the latest BIOS and drivers from the internet into the system. The new Control Center software we saw for Z87 is used in this new X79 model, although the option to stick the voltage straight to 1.8 volts in the OS is still a bad option to have available to users. The big feature of the BIOS we liked for Z87, the fan control settings, is not present in the BIOS here, and while MSI now give help hints on the BIOS options, users have to navigate and click to find them – not particularly useful if, like me, the main method of BIOS navigation is via the keyboard. The overclocking options in the BIOS are still a bit of a mess as well, with no clear order or segregation.
It might sound like I am being a bit harsh on the MSI X79A-GD65 Plus, and although it has problems which are more derived from issues and the design stage, it never required adjusting during actual testing. The question then comes around to whether $250 is the right price for a product of this nature. Back when X79 was brought into the market, we tested MSI's Big Bang XPower II, a high end product that despite the novelty heatsinks created enough of an impact in my testing at the time to get an award. The X79A-GD45 Plus has fewer features and options as the BBXP2 (as seen in the price difference, $250 vs. $450+), and serves the cheaper end of the LGA2011 market.
Visual Inspection
As mentioned, pulling the motherboard out of the box is a rather pleasurable experience in terms of aesthetics. MSI has made it simple and tidy, with a lack of obvious tracing around the motherboard. This comes back into their styling shift that occurred around Z77 to make the more expensive product lines presentable, which in terms of sales (so I am told, but cannot verify) has worked in the gaming market.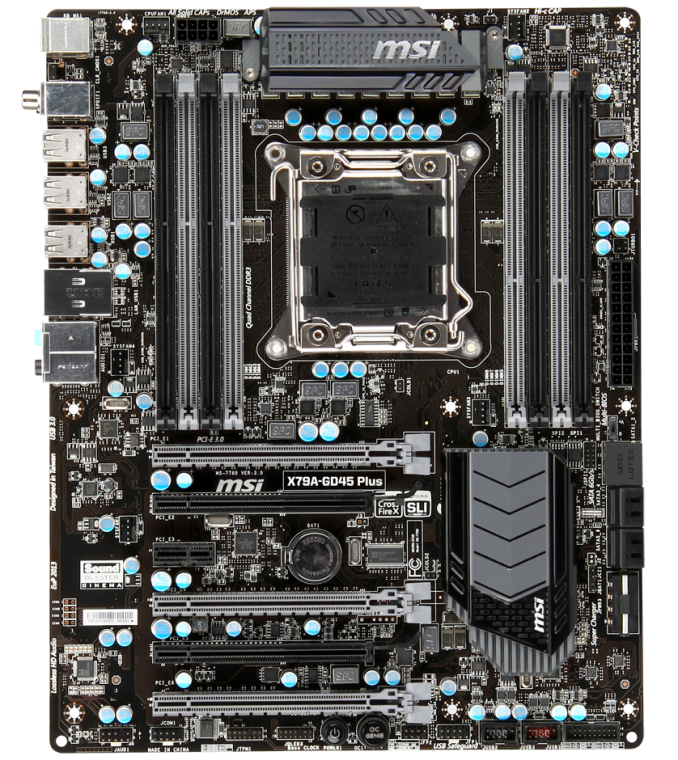 The position of the socket is slightly lower than most X79 motherboards we have reviewed, and as such so are the memory slots. This removes the first PCIe slot on the motherboard, but could arguably result in more airflow for the heatsink at the top. The heatsink covers an 8-phase solution, and requires a single 8-pin 12V CPU power connector. Using a contactless IR thermometer gave a full load temperature delta of 15ºC in this area over idle temperatures interestingly enough.
Around the socket are four of the motherboards fan headers, all four-pin, essentially one at each corner of the socket. The first is near the 8-pin 12V CPU power connector, with a second on the top right at the other side of the power delivery heatsink. Below the socket to the right yields a third, while to the left of the DRAM sockets behind the audio jacks is a fourth. The final fan header on board is a 4-pin found near the audio codec on the left hand side of the motherboard, which puts it in prime location to be unused should a large GPU be put in the first slot. I used MSI's GTX 770 Lightning in the first PCIe slot and was unable to then place a fan into that header.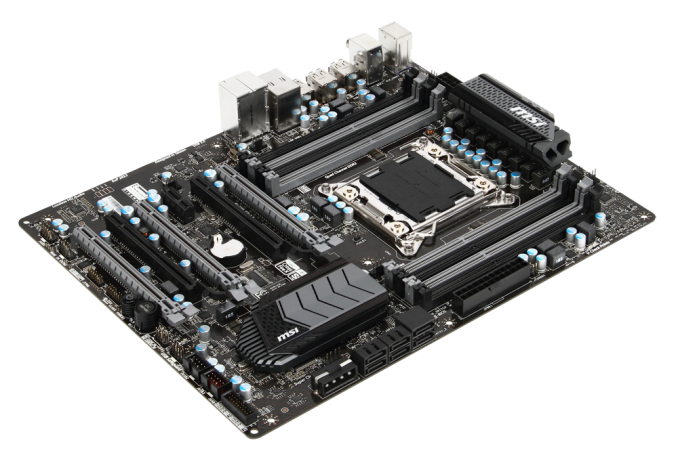 Aside from the larger than normal gap at the top of the motherboard, the rest comes in standard for a base X79 product with MSI styling. Moving clockwise around the board and we get the 24-pin ATX power connector, a Multi-BIOS switch, two SATA 6 Gbps ports, four SATA 3 Gbps ports and then a 4-pin molex connector. This connector is designed to provide extra power to the PCIe slots (of which a user could populate five with single slot GPUs), and while normally I would be frustrated by the use of a 4-pin molex, it is at right angles to the motherboard here meaning it does not get in the way or require being placed over components depending on PSU layout in a case. What users may notice here is the lack of any additional SATA 6 Gbps controllers, which are a common sight on X79 motherboards in order to bulk up the credentials.
As the chipset heatsink only has to deal with the chipset, it remains unattached to any other heatsink on board. Along the bottom of the motherboard are the normal array of headers and buttons – a front panel audio header, a COM header, a TPM header, a JDLED3 header for MSI's Voice Genie hardware (that never made proper retail in 2011), a power button, an OC Genie button, a front panel header, two USB 2.0 headers and a USB 3.0 header.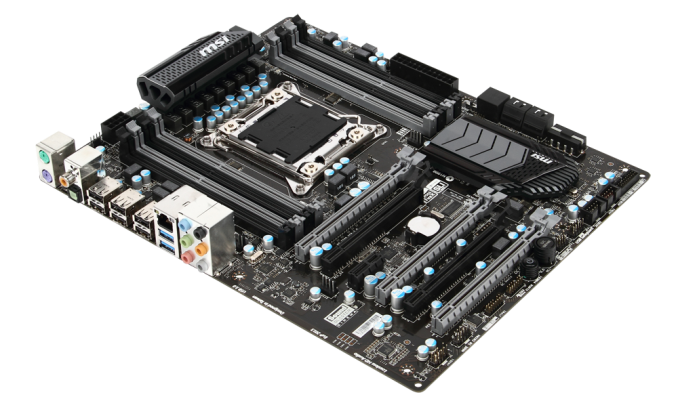 The motherboard's PCIe layout is designed to accommodate a number of different and esoteric X79 setups. As socket 2011 CPUs have 40 lanes, these are usually offered in an x16/x16/x8 combination. This is what MSI does with the grey PCIe slots, with the full length black ones underneath splitting the x16 into x8/x8 when occupied. To the left of the PCIe slots is our audio codec, where the Realtek ALC892 is in use. There is no serious attempt to bolster the audio output quality here, unlike Z87 motherboards in this price range.

The rear IO is as basic as X79 gets, with two PS/2 connectors, a Clear_CMOS button, SPDIF outputs, six USB 2.0 ports, two USB 3.0 ports, an Intel 82579V network connection and the audio jacks.
Board Features
MSI X79A-GD45 Plus
Price
Link
Size
ATX
CPU Interface
LGA-2011
Chipset
Intel X79
Memory Slots
Eight DDR3 DIMM slots supporting up to 64 GB
Up to Quad Channel, 1333-2400 MHz
Video Outputs
None
Onboard LAN
Intel 82579V
Onboard Audio
Realtek ALC892
Expansion Slots
3 x PCIe 3.0 x16 (x16/x16/x8)
2 x PCIe 3.0 x8
1 x PCIe 2.0 x1
Onboard SATA/RAID
2 x SATA 6 Gbps (PCH), RAID 0, 1, 5, 10
4 x SATA 3 Gbps (PCH), RAID 0, 1, 5, 10
USB 3.0
4 x USB 3.0 (NEC D720202) [2 rear, 1 header]
Onboard
2 x SATA 6 Gbps
4 x SATA 3 Gbps
1 x USB 3.0 Header
2 x USB 2.0 Headers
5 x Fan Headers
1 x COM Header
1 x TPM Header
1 x Clear_CMOS Jumper
1 x Power Button
1 x OC Genie button
1 x MultiBIOS Switch
1 x Voice Genie Header (JDLED3)
1 x MultiConnect Panel Connector
Power Connectors
1 x 24-pin ATX Power Connector
1 x 8-pin CPU Power Connector
1 x 4-pin Molex VGA Power Connector
Fan Headers
1 x CPU
4 x SYS
IO Panel
1 x PS/2 Keyboard Port
1 x PS/2 Mouse Port
1 x Clear_CMOS Button
1 x Coaxial SPDIF output
1 x Optical SPDIF output
1 x Ethernet Port (Intel 82579V)
6 x USB 2.0 Ports
2 x USB 3.0 Ports (NEC)
Audio Jacks (Realtek ALC892)
Warranty Period
3 Years
Product Page
Link
The downside of investing in an X79 setup is that the motherboard costs more, and the equivalent priced Z87 motherboard can have a lot more features. Part of this comes back to the age of the X79 chipset, but for example, a $200 Z87 motherboard can have six SATA 6 Gbps ports, 6 USB 3.0 ports, 802.11ac WiFi, power/reset buttons, two-digit debug LED, bolstered audio, overclocking features and so on. For users that want to jump onto one of the cheaper X79 motherboards that are new (I fully admit it would be cheaper to buy second hand), MSI aim to get you covered by using Realtek ALC892 controller rather than more expensive alternatives. Perhaps another $5 could be saved by forgoing that Sound Blaster Cinema license too.