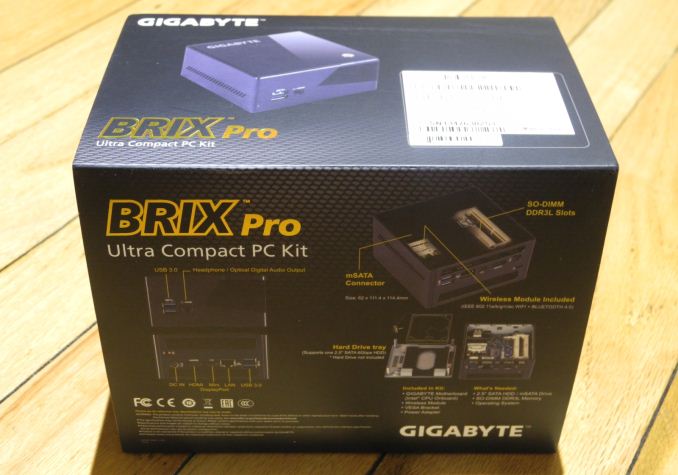 Introduction
Intel's high-end Crystal Well, the Core i7-4770R, has remained out of reach for consumers despite being introduced back in June 2013. While Apple's notebooks use the mobile Crystal Well parts, the 2013 iMac restricts itself to the Core i5-4570R. Users wanting to stay out of the Apple ecosystem have been left in the cold. Gigabyte is coming to the rescue with the launch of the BRIX Pro in the NUC form factor.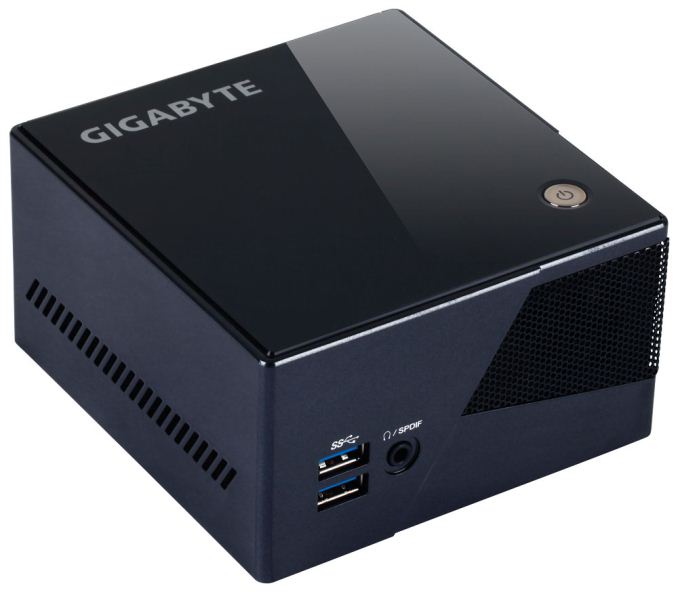 The BRIX Pro is a barebones desktop machine. We had looked at the various BRIX models before, and this model, while maintaining the length and width of the existing BRIX units, is equipped with the 65W TDP i7-4770R, and the unit comes in the NUC form factor! This means that the unit is really tiny. The length and width are almost the same as the other NUC form factor machines (as shown in the picture below). The BRIX Pro builds upon the BRIX s, which has support for a 2.5" drive. The height is still more than that of the BRIX s, in order to accommodate the thermal design for a 65W CPU.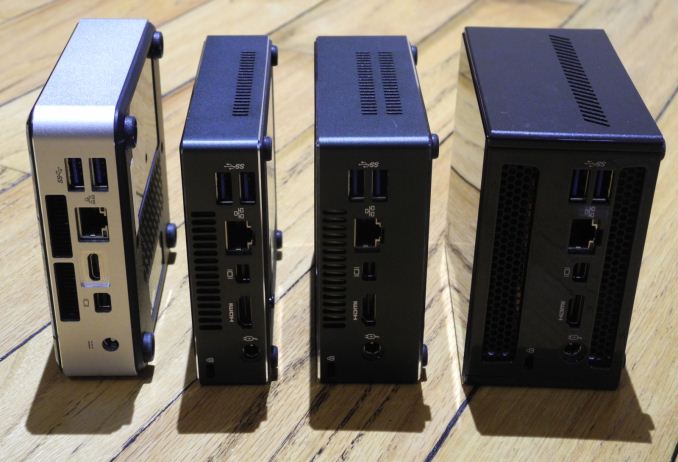 Our review unit landed last Friday. With CES this week, and limited time at our disposal, we decided to split the coverage of the BRIX Pro into two parts. In today's article, we will look at the performance of the CPU and GPU, as well as the thermal performance of the package along with some power consumption numbers. In the second part towards the end of the month, we plan to go into more detailed benchmarks and how to outfit the BRIX Pro to get a well rounded system.
Gigabyte's BRIX Pro Kits Comparison
GB-BXi5-4570R
GB-BXi7-4770R
CPU
Intel Core i5-4570R
Intel Core i7-4770R
RAM
2 x DDR3L SO-DIMM slots
2 x DDR3L SO-DIMM slots
Display Outputs
1x HDMI 1.4a, 1x mini-DP 1.2
1x HDMI 1.4a, 1x mini-DP 1.2
USB
4 x USB 3.0
4 x USB 3.0
Gigabit Ethernet
Y
Y
mini PCIe (half-height)
1
1
mini PCIe (full-height, mSATA support)
1
1
Internal SATA
1 (with power)
1 (with power)
Power Supply
External 19V / 7.1A DC
External 19V / 7.1A DC
Suggested Pricing
$529
$649
Since we wanted to get up and running quickly, the RAM and mSATA SSD were just transferred from the recently reviewed NUC kit to the BRIX Pro. In our second part of the review, we will evaluate the BRIX Pro with different SODIMMs / SSDs. For now, the benchmarks presented in the rest of this piece are based on the configuration below.
Gigabyte GB-BXi7-4770R Build Components
Component
Price
Chassis / CPU / Motherboard / PSU
GB-BXi7-4770R
$649
Memory
Crucial CT51264BF160B 2x4 GB Kit
$96
SSD
Intel mSATA SSD 530
$183

---

Total
$928