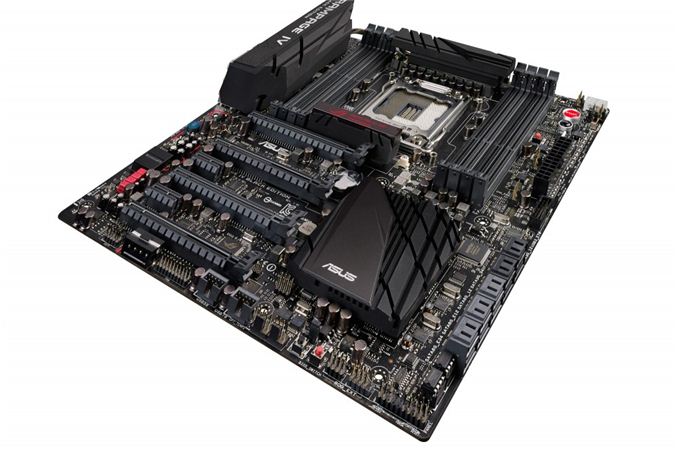 The extreme end of Intel's performance platform is a relatively small end-user market, but despite this we had requests back at Sandy Bridge-E launch to test a good number of X79 motherboards due to the large and differing array of available features on offer. Our best of the bunch was the ASUS Rampage IV Extreme, part of the ROG range and received my best ever award given to a motherboard (which is actually our second highest award at AnandTech - my standards are that high that I doubt anyone will ever achieve the top award and I'm not entirely sure what would qualify, until I saw it).
When Ivy Bridge-E rolled around, I expected an uptake on the motherboard side to incorporate many of the new features Z77 and Z87 development had brought to the game, despite the age of the chipset holding the ecosystem back somewhat (no native USB 3, limited native SATA 6 Gbps). What happened at Ivy Bridge-E launch was almost a non-starter: very few motherboard manufacturers announced updates, most of them delayed, and some decided not to bother even updating the BIOS on old boards to support the new processors.
There are a few new X79 motherboards I would like to test while the platform is still alive, and one of them is the new ASUS Rampage IV Black Edition, officially announced for an 11/18 launch. ASUS had teased a Rampage IV Extreme in black on the forums for several months, but this is designed to be a wholly new board in the spectrum above the Extreme.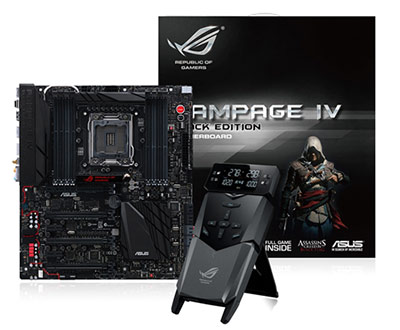 The first point to notice, aside from the black livery, is that a large number of overclocking features have followed the way of the Z87 Maximus VI Extreme and are moved onto an OC Panel. This is the same OC Panel as the M6E, albeit updated for X79 and supporting VGA Hotwire, SubZero Sense, Pause Switch, dynamic overclocking, fan headers etc. ASUS have used 60A VRMs and chokes for high quality power delivery to an overclocked CPU.
The RIVBE also features an updated sound system, taking cues from the SupremeFX range on Z87 to become SupremeFX Black with ELNA audio caps, WIMA film caps and a Cirrus Logic CS4398 DAC for a 120dB signal-to-noise ratio. This works in turn with Sonic Radar, a feature designed to help gamers determine noise location with an on-screen visual sound map. Software-wise the motherboard also comes with the new ROG RAMDisk, GameFirst II, and Secure Erase.
Other hardware on the motherboard includes a dual band 802.11ac / BT 4.0 WiFi solution, an Intel GbE NIC, eight USB 3.0 (six on rear), two eSATA 6 Gbps, support for four-way SLI and Crossfire, four SATA 6 Gbps (and six SATA 3 Gbps). The only issue I can see with the motherboard that I might disagree with is the use of a 4-pin molex for additional PCIe power rather than a 6-pin PCIe.
The Rampage IV Black Edition is set to retail at US$499, compared to $430 for the Rampage IV Extreme. This is indeed a lot of money for a motherboard – we are hoping to get one in before launch to see if it can build on the success of the RIVE.