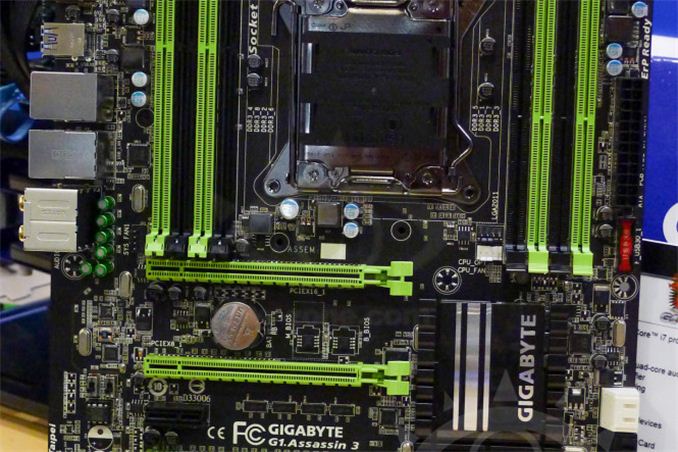 With plenty of eyes all around IDF, there are some oppertune moments to see some exciting hardware on display. Over at VR-Zone, these eyes caught glimpst of GIGABYTE's entrant into the X79 refresh: the G1.Assassin 3. This motherboard follows the G1 line of gaming motherboards with green and black styling, but one of the main additions over the previous X79 line is the OP-AMP technology as seen on particular Z87, B85 and H81 models.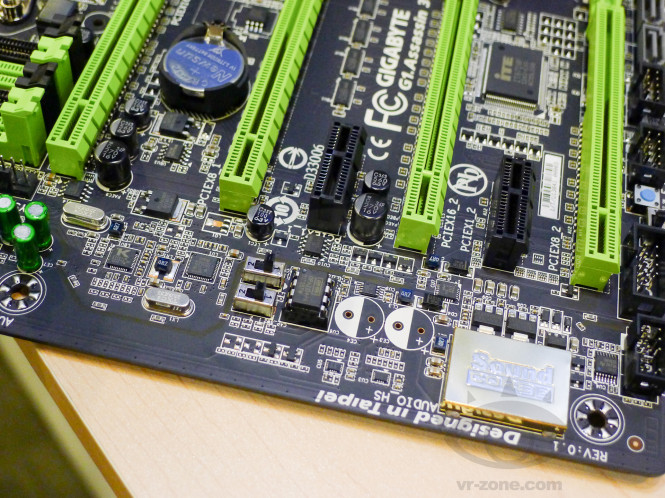 Alongside using the 2011 socket and being based on the X79 chipset, the motherboard looks to support four-way SLI and Crossfire, a full compliment of DIMMs, use at least one USB 3.0 controller for a total of four onboard USB 3.0 ports, and a SATA 6 Gbps controller to total four SATA 6 Gbps ports. I would be surprised if we did not have IR3550 VRMs for the power delivery - I would expect GIGABYTE to be using either 40A or 60A versions for their 8 power phases.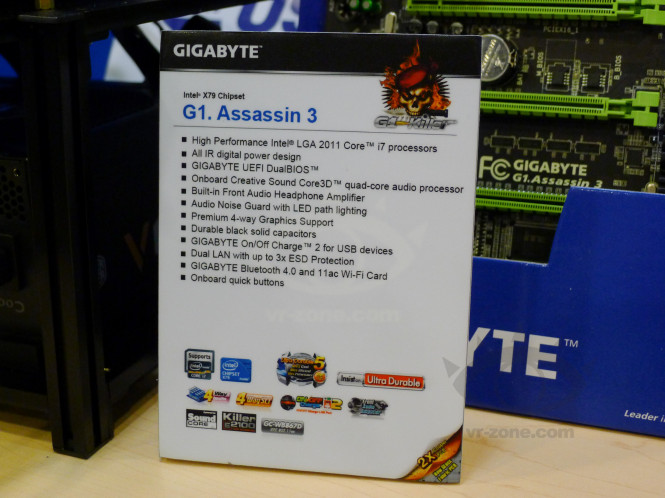 The gold slot on the rear IO is a little confusing - it seems big enough for a HDMI port or a USB port, although without a higher definition image or a rear IO shot it is hard to determine. Update: the gold port would be for USB.DAC-UP, initially seen on H81, designed to supply cleaner power for USB DACs. From the image above the motherboard also comes with an 802.11ac / BT4.0 WiFi card, which I would assume comes as a seperate PCIe x1 card given previous GIGABYTE models (and the lack of antenna ports on the rear IO). We also see wording for dual NICs, one of which would be a Killer NIC shown by the logo. Despite VR-Zone stating Thunderbolt 2.0 support, I cannot see on the motherboard a TB chip nor wording to this effect - it would also prove an interesting PCIe layout which would make the board more complicated.
Despite Ivy Bridge-E being released, very few manufacturers have gone forward with an X79 refresh with their motherboards, with only a few models being launched or even known about. There are several options for these manufacturers, such as implementing new technologies (OP-AMP) on motherboards. I would assume that the G1.Assassin 3 will come with Ivy Bridge-E support out of the box as it has not been released yet. I would assume GIGABYTE were pushing the development to get it out as soon as possible.
Source: VR-Zone