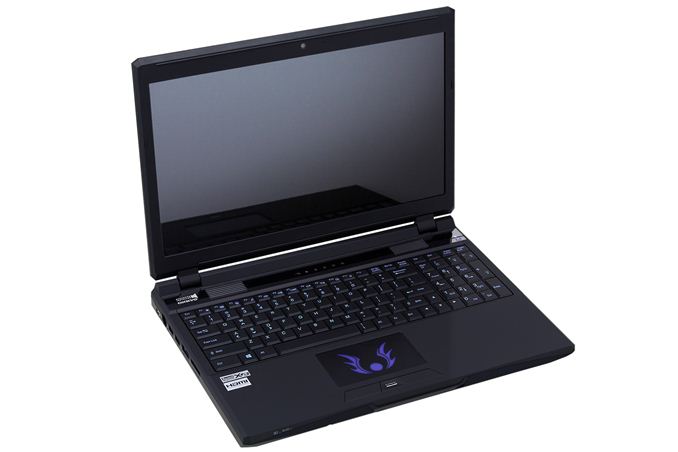 A couple months back we had the chance to review MSI's GT70 Dragon notebook, a high-end gaming system sporting the brand spanking new Haswell Core i7-4700MQ with a just as new GeForce GTX 780M graphics chip. What we found was that performance didn't impress us quite as much as we were expecting. Mythlogic wanted to show us "GTX 780M done right", more or less, so they shipped their Pollux 1613 (Clevo P157SM) system for review sporting similar hardware to the GT70 Dragon…and performance once again wasn't quite what we were expecting in games. It's not that either system was slow, but we simply expected to see more of a difference.
After some emails back and forth with NVIDIA and Mythlogic, we ended up with a second CPU for testing: the Core i7-4900MQ (not to mention some overclocking of both the original 4700MQ and the 4900MQ processors). NVIDIA has also sent two new MSI GT70 Dragon notebooks for testing, one configured the same as the original review (and it no longer hits 95C or higher temperatures during testing) and one with i7-4930MX. But we're getting ahead of ourselves. We'll look at the CPU scaling performance of GTX 780M in a future article, but for now let's talk about the Mythlogic Pollux 1613, a customized build using a Clevo P157SM chassis. Here's the specific configuration we're testing:
Mythlogic Pollux 1613 / Clevo P157SM Test Configuration
Processor
Intel Core i7-4700MQ
(Quad-core 2.4-3.4GHz, 6MB L3, 22nm, 47W)

Intel Core i7-4900MQ
(Quad-core 2.8-3.8GHz, 8MB L3, 22nm, 47W)
Chipset
HM87
Memory
8GB (2x4GB) DDR3-1600 11-11-11-28 timings
Max RAM: 4x8GB
Graphics
NVIDIA GeForce GTX 780M 4GB GDDR5
(1536 CUDA Cores at 771+ MHz, 5000MHz GDDR5)

Intel HD Graphics 4600
(20 EUs at 400-1150/1300MHz, 4700MQ/4900MQ)
Display
15.6" Anti-Glare TN 1080p
(AUO B156HW01 v4)
Storage
Samsung 840 Pro 512GB mSATA SSD
(PM841 MZMTD512HAGL)
Optical Drive
DVDRW (TSSTcorp SN208DB)
Networking
Gigabit Ethernet (Realtek RTL8111/8168)
802.11ac WiFi (Intel Wireless-AC 7260)
(Dual-band 2x2:2 300Mbps/867Mbps capable)
Audio
Realtek HD ALC892
Stereo Speakers
4 x audio jacks
Battery/Power
8-cell, ~14.8V, 5200mAh, 77Wh
180W Max AC Adapter
Front Side
N/A
Left Side
Flash Reader (SD/MMC/MS)
1 x USB 3.0/eSATA Combo
2 x USB 3.0
Gigabit Ethernet
1 x Mini-FireWire 1394B
Right Side
Optical Drive
4 x Audio jacks
1 x USB 2.0
Kensington Lock
Back Side
2 x Exhaust Vents
1 x DisplayPort
1 x HDMI
1 x mini-DisplayPort
AC Power Connection
Operating System
Windows 8 64-bit
Dimensions
14.7" x 10.55" x 1.38-1.77" (WxDxH)
(375mm x 268mm x 35-45mm)
Weight
7.26 lbs (3.3kg)
Extras
Fingerprint Reader
HD Webcam
102-Key Colored Backlighting Keyboard
Carbon Fiber wrapped LCD Lid
CPU Overclocking Support in BIOS
Pricing
Starting at $1543 (GTX 770M)
As Configured: $2400-$2739 (780M, i7-4700/4900MQ)
Most of the items are pretty much what you'd expect from a high-end notebook, with a quad-core i7 CPU and GTX 780M providing the raw horsepower for any games or other computationally intensive tasks. As mentioned above, we tested with both the i7-4700MQ and the i7-4900MQ, including overclocking via Mythlogic's customized BIOS. We also requested a single large SSD for our review unit and Mythlogic obliged and equipped the notebook with a 512GB Samsung PM841 mSATA SSD. The choice of SSD was less about performance than it was about convenience; I have found that 240/256GB SSDs just aren't quite large enough to hold everything I want. Bumping up to the 512GB class fixes this shortcoming, and there's still plenty of spare area available for future games and applications—and you can always add an additional HDD if needed for mass storage of data files. If I were buying a high-end laptop right now, I'd definitely splurge and get a 512GB class SSD.
Going through the rest of the list, most of the items are well-known quantities by now. The AUO B156HW01 v4 LCD is a TN panel, but it's one of the best 15.6" TN panel out there, with a wide color gamut and good (post-calibration) accuracy, as well as viewing angles that don't immediately wash out in off-angle viewing. RAM in our unit is "only" 8GB of low-voltage memory, but you can equip the P157SM with up to 4x8GB RAM if you need more, and Mythlogic's pricing for RAM upgrades is pretty reasonable. (The 32GB setup mentions that it requires the use of Windows 7 Pro/Ultimate according to Mythlogic's configurator; Windows 8 64-bit supports 128GB and the Pro version supports 512GB, so this is likely a note for Win7 users.)
The connectivity and I/O options cover just about everything you could want. There are three USB 3.0 ports, including an eSATA combo port. A single USB 2.0 port is also present for legacy/compatibility reasons (I've noticed that trying to install Win7/Win8 from a USB 3.0 port often creates problems). Clevo even includes a FireWire 1394b port for those that need it, and on the display side there are three digital connections: one full-size HDMI, one full-size DisplayPort, and one mini-DisplayPort. VGA and DVI users will need an adapter, but given where we're headed I think going with two DP connections is the best choice for most users. For wireless, we were very pleased to discover that Mythlogic equipped their notebook with an Intel Wireless-AC 7260 adapter; the configurator has now moved on the Advanced-AC 7260, which adds Bluetooth 4.0 support. Regardless, the ability to transfer data over WiFi at up to ~45MBps is something I've been longing for; range of 802.11ac won't be as good as 2.4GHz networking, but since you get 2.4GHz and 5GHz support it's not really a concern.
As far as the spec sheet goes, there really aren't any problem areas to discuss. You can custom configure pretty much whatever your heart desires, within reason. The P157SM chassis supports two mSATA drives, two 2.5" SSD/HDD drives, and if you want to forego the optical drive a caddy allows the use of a third 2.5" SSD/HDD. There's a very similar notebook that's also available, the Clevo P150SM/Mythlogic Pollux 1613-Black; the major difference is that it only supports a single 2.5" drive (with a second via the optical drive bay/caddy). It weighs a bit less than the P157SM and has a slightly different design on the hinges and multimedia panel above the keyboard, and no backlit trackpad, with a price that's around $20 less. (It's basically the last generation Clevo chassis but with an updated chipset/motherboard and other components.)