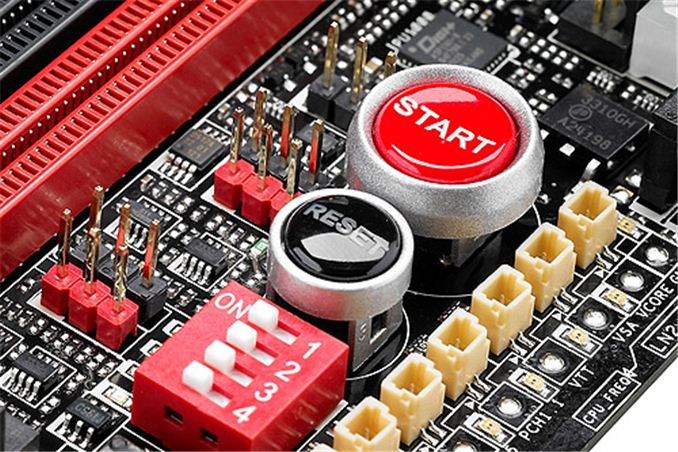 Our next set of motherboard recommendations sit at the feet of Sandy Bridge-E, the current de-facto platform for consumer throughput performance. If you have a non-GPU accelerated workload and a consumer budget, X79 offers a platform with quad channel memory as well as two 6-core processor SKUs with hyperthreading enabled. The only way to get more is to jump to Xeon processors, which can be 2-3x more expensive, or 2P/4P systems from both AMD and Intel, which offer a mix of benefits depending on how the software is programmed.
X79 and Sandy Bridge-E were released in November 2011, with a cavalcade of motherboards in the first 12 months of launch. Now in 2013, new motherboard production has been slow, with only a few models to look at before the next high-end installment for Ivy Bridge-E, which most media and users alike are expecting sometime later this year. We would assume that the socket will be the same, if Sandy Bridge to Ivy Bridge is any indication, though details on 'X89' are few and far between. Motherboard manufacturers should be in there right now designing with products ready for launch, hopefully beta testing the first or second batches of ES boards.
But on X79 today, there is still plenty of choice. Since launch I covered 13 different motherboards (which doesn't sound like much), including the high end models from ASUS, ASRock, MSI and ECS. Here are a few of our favorites that are worth considering.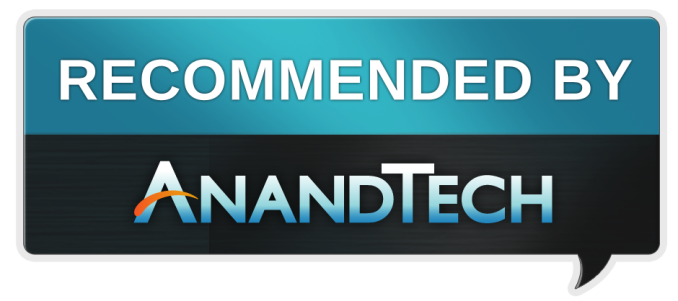 Pick of the Range: ASUS Rampage IV Extreme ($430) – AnandTech Silver Award
Our pick of the best falls at the feet of the most feature packed and almost the most expensive model - the ASUS RIVE, part of the ROG range. When testing this motherboard, it did almost everything right for overclockers and would keep a lot of users very happy. It comes with MCT at stock but also overclocks like a beast, being one of the top boards for competitive overclockers due to its stability, memory compatibility, and features like the OC Key which you do not get in other motherboards. The board supports 8 DIMM slots for up to 64 GB of memory, an extended heatpipe arrangement across the power delivery, overclock tools such as voltage reading pads, VGA hotwire, an LN2 switch, a SLOW mode switch, Subzero Sense, PCIe disable switches, and other features such as extra SATA 6 Gbps, extra USB 3.0, USB BIOS Flashback, as well as enough PCIe lanes to abuse 4-way GPU gaming.
The software stack and BIOS from ASUS are great pieces of kit, and there is also the ROG forums if you have any concerns and issues – the admins are there to help you push the limits of your system and get the best out of the top line purchase.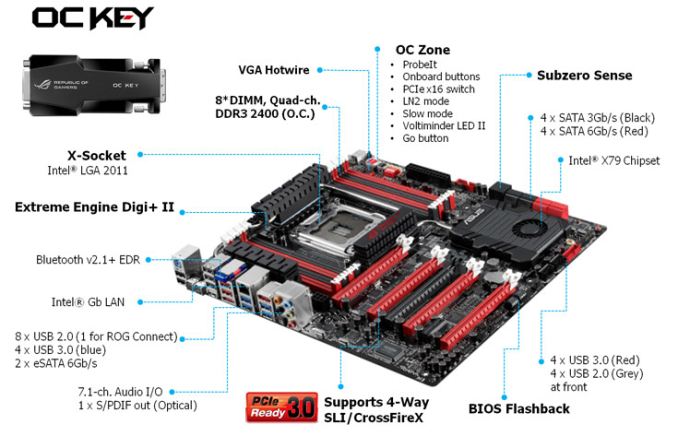 Read our review of the ASUS Rampage IV Extreme here.
AnandTech Bronze Award: MSI Big Bang XPower II ($370)
The MSI Big Bang XPower II (BBXP2) did not win an award because of the novelty heatsinks – if anything that was more of a detractor. What it does score highly on is performance, as well as functionality. We get a triple BIOS system, with one BIOS being easily replaceable – these are alongside 10 SATA ports, 8 USB 3.0, a full array of full-length PCIe slots, dual Intel gigabit Ethernet and bundled in the box is a USB 3.0 front/rear panel, an eSATA back panel, eight SATA cables and a variety of SLI connectors.
For overclocking there is the OC Genie button for a one-button OC, or the Direct OC buttons allow overclocking on the fly. Like the RIVE, we get PCIe switches to disable PCIe slots, voltage read points, and power/reset buttons with a two digit debug. There are a few areas for polish (fan controls), but if you picked one off the shelf I doubt you would be disappointed. It is longer than other boards, such that users will need to check their case dimensions.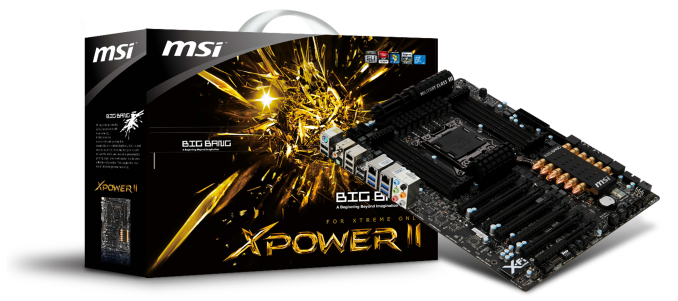 Read our review of the MSI Big Bang XPower II here.
AnandTech Bronze Award: ASUS Rampage IV Gene ($270)
With the power and heat output of Sandy Bridge-E, smaller motherboards might come across as more of a novelty – it would be understandable that with quad channel memory and 40 PCIe lanes that a mini-ITX board might not exist outside of ODMs, but there is room for micro-ATX. At the top of the list of microATX boards is the Rampage IV Gene from ASUS. This motherboard is designed to be the entry point into the ROG world for X79, and features the same software and BIOS pack like the Rampage IV Extreme above. By being a smaller board however, we have some adjustments to make – it is primarily a gaming board, but still overclocks really well. We get SupremeFX audio rather than an ALC898 for example. It costs a bit more than the ASRock X79 Extreme4-M while having similar outward facing hardware (the beauty is in the underlying details and component choices), but the Gene takes a crown for performance and feature set. Gene users want that small gaming system that rockets rings around other setups. If Bitfenix make a micro-ATX prodigy, I would want this build in a red case.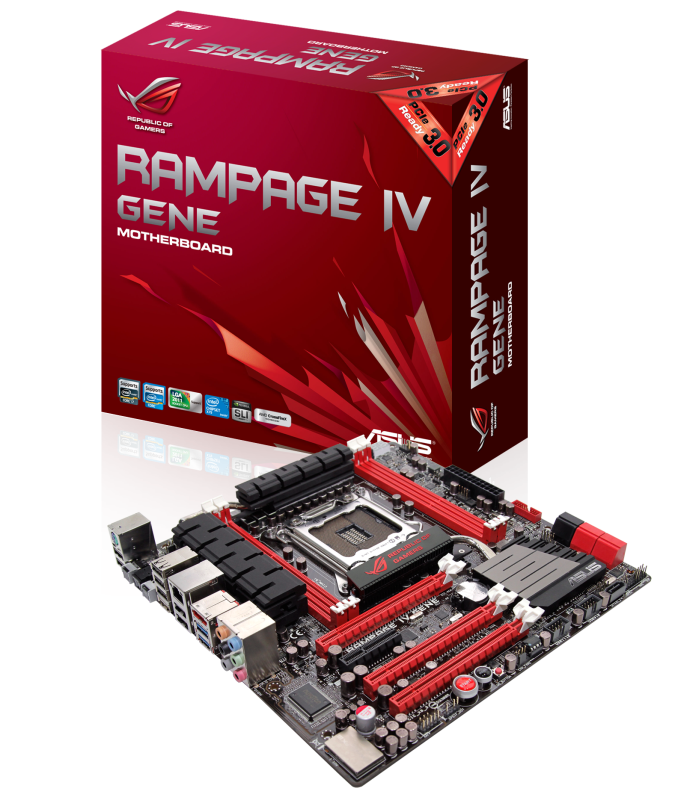 Read our review of the ASUS Rampage IV Gene here.
AnandTech Bronze Award: ASRock X79 Extreme11 ($600)
As a Sandy Bridge-E owner, what would you like on your motherboard? How does space for 64 GB memory, four-way GPUs at x16/x16/x16/x16 for gaming, dual Broadcom NICs for teaming, a Creative Core3D audio codec, an integrated LSI 2308 SAS/SATA RAID chip capable of 8-way RAID-0 and peak speeds of 4 GB/s sound? If that excites you, the ASRock X79 Extreme11 is the board to have. As a technical exercise, fitting all the obscene power features a user may want onto a motherboard sounds like a recipe for disaster, and a mountain on a wallet. In the end bundling two PLX chips and an LSI SAS controller on board does make it expensive, but ASRock are improving steadily with their software and BIOS bundling, making the board an attractive choice if you need one of its usage scenarios.
With our testing, and the price range of this motherboard, it is safe to say that this product is more aimed at workstation projects, such as an 8-core Xeon with ECC, rather than a product for gamers or overclockers. Tool it up with eight SAS drives, seven single slot GPUs (or four dual slot), and away you go with a nice number crunching machine.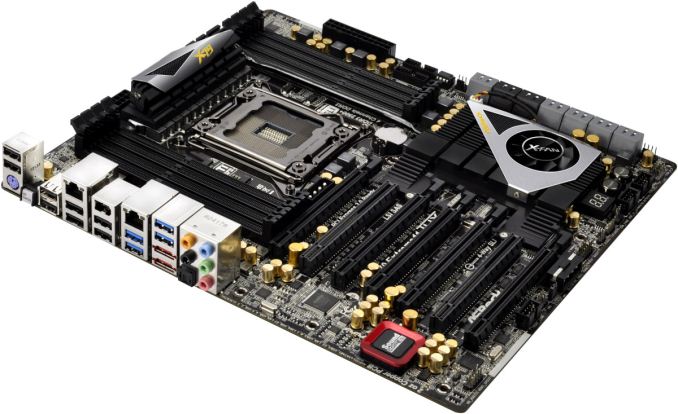 Read our review of the ASRock X79 Extreme11 here.
The Future for X79
While playing around with X79 is fun, the entry point for the platform is quite high. The cheapest X79 motherboard on sale today is $190, and the cheapest processor is $300, giving a sub $500 entry point. But that does not show the whole picture – while the price of the cheapest motherboards is not bad (considering the main bulk of Z77 is around or just below that price) the good motherboards will cost around double that. Also the cheapest X79 processor, the i7-3820, is like an i7-2600K with a couple of extra memory channels – if you are not hitting the memory hard enough, it will not feel like an upgrade. As a result, you might end up looking towards the i7-3930K which is $570-ish new. Combine that with the Rampage IV Gene and we have an $840 entry point, before we consider memory, GPUs, SSDs, PSUs, etc. Most users could take the top end Ivy Bridge today with that money and get a nice boost on the rest of the system, leaving those that need Sandy Bridge-E to actually go out and get it.
With all that being said, the future for X79 is unclear. It is still the choice for pure multithreaded performance, even though Ivy Bridge surpasses it (at stock) in single threaded performance and Haswell will make the jump a little bit more. With Ivy Bridge-E assumed to take socket 2011 like SB-E (if you believe recent leaked screenshots), then current X79 motherboards will get updated to support the new processors and perhaps a new batch of motherboards under the name X89 will be released. We do not have details on that yet though, unfortunately - I want full SATA 6 Gbps and PCIe 3.0 for a start. To put it into perspective, I use an X79 system as my general gaming/work system, and when dealing with the multithreaded workloads, I would not have anything else – except perhaps a 2P or 4P machine, but those are not inside my budget.