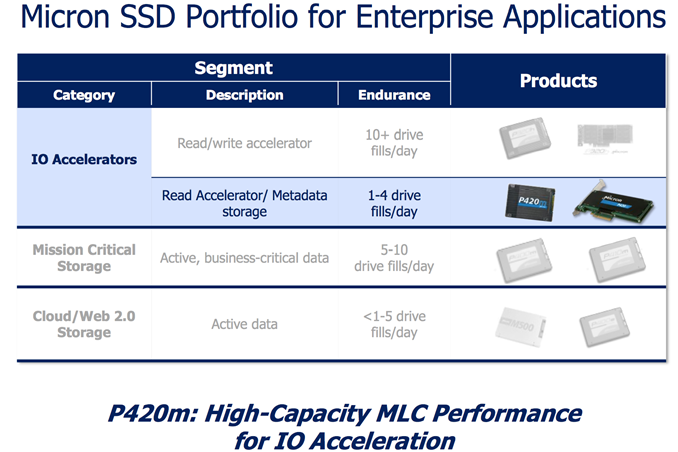 Nearly two years ago Micron announced its first native PCIe SSD: the P320h. We finally got to review it over a year later. In the time between announcement and availability however, the market had changed considerably. The P320h still used expensive 34nm SLC NAND, while much of the enterprise PCIe market moved to MLC/eMLC/MLC-HET based solutions to deliver better cost per GB. Today, Micron fills the hole in their product stack with a PCIe SSD that uses 25nm MLC NAND: the P420m.
The P420m is built on the very same controller as the P320h, with nearly identical firmware (save for changes to support the new NAND type). We're still looking at a 32-NAND-channel PCIe x8 controller, it's just hooked up to a different type of NAND.
The other big physical change here is the use of on-board capacitors to enable power fail protection, a feature that wasn't present on the P320h.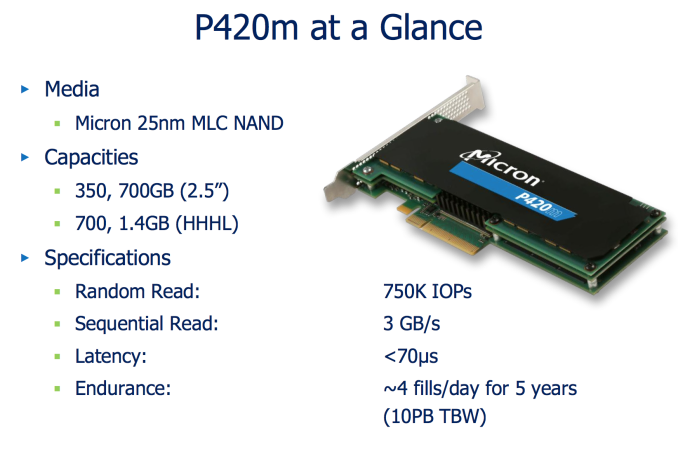 Like the P320h, there will be both 2.5" (SFF-8639 connector) and half-height, half-length PCIe x8 versions of the P420m. The 2.5" version only supports PCIe x4 and 16 NAND channels in capacities of 350GB or 700GB, while the x8 can stripe across all 32 NAND channels with 700GB and 1.4TB capacities. The use of 2-bit-per-cell MLC guarantees twice the usable storage of the SLC based P320h. The P420m is rated for 10PB of total drive writes (~4 drive fills per day for 5 years) compared to 25/50PB for the P320h.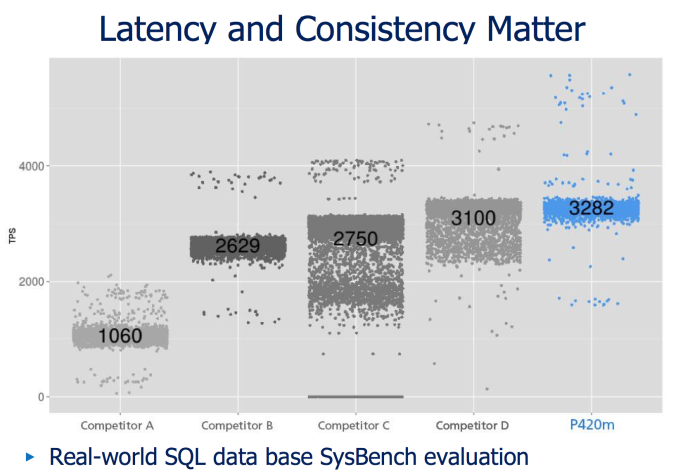 Micron isn't talking about pricing (other than to say that it's cheaper than the P320h) or write performance at this time as the drive still isn't final. Read speeds are up to 3GB/s (sequential) and 750K IOPS (4K random). At the right price, the P420m could be far more interesting than the P320h given that it could deliver very similar performance.