Application and Futuremark Performance
Though our Genesis system is primarily intended for gaming, with gaming being such a resource-intensive hobby it tends to follow that the Genesis is also an incredibly high performer at virtually everything else. The 4.9GHz SNB-E processor is as fast as they come right now, and with the triple Titans and RAID-0 SSDs backing it up, it's clear there are very few computers that will come anywhere close to the Genesis.
As such our standard application and Futuremark benchmarks are here mostly because they're obligatory. We simply haven't reviewed any prior systems, even other SNB-E systems, that are as powerful as the Genesis. It takes the top spot in everything.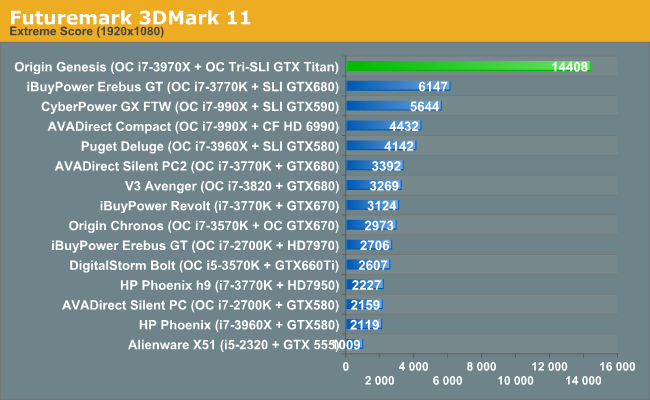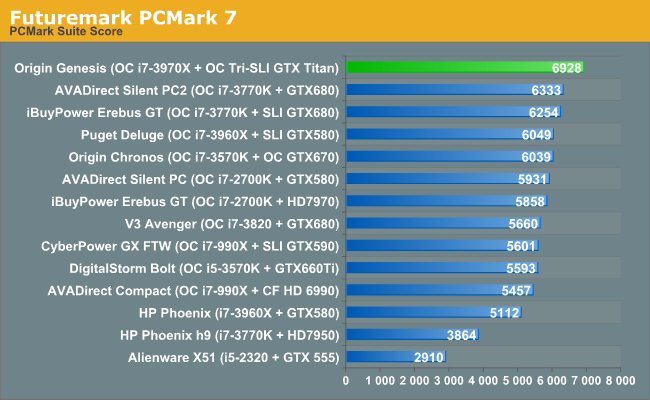 The Genesis more than doubles the 3DMark performance of the next-fastest system we've reviewed, an overclocked IVB + GTX 680 SLI configuration. Meanwhile the PCMark scores are much closer since most of the PCMark score is determined by CPU and storage performance rather than GPU performance, but thanks to the hefty overclock on its i7-3970X processor, the Genesis is still almost 700 points ahead of the next-closest system.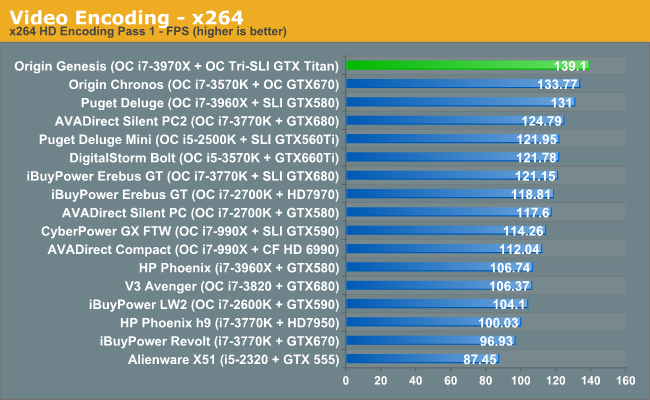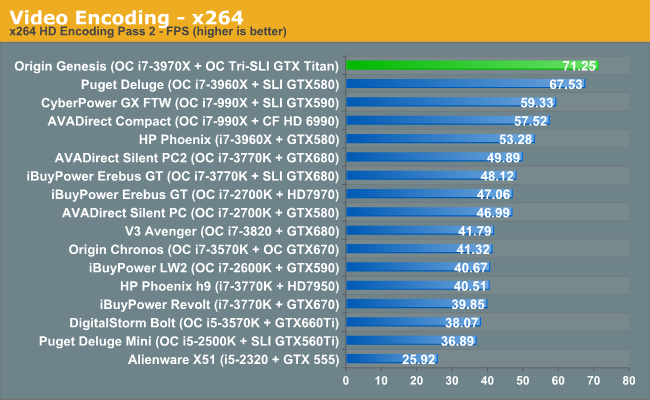 Diving into our CPU-dependent benchmarks, the story is much the same. Thanks to the CPU overclock, the 4.9GHz SNB-E processor means the Genesis pushes past even other SNB-E systems in both Cinebench and x264 encoding. At this point the Genesis is approaching the limit for what any kind of single-socket consumer system is going to be able to achieve.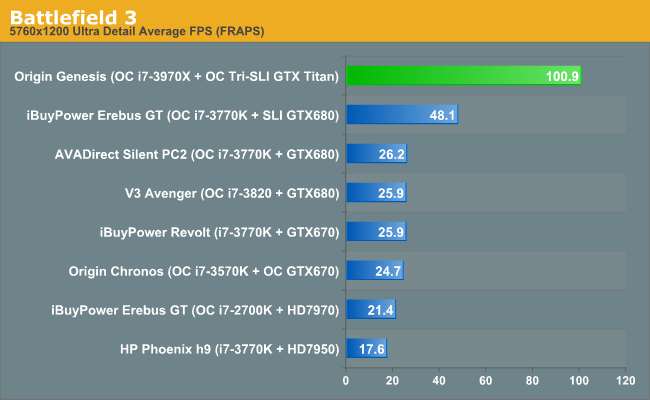 Finally, we're throwing in one of our standard gaming benchmarks before going into tri-SLI Titan's performance in-depth. Even at 5760x1200 with Ultra settings, Battlefield 3 is hard-pressed to keep 3 Titan cards occupied, with the Genesis delivering 100fps. 3D Surround BF3, anyone?