We recently reviewed a dual processor setup using the Gigabyte GA-7PESH1 and a pair of socket 2011 Xeons, with varied reactions from the point of view of a need for ultimate throughput with a simple to intermediate knowledge of NUMA programming. Today Gigabyte has announced the successors to the GA-7PESH1 and GA-7PESH2 in the form of the 4-way GPU supporting GA-7PESH3 and GA-7PESH4, along with a 3-way 1P model, the GA-6PXSV4.
The main feature Gigabyte wish to promote is the improved memory compatibility; specifically noting that they are the only manufacturer to support a system fully populated with DDR3-1600MHz 16GB RDIMM 1.35V modules.
The GA-7PESH3 looks more like a normal 2P motherboard in terms of orientation, with each CPU supporting one module per channel and the PCIe layout designed for multi-PCI devices (think 3-way or 4-way dual slot GPUs, or 7-way single slot). The motherboard also contains an LSI controller for support up to eight SAS 6 Gbps drives, a full 7.1 audio solution and USB 3.0 functionality.
The GA-7PESH4 model gives the full range of memory slots available, similar to the GA-7PESH1, but with an orientation change. The PCIe layout is clearly a little odd, with one at the top of the IO panel, and the power connectors are also in this area. The main selling point of the 7PESH4 is the inclusion of four Intel I350 Gigabit Ethernet ports.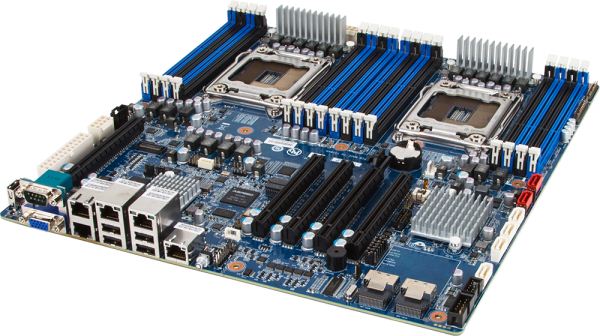 The GA-6PSXV4 takes the GA-7PESH4 in a single socket form, with the four Intel I350 Gigabit Ethernet ports, and the socket orientation at right angles to normal channel implementations. The layout supports 3-way GPU, but also includes a PCIe x1 slot as well as a PCI slot. Like the GA-7PESH3, we also get a series of USB 3.0 ports on the rear IO.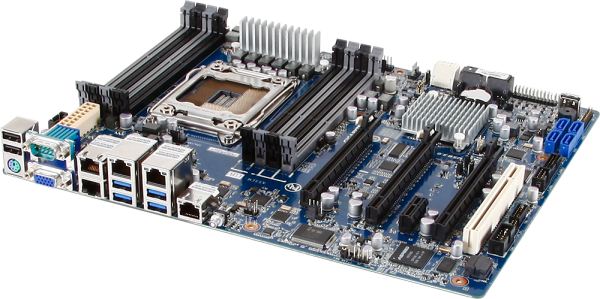 All three boards are reported to have been designed for airflow design in mind, and each CPU is supported by a 6-phase power delivery (remember, no overclocking on server boards). We analyzed the Gigabyte management software package in our GA-7PESH1 review, which used the Advocent Server Management Interface for security, monitoring, and remote control, and expect these new models to be relatively similar.
As always, Gigabyte server boards are currently B2B (business-to-business) only, but readers in the US can contact their local Gigabyte server branch here for more information regarding individual pricing.