ASUS PB278Q Brightness and Contrast
ASUS says that the PB278Q can do 300 nits at maximum brightness, and that spec hits it right on the head. With a full white screen and the brightness pushed up all the way, I got exactly 300 nits of light output from the display. One of PLS' advantages over IPS is supposed to be the ability to let more light through, though this number is very close to what other 27" displays achieve. It might be able to do this using a lower powered LED backlight, and we will test that out in power usage later to see if that is the case.
With the brightness at minimum, we get 58 nits of brightness which should be low enough for virtually every user. The lowest that most users might set a display to is probably 80 nits, and so as long as a display goes below that level I think that is a perfectly acceptable minimum brightness level. This range from 58 to 300 should also accommodate virtually all users for their brightness requirements.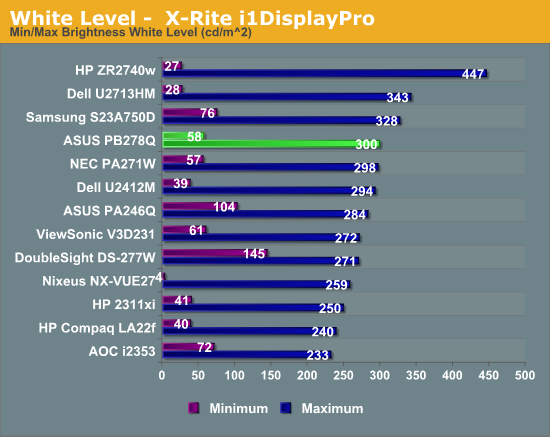 Before measuring the black level, I made sure to disable dynamic contrast, as it would likely just disable the LED backlight and give a result of 0 for a black screen. Since no one really uses an all black screen in this way, I don't feel that testing it is appropriate. With the backlight at maximum the black level was 0.32 nits, and at minimum it was down to 0.062 nits. This is a decent minimum black level for a display, and good for IPS, but not as exceptional as some displays can manage.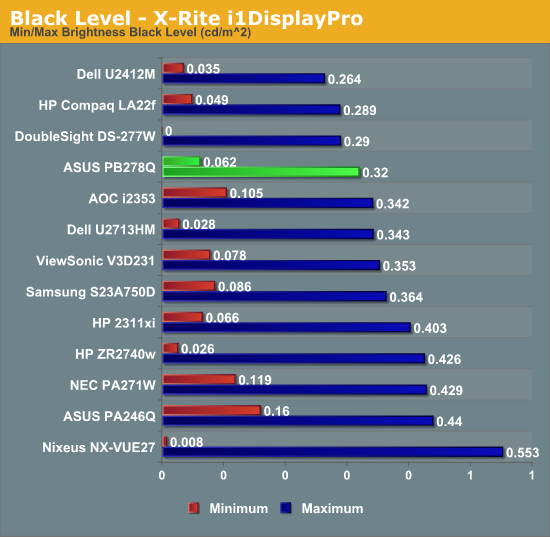 The black level looks better when used to calculate the contrast ratio of the display here. With a contrast ratio right around 935, this is right around what we see for other 27" IPS displays. The PLS display seems to be equal to what other IPS displays can manage, not really much better or worse, but right down the middle of the range.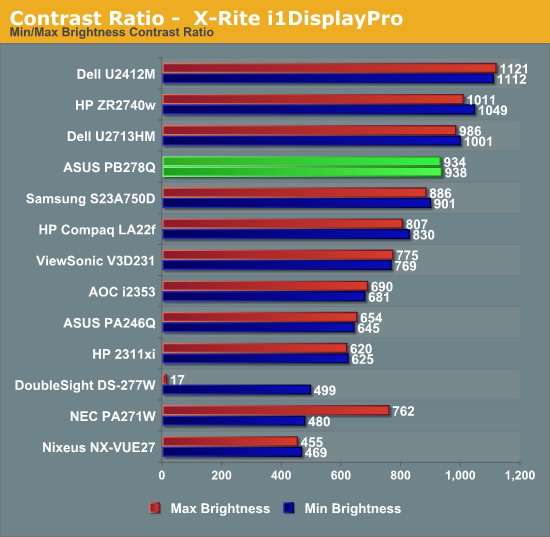 Brightness and Contrast details are right in line with what we expect from an IPS display, and since PLS is very similar to IPS we see very similar results. The peak brightness is lower than some IPS displays, but most people don't use more than 300 nits and we will see later if this enabled ASUS to use a lower power backlight.