ASUS has spent the last few years showing how good design can yield big dividends in the Windows notebook and Android tablet markets. With today's announcement of their Windows 8 and RT line-up, they marry the two efforts to show off some innovative and impressive new approaches to the traditional PC. Most of the products revealed today are Intel-based, but we'll start with the lone ARM device, the ASUS VivoTab RT.
ASUS VivoTab Family
The ASUS VivoTab RT will be their first foray into Windows tablets, and it certainly borrows some design elements from its Android predecessors. The docking mechanism has been updated to give the all metallic slate and its dock a more streamlined look. The slate alone is just 8.3 mm thick, and comes in 32GB and 64GB SKUs, with a 10.1" 1366x768 Super IPS+ display. There's an 8MP/1080p rear-shooter and a 2MP front shooter, and the sides are graced with ⅜" audio jack (headphone/mic combo), microHDMI, microSD and a curious quad-speaker set-up courtesy of SonicMaster. The tablet sports a 25Whr battery, rated at 9 hours per ASUS, with a second 22Whr battery in the dock that pushes run time to 16 hours.
NVIDIA acquired baseband manufacturer Icera earlier this year, and we've wondered when we'd see the first collaboration of that marriage. Today's the day it seems, the VivoTab RT features NVIDIA's Tegra 3 chipset, alongside the Icera 410 baseband, which brings with it DC-HSPA+ and LTE connectivity. We're still digging for more details on the baseband, particularly it's LTE category and manufacturing process, but it will be nice to test a new LTE baseband against the legacy and Qualcomm parts that currently fill the market. At, $599 for the WiFi model, we are definitely competing with higher specced iPad SKUs. If you were considering a Windows RT tablet, though, this one could be a real contender.
In addition to the VivoTab RT there will be two other models, both Intel-based. The VivoTab 11.6" will feature a Wacom Digitizer and stylus for excellent. The Clover Trail-based VivoTab Smart will come with an optional keyboard cover and magnetic Smart Cover, which will fold into a stand for upright use.
ASUS TAICHI
We first saw the ASUS TAICHI at IFA 2012, and not much has changed since then. This dual-screen notebook is an innovative approach to the convertible, and could be a solution to those looking for a tablet and notebook experience. At 1.25 kg, though, this is a heavier tablet experience than we've come to expect. Windows 8 is a sufficient departure from the past that there's room to explore and innovate in software, in a way that hasn't existed in Windows for sometime. That makes us hopeful that in addition to serving the tablet and notebook dichotomy, that second screen could be put to new and interesting uses. To that end, ASUS is including an optional TAICHI UI that will provide a hub for ASUS provided applications that take advantage of the second display and offer settings for its control. Prices for the TAICHI start at $1299, with a dual-core Core i5 3317U processor (max clock 2.6 GHz), 4GB RAM and 128GB SSD; and prices max out at $1599 with the Core i7 3517 (max clock 3.0 GHz), 256GB SSD and a digitizer and stylus. All should be available this November.
ASUS Transformer Book
Having chosen the VivoTab monicker for their ARM-based Windows tablets, the Transformer brand is inherited by a different take on the tablet/notebook paradigm. Described now as a detachable notebook, the ASUS Transformer Book is marketed as the thinnest and most powerful Core i7-based Windows 8 tablet available. There's a compelling story to be told in figuring out what is the best combination of power and portability. With the 13" Transformer Book, ASUS is pegging power, at the expense of portability, and the results are intoxicating. The dual-core Core i7 processor flies, seemingly unhindered by thermal or energy limitations. In the tablet itself is a 128GB SSD, with an additional 500GB mechanical drive in the dock. The 1080p 13" display looks great, though the 16:9 form factor gives it an elongated appareance. Connectivity on the tablet itself is limited, but the dock features USB 3.0 and ethernet. Holding a device with that much power in your hand, quickly flying through web pages and photos, it's the closest I've come to being wowed by a tablet in a long time. Its size isn't going to do it any favors as a mobile device, but I don't think that's the point. This isn't a no compromises tablet, this is a no compromises detachable notebook.
ASUS VivoBook Series
The Vivo name encompasses ASUS devices focused on enhancing the touch experience. The VivoBook series will all feature a metal chassis, with styling unique from the Zenbook family and multi-touch capacitive displays. The initial models will start with the X202 and its 11.6" display, Core i3 processor, 4GB RAM and 500GB mechanical storage. The S400 bumps the display to 14" and processor up to a Core i7, and features an SSD caching scheme with 24GB of NAND and a 320/500GB mechanical drive. Pricing and availability are still unclear, but we will update when we know more. Expect these to slot in below the ZENBOOK line.
ASUS ZENBOOK
The entire ASUS ZENBOOK line is refreshed for Windows 8, with two SKUs getting optional capacitive touch-screens. The top of the line ZENBOOK U500VZ features a quad-core Core i7 processor, 8GB of RAM, NVIDIA's GT650M GPU with 2GB GDDR5, a 15.6" 1080p display and comes in a dual-256GB SSD RAID 0 configuration for seriously speedy I/O. That's an impressive amount of kit for about two grand. The mid-tier spec is the UX31A, with your choice of Core i5 or i7 processors, up to 8GB of memory and 256GB SSD for storage. At just 18mm at its thickest, and that 13.3" 1080p capacitive touchscreen, this could be a solid mid-range option.
ASUS ET2300 All-In-One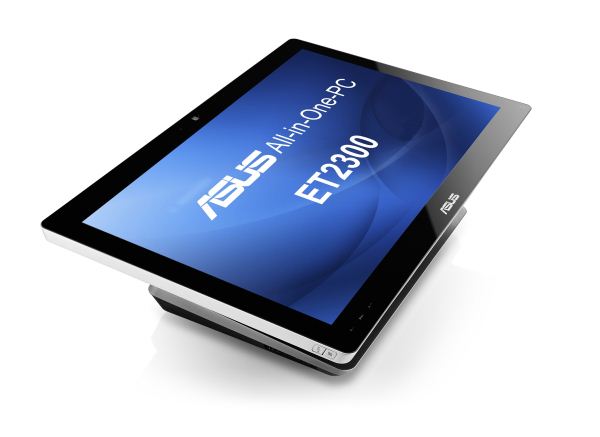 The ASUS All-In-One lineup gets refreshed, as well, with a new model adding a slightly different form factor. The ET2300 is a 23" Core i7 powered All-In-One that comes standard with the NVIDIA GT630M, Thunderbolt connectivity, WiDi 2.0 and a double-hinged design for folding flat. Touch-centric All-In-Ones are a curious breed, and there market niche seems to still be ill-defined despite the growing number of OEMs adopting the interface. WIth Windows 8 we'll see a lot more of these this season.