Random Read/Write Speed
The four corners of SSD performance are as follows: random read, random write, sequential read and sequential write speed. Random accesses are generally small in size, while sequential accesses tend to be larger and thus we have the four Iometer tests we use in all of our reviews. For our enterprise suite we make a few changes to our usual tests.
Our first test writes 4KB in a completely random pattern over all LBAs on the drive (compared to an 8GB address space in our desktop reviews). We perform 32 concurrent IOs (compared to 3) and run the test until the drive being tested reaches its steady state. The results reported are in average MB/s over the entire time. We use both standard pseudo randomly generated data for each write as well as fully random data to show you both the maximum and minimum performance offered by SandForce based drives in these tests. The average performance of SF drives will likely be somewhere in between the two values for each drive you see in the graphs. For an understanding of why this matters, read our original SandForce article.

Excluding the two SandForce data points using highly compressible data, the P320h is the new king here. At least in the 700GB configuration the P320h is able to offer better steady state 4KB random write performance than Intel's SSD 910. The drive also delivers over 6x the performance of Micron's 2.5" P400e.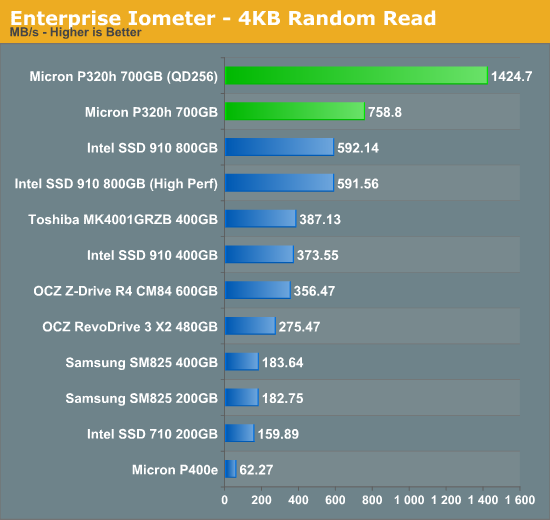 Random read performance is an even more impressive showing for the P320h at 758MB/s. This is truly the benefit of having 32 NAND concurrently accessible channels, given a heavy workload there's more than enough data to parallelize and stripe across all channels.
Sequential Read/Write Speed
Similar to our other Enterprise Iometer tests, queue depths are much higher in our sequential benchmarks. To measure sequential performance I ran a 1 minute long 128KB sequential test over the entire span of the drive at a queue depth of 32. The results reported are in average MB/s over the entire test length.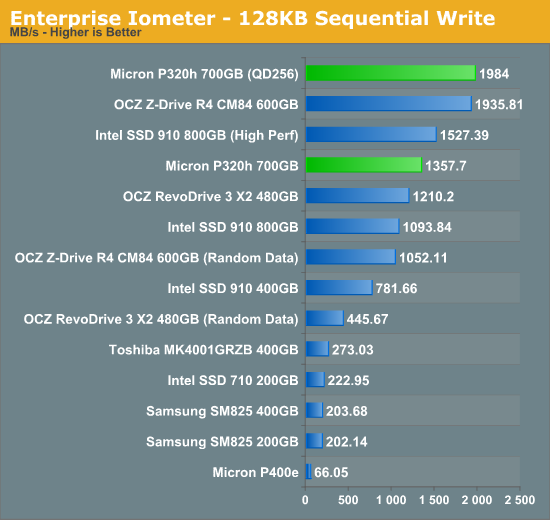 Peak sequential write performance is slightly behind Intel's SSD 910 operating in its 38W high performance mode, but still very competitive. At 1357MB/s workloads that need to move large blocks of data will enjoy great performance on the P320h. Micron claims much higher sequential read/write numbers under Linux at 256 concurrent IOs.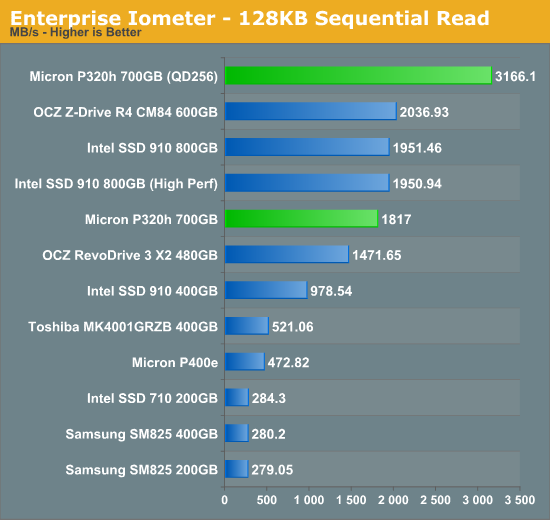 Sequential read performance is also very strong at 1817MB/s. The 910 as well as OCZ's Z-Drive R4 manage better performance here.