It's been a pretty action-packed day for Apple. While the star of today's event was undoubtedly the new iPhone 5, the Cupertino giant also gave the iPod lineup an overhaul, announced a thorough redesign for iTunes, and released of the iOS 6.0 Gold Master for developers (we'll have more information about the iOS 6 GM for you later today). The iPod lineup has been mostly stagnant recently - the last set of updates were in 2010, with the launch of the fourth-generation iPod touch and the touchscreen iPod nano, and since then we've only seen minor colour and pricing changes. Given that, it was good to see Apple turn its attention once more to the iPod side of things.
Fifth-generation iPod touch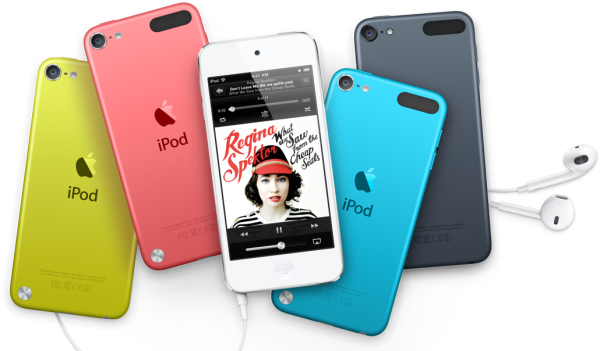 The fifth-generation iPod touch is thinner and lighter than the outgoing touch and has many of the new features that the iPhone 5 has, including the new 4" 1136x640 Retina panel. It's 6.1mm thick, weighs 88 grams, and has a new anodized aluminum chassis. If you hated the chromed aluminum backs and how scratch-prone they were, Apple has finally listened. The industrial design has changed, with a much more rectangular profile than the previous iPod touch, so it looks pretty similar to the new iPhone. The plastic antenna window returns on the back of the new touch, adjacent to the camera. The new touch is available in five colours - black, silver, blue, pink, and yellow. The black has a black bezel, while the rest have a white bezel.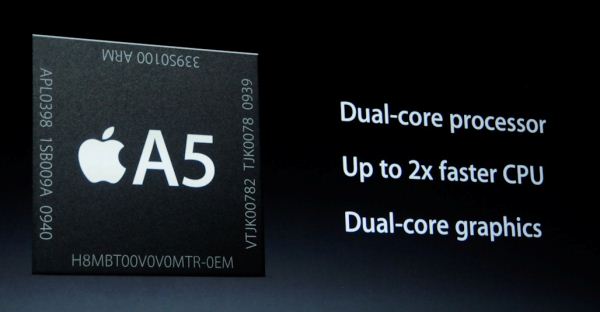 The internals have gotten a considerable upgrade, going from the 1GHz A4 to a dual-core A5. It's likely the updated 32nm A5 (generally referred to as the A5r2) found in the iPad 2,4, with two Cortex A9 cores and PowerVR's SGX543MP2 GPU. It doesn't push boundaries the same way the A6 does, but the A5r2 is still a pretty robust chip.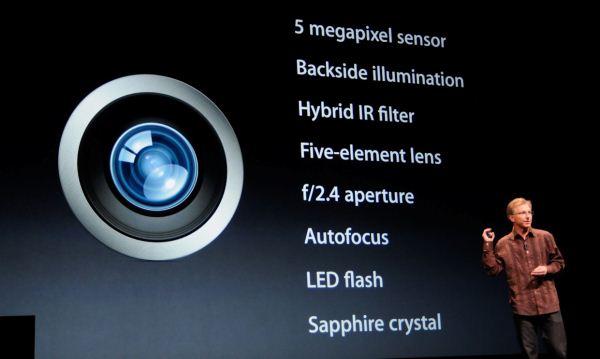 The camera has also seen significant improvements, with a 5MP backside illuminated sensor (probably the same CMOS as the iPhone 4 and 2012 iPad) and an optical system similar to what is used on the iPhone 5. Like the 5, there's a five element lens element with an f/2.4 aperture, along with a sapphire crystal on the front vertex of the camera system to make it resistant to scratches. The touch also brings the iPhone 5's Panorama mode and the new backside illuminated 720p FaceTime HD front facing camera with face detection. There's also an LED flash, tap to focus, and support for iPhoto and iMovie. The rear camera supports 1080p video recording and has video image stabilization along with face detection. Also interesting here is that there's a button on the back of the touch that pops up and allows you to attach a looped wrist strap. Given that ergonomic detail, as well as the significant upgrades to the camera, it's clear that Apple is positioning the new touch as a point and shoot replacement.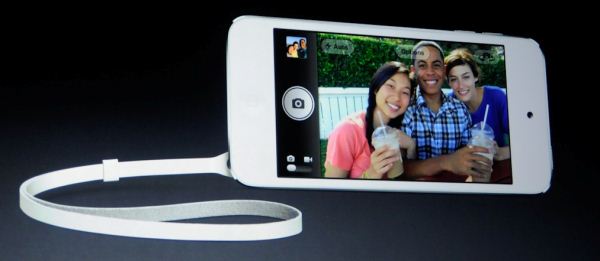 The 30pin dock connector has been phased out in favour of the new Lightning connector as with the rest of the new devices, and the ports on the bottom have been reordered, but other than that the ergonomics appear to be mostly the same. Battery life has been improved to 40 hours for music (a claim that will be difficult to test) and 8 hours for video. The touch is up for preorder as of this Friday at prices of $299/399 for the 32/64GB variants, and is expected to ship sometime in October.
Physical Comparison
Apple iPod touch (5G)
Apple iPod touch (4G)
Apple iPhone 4S
Apple iPhone 5
Height
123.4mm (4.86")
111.0 mm (4.4")
115.2 mm (4.5")
123.8 mm (4.87")
Width
58.6mm (2.31")
58.9 mm (2.32")
58.6 mm (2.31")
58.6 mm (2.31")
Depth
6.1mm (0.24")
7.2 mm ( 0.28")
9.3 mm ( 0.37")
7.6 mm (0.30")
Weight
88 g (3.1 oz)
101 g (3.56 oz)
140 g (4.9 oz)
112 g (3.95 oz)
CPU
Apple A5r2 - 32nm Dual Core Cortex A9
Apple A4 @ ~800MHz Cortex A8
Apple A5 @ ~800MHz Dual Core Cortex A9
Apple A6 (Dual Core Cortex A15?)
GPU
PowerVR SGX 543MP2
PowerVR SGX 535
PowerVR SGX 543MP2
?
RAM
?
512MB LPDDR1-400
512MB LPDDR2-800
?
NAND
32GB or 64GB integrated
8GB, 16GB, 32GB or 64GB integrated
16GB, 32GB or 64GB integrated
16GB, 32GB or 64GB integrated
Camera
5MP with LED Flash + 720p Front Facing Camera
0.7MP + VGA Front Facing Camera
8MP with LED Flash + Front Facing Camera
8MP with LED Flash + 720p Front Facing Camera
Screen
4" 1136 x 640 LED backlit LCD
3.5" 640 x 960 LED backlit LCD
3.5" 640 x 960 LED backlit LCD
4" 1136 x 640 LED backlit LCD
Battery
Integrated ?? Whr
Integrated 5.254Whr
Integrated 5.291Whr
Integrated ?? Whr
Seventh-generation iPod nano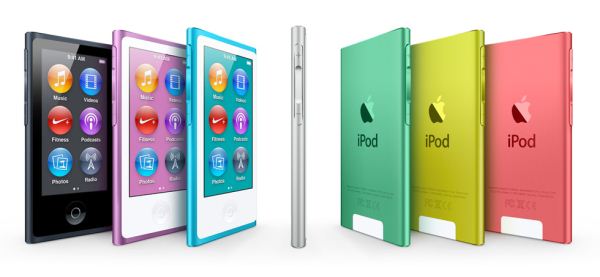 The nano is entering its seventh generation, and the ground up redesign sees it become the mini-iPod touch that it was once expected to be. While the last generation nano was the ultimate iPod shuffle (the sixth generation nano and fourth generation shuffle were very similar in size, shape, and general form factor), the new one goes in a completely different direction. It has a 2.5" 16:9 touchscreen with a resolution of 432x240, along with a home button underneath the screen. The form factor is completely different, with a narrow rectangular body shape reminiscent of the fourth and fifth generation nanos, though with design language along the same lines as the newer nanos and shuffles (which, in turn, were similar to the second generation nano and shuffle from 2006.) This is the thinnest nano to date, at just 5.43mm, and will be available in eight colours - black, silver, blue, green, purple, pink, yellow, and Product(RED).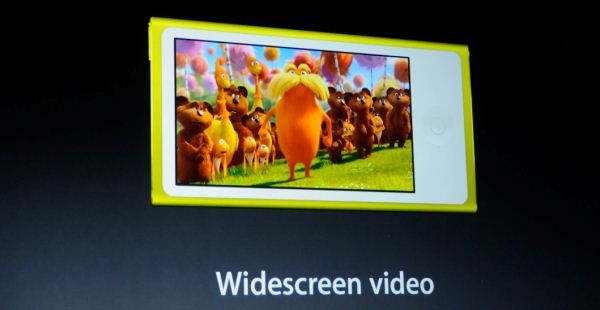 The nano is a focused portable media player, and the feature list reflects that. It supports the standard music and video codecs, as well as 720p video playback, and contains an FM radio, a Bluetooth radio, and Nike+ built in. It doesn't explicitly run iOS, but the interface will be very familiar to anyone who has ever used an Apple touchscreen device. The battery is rated at 30 hours for music and 3.5 hours for video. The new nano has exactly one storage configuration - 16GB - that costs $149. Availability is similar to the touch, with preorders going up on Friday and a shipping date of sometime in October.

The shuffle is essentially the same as before, except with new colours to match the new touch and nano. The new colours are available starting today. The 160GB iPod classic soldiers on unchanged with the same chassis it has had since 2007. Think about that - five years with no significant changes. That's pretty impressive. I'm assuming that it lives on through next year and is euthanized whenever Apple starts shipping devices with 128GB of NAND onboard.