As part of the Computex 2012 show, Gigabyte demonstrated to us their new version of Ultra Durable. This fifth iteration of their power delivery combines their previous features with a new phase from International Rectifier, which is marketed to offer up to a 60°C lower temperature than traditional MOSFET solutions. Initially this new design is being paired with six motherboards, all designated with UP rather than UD in the name. The first of these we have in is the X79S-UP5 WiFi, which combines Ultra Durable 5 with the C606 chipset. The C606 chipset is the server version of the X79 chipset, which enables up to eight SAS ports.
Ultra Durable 5 and IR3550 PowIRstage ICs
Gigabyte's Ultra Durable branding is one of a myriad of features it likes to use in advertising its products. The Ultra Durable system allows Gigabyte to continually add new features to its power delivery, with the latest being the addition of new IR3550 PowIRstage ICs.
By combining many elements of the power delivery process into one device, we save real estate on the board – combine this with some IP from International Rectifier regarding packaging and internal structures, and Gigabyte states we have many of the following benefits:
- Each phase offering up to 60A, thus less phases are needed (reduces power consumption)
- Efficiency of up to 95%, also decreasing power consumption
- Up to 60°C cooler than traditional MOSFET solutions, and 20°C cooler than Ultra Durable 4.
Let us put this into perspective – normally combining elements into a smaller area causes problems for heat production, but this solution has been designed to get around it. Power delivery, for the large part of consumers, is either something that works or does not. Inherent in the design is the longevity, but it rarely ever becomes a major feature that sways a purchase decision. Whether it is digital or analogue, the vast majority of users do not know, let alone care.
The major push with Ultra Durable 5 is the temperatures. "Up to 60°C cooler than traditional solutions" is part of the Gigabyte PR machine. The scenario to produce these claims could be a common one in many of our readers homes - in small systems using all-in-one liquid coolers (Corsair, Kühler), where air flow is not a major part of the build, and heat lingers inside the case. The design of the IR3550 is such that the heat is dissipated, and designed not to affect the system as. This has an appreciative affect on motherboard choices for low noise, low airflow situations.
The other issue, which will hit all users, is the cost of implementing such a technology. It does not come cheap. While at Computex, I was quoted that for the high-end motherboards that will initially use these ICs, the power delivery sub-system alone can cost as much as a low-end consumer motherboard. That means on designs such as the X79S-UP5, the power delivery section could cost as much as $80 of the boards overall cost to build.
The use of IR3550 ICs from International Rectifier is not an exclusive deal between IR and Gigabyte. Other companies are free to jump in with IR if they want to use this technology. In order for it to be cost effective though, we need them all to jump in to drive the cost down. Then when we see the ICs on ITX sized boards, they will be extremely useful.
Initially Gigabyte has six motherboards using the new Ultra Durable 5 system. The boards that do are designated UP, as in the Z77X-UP4, rather than UD, which is Ultra Durable 4. With that, let us get to testing the X79S-UP5 WiFi.
Gigabyte X79S-UP5 WiFi Overview
Despite the name of this board containing 'X79', the chipset commonly associated with Sandy Bridge-E processors and Socket 2011, the addition of the 'S' motive indicates this board uses one of the server versions of the chipset. Gigabyte had four to chose from – C602, C604, C606 and C608, each increasing in features and cost. As quoted from the Intel website, "These chipsets offer many of the capabilities of the Intel® C200 series chipsets with additional support for enterprise storage and additional I/O bandwidth to address highly demanding enterprise workloads." Specifically this link will demonstrate the exact differences between the chipsets, but the server C60x all follow the same chipset diagram (for a dual processor system):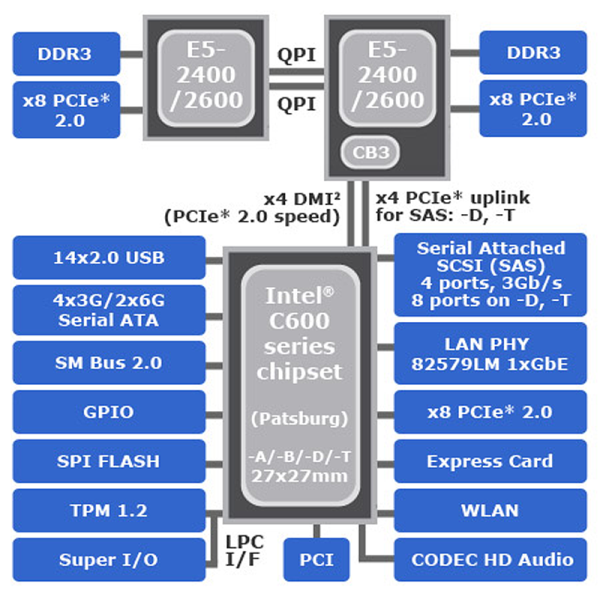 We also get PCIe lanes for PCIe devices. In the X79S-UP5 WiFi, Gigabyte has decided to use the C606 chipset - this gives Gigabyte leeway to include full Xeon support, as well as ECC memory (with a Xeon processor), and an extra eight SAS / SATA ports onboard.
The X79S-UP5 is marketed as a board for workstations, for enthusiasts who would rather build their own number crunching machine than buy one. By including the IR3550 in the power delivery, Xeon support, ECC support and SAS through a server chipset, Gigabyte are trying to cover as much as possible before going beyond to a dual processor system, like the GA-7PESH1.
The main competition for the Gigabyte X79S-UP5 comes from the ASRock X79 Extreme11, although these two motherboards are in completely different price brackets ($330 vs. $600 MSRP), and as such the ASRock has clout with two PLX chips and an LSI chip while still retaining the X79 credentials. So while the X79S-UP5 is 'only' limited to three-way GPUs at x16/x16/x8, and SAS 3 Gbps ports, it does offer a choice for the more price-conscious workstation, especially with the power delivery.
In our testing, we used an i7-3960X in order to keep our benchmarks consistent with X79 motherboards, and given the recent debate regarding MultiCore Enhancement (MCE), we can confirm that the Gigabyte X79S-UP5 WiFi enables MCE when XMP is enabled. As a result, we expect the Gigabyte to match the ASUS ROG boards in our testing suite – in fact, it often beats our ROG products due to some aggressive switching algorithms implemented on board. Unfortunately, I can confirm that MCE does not enable for Xeon processors.
Visual Inspection
The X79S-UP5 WiFi adheres to the loosely defined E-ATX board size – for most users that means that the board is an extra inch wider than normal ATX sized boards, but that allows Gigabyte to place connectors right on the edge given that real estate can be a premium. For an upper workstation board, Gigabyte has gone with a blue and black theme on the heatsinks combined with a black and grey for memory and most of the SATA ports.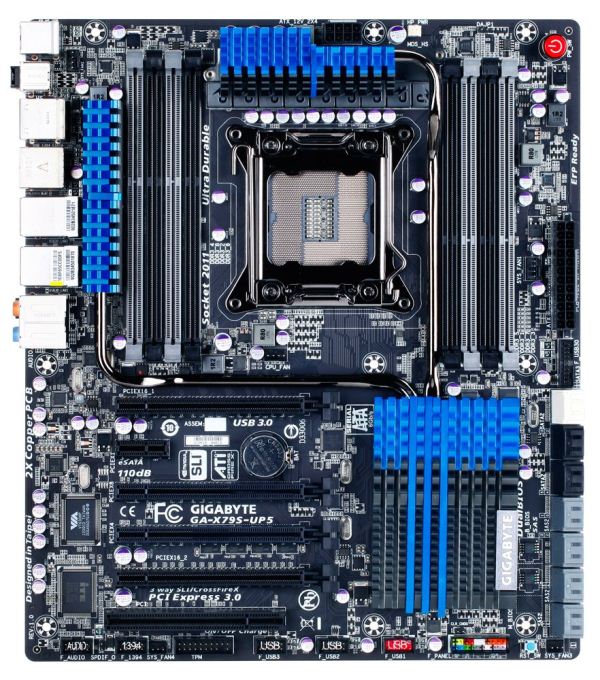 The socket area is normal for an X79 motherboard – we have the memory to the right and left, and a heatsink to the top. The heatsink is kept low (~26mm from the PCB base), but with the heatpipe in play some large square air coolers could be restrictive, possibly requiring low profile memory. I believe the main intention is for this board is to be paired with an all-in-one liquid water cooler such as a H80 or 920 to keep it simple. The heatsinks themselves are located above the socket, to the left of the memory, and on the chipset itself. In order to maximize the heat removal, all three heatsinks are connected via a heatpipe, and thus there is no need for an extra chipset fan.
For fan control around the motherboard, we have a 4-pin CPU fan header below the socket, a 4-pin SYS fan header to the top right of the memory, and another 4-pin SYS header next to the 24-pin ATX power connector. The other two headers on board are 3-pin SYS headers at the bottom end. Personally, I think one of these could have been moved to next to the CPU fan header, just to promote the situation where more CPU fan headers are provided.
Along the right hand side of the board, we get a big red power button for enthusiasts, our standard 24-pin ATX power connector with a 4-pin fan header beside it, a USB 3.0 header, and the SATA ports. Starting with the USB 3.0 header, this is powered by a Fresco USB 3.0 Controller (the FL1009). I cannot say if I have ever seen this brand of USB 3.0 controller on a top line motherboard - it means the USB 3.0 controller market has several players in the form of ASMedia, Etron, Via, Renesas (NEC), Texas Instruments and Fresco.
Gigabyte has decided to use all the chipset SATA ports alongside the SAS enabled ports provided by the C606 chipset. From top to bottom, we have two SATA 6 Gbps in white, four SATA 3 Gbps in black and the eight SAS ports in grey, with these SAS ports also supporting SATA devices at 3 Gbps. After some internal discussion with Gigabyte, I tested these SAS ports with SATA drives in RAID-0, but the peak speed was topping out at under 1.0 GBps for sequential reads and writes, despite the theoretical maximum being ~2.4 GBps (300 MBps x 8). A bit of checking later and it turns out that Intel specifications limit the bus speed between the SAS ports and the chipset at PCIe 1.0 to ensure data integrity. Gigabyte in turn released a beta BIOS (F3a) which enables users to select PCIe 1.0, 2.0 or 3.0 for their SAS ports. This increases the peak throughput when drives are placed in RAID-0 to 1.8 GBps at PCIe 2.0 and 2.39 GBps at PCIe 3.0: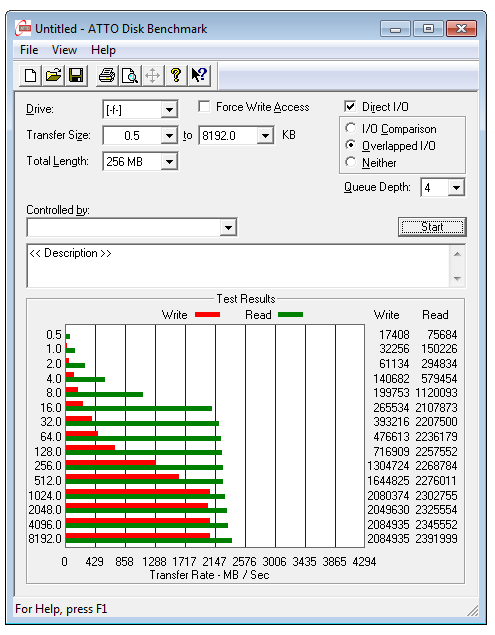 Eight SATA drives in RAID-0 set at PCIe 3.0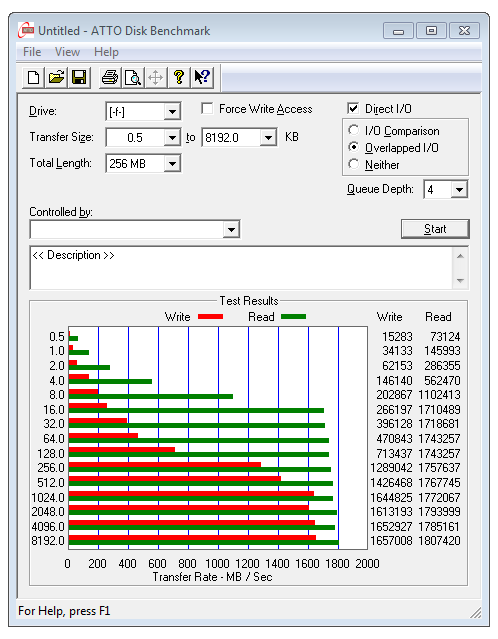 Eight SATA drives in RAID-0 set at PCIe 2.0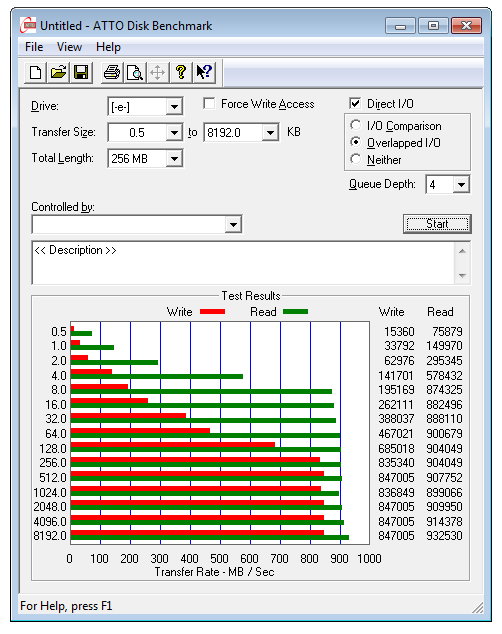 Eight SATA drives in RAID-0 set at PCIe 1.0
As stated with the ASRock X79 Extreme11 though, eight-way RAID-0 is an obscure usage scenario. Like with the ASRock X79 Extreme11, the SAS ports on the Gigabyte X79S-UP5 WiFi can only perform RAID 0, 1 and 10, though this time it is due to Intel specifications. If Intel had rigged the ports for RAID 5 or RAID 6, I feel a lot more of the user base would be available.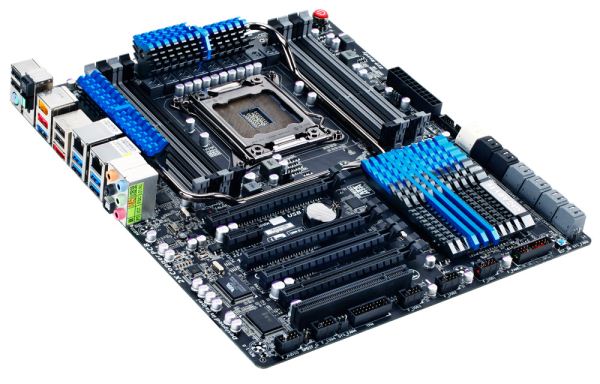 Also on the right side of the motherboard we have two soldered on BIOS chips for Gigabyte's dual BIOS functionality. In order to switch between these two BIOSes, the button is on the IO panel and shifts blue and green depending on which BIOS is in use.
On the south side of the board Gigabyte have included their usual array of headers, including a Trusted Platform Module header (makes more sense in a workstation environment), an IEEE1394 header, three USB 2.0 headers, audio/front panel headers and a reset switch. All we are missing here is a ClearCMOS button (which actually is on the IO panel, so nothing lost there), but more importantly I like to see a two-digit debug LED on board. There are arguments against the Debug LED for sure - namely that there is no use for it when a product is inside a case. However, from my perspective, the Debug LED feature gives me peace of mind when the board is booting, and if it ever produces a POST error, the Debug LED gives a code number that helps in diagnosis. In reviewing, it aids in overclock testing or memory debugging if there is a memory issue.
Due to Gigabyte applying the heatsinks in the way that they have, the PCIe layout is based on six ports overall, aimed at a maximum of a three GPU setup. From top to bottom, we have an x16, x1, x8, x4 (from the chipset), x16, and a PCI. This means dual GPU + sound card + WiFi setups are catered for, or any combination therein. As the focus is on workstation scenarios, we could easily put in a Quadro and a pair of Tesla GPUs, or one of each and a dedicated single slot video output card and the included WiFi module.

From left to right on the IO panel we have two USB 2.0 ports (black), a combination PS/2 port, an OC Button (detailed later in the review), a BIOS Switch, a ClearCMOS, an IEEE1394 port, a USB 2.0 port, a combination USB/eSATA port, two more USB 2.0 ports, another eSATA port, dual gigabit Ethernet (one Intel, one Realtek), four USB 3.0 ports (VIA controller), optical SPDIF output and audio jacks.
Board Features
Gigabyte X79S-UP5 WiFi
Price
Link to Newegg
Size
ATX
CPU Interface
LGA2011
Chipset
Intel C606
Power Delivery
Intel Second Generation Core i7 Sandy Bridge E
Intel Xeon E5-16xx and E5-26xx
Memory Slots
Eight DDR3 DIMM slots supporting up to 64 GB
Up to Quad Channel DDR3, 1066-2133 MHz
Supports ECC, un-buffered memory with Xeon Processors
Onboard LAN
1x Intel
1x Realtek
Onboard Audio
Realtek ALC898
Expansion Slots
2x PCIe 3.0 x16
1x PCIe 3.0 x8
1x PCIe 3.0 x4
1x PCIe 2.0 x1
1x PCI
Onboard SATA/RAID
2x SATA 6 Gbps (Intel), RAID 0, 1, 5 and 10
4x SATA 3 Gbps (Intel), RAID 0, 1, 5 and 10
8x SAS 3 Gbps (C606), RAID 0, 1 and 10
Note - SAS uplink by default is PCIe 1.0.
BIOS F3a or above needed to adjust above 950 MBps total.
USB
12x USB 2.0 Ports (Intel) [6 back panel, 6 onboard]
4x USB 3.0 Ports (VIA VL800) [4 back panel]
2x USB 3.0 Ports (Fresco FL1009) [2 onboard]
Onboard
2x SATA 6 Gbps
4x SATA 3 Gbps
8x SAS 3 Gbps / SATA 3 Gbps
3x USB 2.0 Headers
1x USB 3.0 Header
1x IEEE 1394 Header
5x Fan Headers
1x ClearCMOS Jumper
Power/Reset Buttons
TPM Header
Power Connectors
1x 24-pin ATX Power Connector
1x 8-pin CPU Power Connector
Fan Headers
1x CPU (4-pin)
4x CHA (two 4-pin, two 3-pin)
IO Panel
1x Combination PS/2 Port
1x CPU OC Button
1x BIOS Switch Button
1x ClearCMOS Button
1x IEEE1394a Port
4x USB 3.0 Ports
5x USB 2.0 Ports
1x eSATA/USB Combination Port
1x eSATA Port
1x Intel GbE
1x Realtek GbE
1x Optical SPDIF Output
Audio Jacks
Warranty Period
3 Years
Product Page
Link
Gigabyte has aimed to give this board a lot - the C606 chipset enables those SAS ports but we also have the new power delivery system. Combine this with dual NIC, bundled in WiFi card, some legacy ports, a TPM module, six USB 3.0 ports and five fan headers. There is not much else to add component wise. What I will say is that the chips that add the IEEE1394 ports and SuperIO on the bottom of the board (Via and iTE) are quite large. I wonder how many people still would require IEEE1394 and PS/2 on a workstation board - the option could be to do what is on the UP5, or make the space available for a mini-PCIe port and put the WiFi card in there.