At Computex this year ASUS unveiled its Windows 8 and RT tablets in a surprisingly mature state. At their introduction ASUS simply named them the Tablet 810 and Tablet 600. Today, they are getting official branding. Meet the Vivo Tab and Vivo Tab RT.
The Vivo is the old Tablet 810, based on Intel's 32nm Clover Trail Atom platform. ASUS/Intel aren't discussing clock speeds yet, but the SoC is paired with 2GB of memory and an on-board 64GB eMMC device for storage.
The tablet features an 11.6-inch Super IPS+ display with a 1366 x 768 resolution. The capacitive touchscreen is aided by a Wacom digitizer stylus for hopefully natural pen input. The Vivo Tab weighs 675g and is only 8.7mm thick. You also get built in NFC, an 8MP rear camera and a 2MP front facing camera.
The Vivo Tab RT is the Tablet 600, an ARM based Windows RT tablet using NVIDIA's Tegra 3 SoC. The dimensions drop a bit to 8.3mm thin and 520g. The display is smaller at 10.1-inches, but you still get a 1366 x 768 display resolution and a Super IPS+ panel. You get the same front/rear cameras from the Vivo Tab, and built in NFC as well.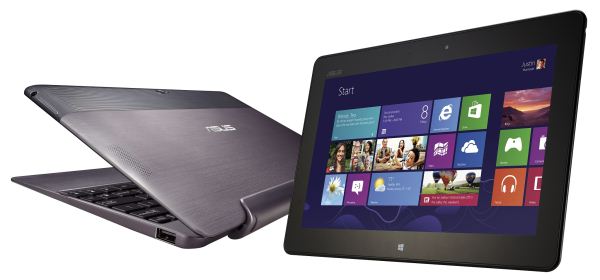 The Vivo Tab RT ships with 2GB of memory and 32GB of on-board eMMC storage. Let's hope ASUS picked a good supplier for the eMMC in these tablets, so far Samsung seems to have the best solutions out of those I've tested.
Both tablets offer an optional mobile dock with integrated keyboard, trackpad, USB ports (2 on the Vivo, 1 on the RT) and secondary battery. This is the same flexibility ASUS' Transformer Pad series enjoys in the Android world. With Windows 8/RT, the appeal of a tablet that can transform into a clamshell ultraportable notebook seems so much greater though.
There's no word on pricing or availability for either of these two tablets, but you can expect them to show up in line with the official Windows 8/RT launch on October 26.