With most of the attention from Apple's hardware refresh event centered around iOS 6 and the new Retina MacBook Pro, the updated 2012 edition of the regular MacBook Pro has flown a little bit under the radar. Basically, it's just an Ivy Bridge-infused version of the venerable unibody MacBook Pro chassis that we've known and loved for the last few years. The details don't bring any particularly earth-shattering revelations, with 13" retaining the dual-core processor and integrated graphics, while the 15" makes the switch from AMD to Nvidia's new Kepler-based GT 650M dedicated graphics. Along with Ivy Bridge, the 2012 MBP line gets HD 4000 graphics and USB 3.0 across the board, plus a free update to Mountain Lion when it releases later this summer. Naturally, it doesn't generate the same kind of excitement that the all-new, all-awesome Retina MacBook Pro does. But is a less headline-worthy computer necessarily a worse one?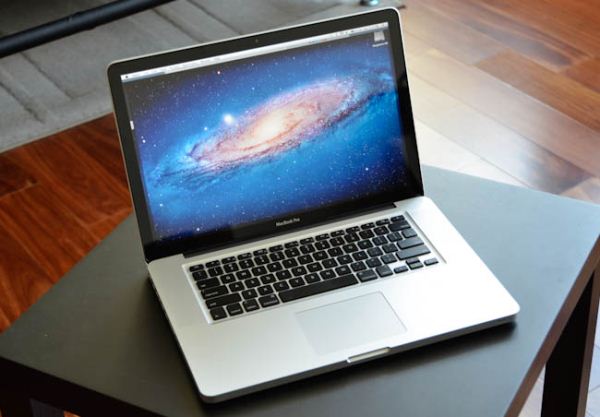 It's pretty difficult to find things to write about the 2012 MacBook Pro hardware. You can essentially sum it up in one paragraph, or even one sentence if you try hard enough. The 2012 MBP looks exactly like the 2011 MBP, which looked exactly like the 2010 MBP, which looked exactly like the post-April 2009 MBP. It's likely to be the last iteration of the original unibody MBP, giving this body style a 4.5 year run as one of the most instantly recognizable notebook computers on the market. I'm not going to go too far in depth with analyzing the design, because we've gone over it a few times over the years (here, here, here, here, here, and here. Oh and here too, just for good measure.)
It's a solid notebook, that much is certain. From an SKU standpoint, Apple has kept things relatively straightforward, with a high end and a low end for both the 13" and 15" models. Starting at $1199, the MBP13 comes with a 2.5GHz Core i5-3210M, 4GB DDR3, and a 500GB HDD, while the higher end SKU bumps that to a 2.9GHz i5-3520M, 8GB DDR3, a 750GB HDD, and a $1499 pricetag. Other than the updated processor/integrated graphics and the addition of USB 3.0, the 13" is identical to the previous model that we covered in depth last year.

The 15" is a bit more interesting. The base $1799 SKU comes with a quad-core i7-3615QM (2.3GHz) and a 512MB Nvidia GeForce GT 650M dGPU, but makes do with a paltry 4GB of memory and a 500GB hard drive. The standard memory and storage configuration in a nearly-$2000 notebook is pretty unacceptable. This being Apple, upgrade pricing is still a hair away from being highway robbery, but at least the matte WSXGA+ screen upgrade costs a reasonable $100. Thankfully, unlike the rMBP and MacBook Air, you can always opt to buy RAM and storage upgrades on your own.
2012 MacBook Pro Lineup Comparison
15-inch Mid 2012 MacBook Pro
MacBook Pro with Retina Display
Dimensions
0.95 H x 14.35 W x 9.82" D
0.71 H x 14.13 W x 9.73" D
Weight
5.6 lbs (2.54 kg)
4.46 lbs (2.02 kg)
CPU
Core i7-3615QM
Core i7-3720QM
Core i7-3615QM
L3 Cache
6MB
6MB
6MB
Base CPU Clock
2.3GHz
2.6GHz
2.3GHz
Max CPU Turbo
3.3GHz
3.6GHz
3.3GHz
GPU
Intel HD 4000 + NVIDIA GeForce GT 650M
GPU Memory
512MB GDDR5
1GB GDDR5
System Memory
4GB DDR3-1600
8GB DDR3-1600
8GB DDR3L-1600
Primary Storage
500GB 5400RPM HDD
750GB 5400RPM HDD
256GB SSD
Optical Drive
Y
Y
N
Display Size
15.4-inches
Display Resolution
1440 x 900
2880 x 1800
Thunderbolt Ports
1
2
USB Ports
2 x USB 3.0
Other Ports
1 x Firewire 800, 1 x Audio Line in, 1 x Audio Line out, SDXC reader, Kensington Lock slot
SDXC reader, HDMI out, headphone out
Battery Capacity
77.5 Wh
95 Wh
Price
$1799
$2199
$2199
The unit we're looking at here is the high-end 15" SKU, with a 2.6GHz i7-3720QM and a 1GB version of the GT 650M, plus 8GB memory and a 750GB HDD. It rings up at $2199, which interestingly is the same as the base rMBP (i7-3615QM/8GB/256GB SSD/1GB GT 650M). I'm mostly certain that it's not the configuration to get - you're better served by getting a base 2.3GHz 15", adding the $100 high-res screen, and grabbing a 256GB SSD (~$250) and an 8GB RAM upgrade (~$50) separately from Newegg or Amazon. Boom. You spend roughly the same $400, depending on your SSD choice (I would go Samsung SSD 830), and end up with a system with a better screen that's faster in most day to day situations. Unless you have a really specific need for the extra 512MB vRAM or 300MHz clock speed increase, I'd recommend against it.