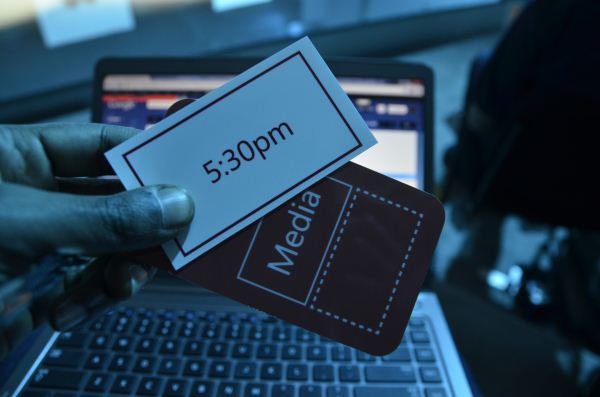 We're at Microsoft's major announcement in LA - it's been shrouded in secrecy, with Redmond only releasing venue details earlier today (a mere 5 hours before the start of the event). I had the benefit of going straight from the airport to Milk Studios, so after a few hours of waiting in the LA sun, I'm seated and ready. Microsoft's stage setup looks like this: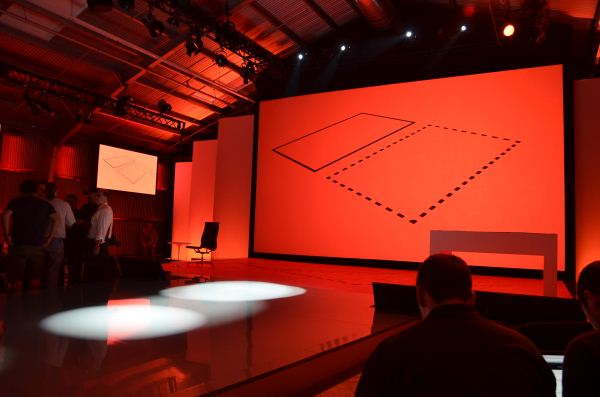 The pre-event music, headlined by Gotye's "Somebody That I Used to Know". It's starting, Steve Ballmer onstage talking about Windows 8 and it's hardware and software versatility.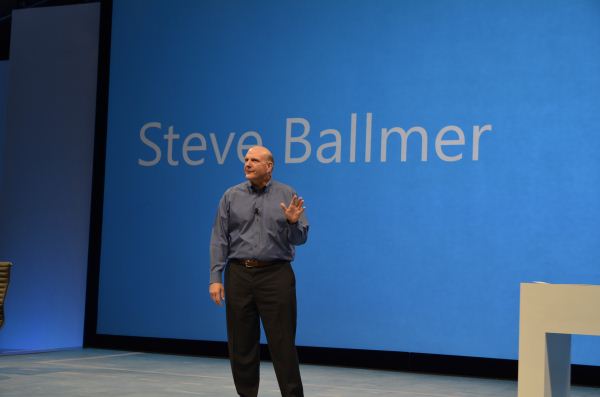 Talking about the hardware and software dynamic, and Microsoft's role in pushing hardware to places that system vendors may not. Microsoft has 30 years worth of experience in hardware design and manufacturing, including peripherals and of course, Xbox and Kinect. "Another piece, another bit of excitement to that Windows 8 story."
He's pretty clearly building up to a first-party hardware system, "The combination of hardware and software to deliver an amazing experience." He's also talking up partnerships with ARM SoC (QCT, NVDA, TI, etc) and system manufactuers (HP, Dell, Samsung, etc).
But they're giving Windows 8 a companion hardware innovation. Microsoft Surface, being detailed by Steven Sinofsky. Surface is a stage for windows, 9.3mm thick, USB 2.0, beveled edges to feel natural in hand. Full magnesium case, in a liquidmetal forming process called VaporMg. It's a 1st party Windows RT tablet. 10.6" optically bonded display designed specifically for the Surface (a screen size that hasn't been seen since the old Sony VAIO T series). Interestingly, the demo unit crashed while Sinofsky was showing it off.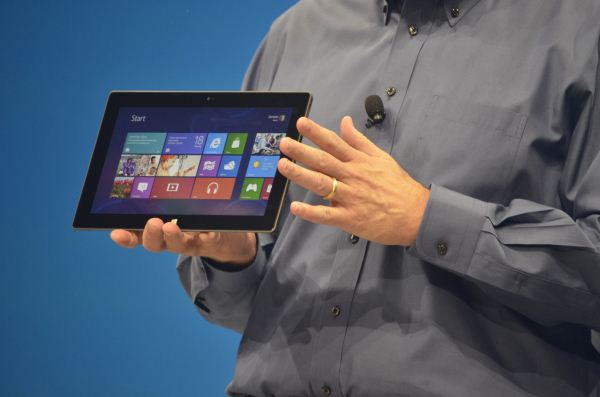 Built in stand, Corning Gorilla Glass 2.0. Magnetic connector for a clip on cover, that also doubles as a keyboard and multitouch trackpad. With the cover and the integrated stand, Surface effectively becomes a notebook. Similar to the ASUS Transformer dock, except much more integrated.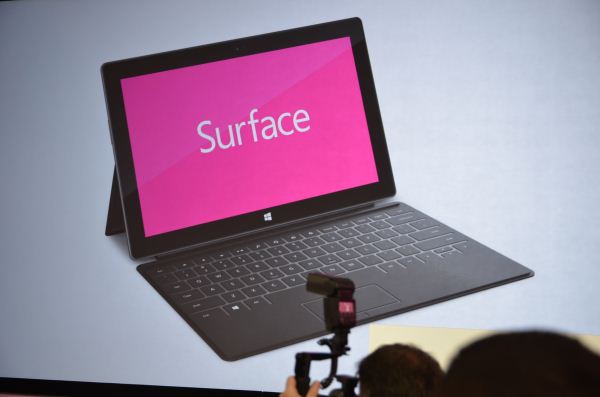 There's two Surfaces - one with Nvidia (assuming Tegra 3) with Windows RT, along with one with Intel Core i5 (IVB) processors and Windows 8 Pro. The Intel one is less than 2 pounds, and under 14mm thick. 2x2:2 WiFi antennas and digital inking at 600dpi, which should please Brian.
They're calling the screen "ClearType", with the Nvidia one having a ClearType HD and the Intel one having a ClearType Full HD, meaning 1366x768 and 1920x1080 respectively.
This stuff looks really cool. The full family includes the WindowsRT Surface, the Windows 8 Surface, two different types of keyboard cover, and multiple colours.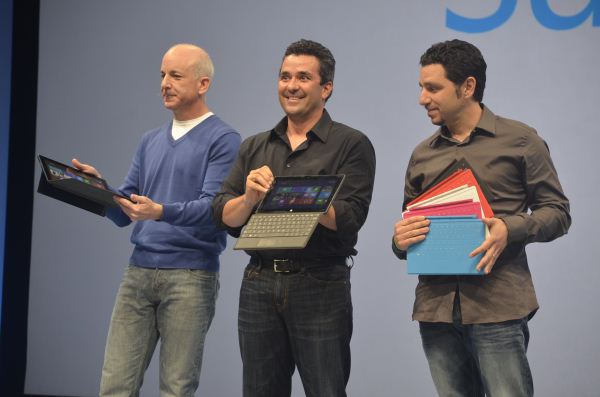 Really emphasizing the attention to detail in all parts of the design - injection moulded magnesium liquidmetal, really close tolerances on every part of the chassis. With every part, you add additional complexity and increase the overall tolerances. It's easier to go for close tolerances on liquidmetals than with injection moulded plastic, but it's still impressive to see the overall level of mechanical complexity they've managed to integrate.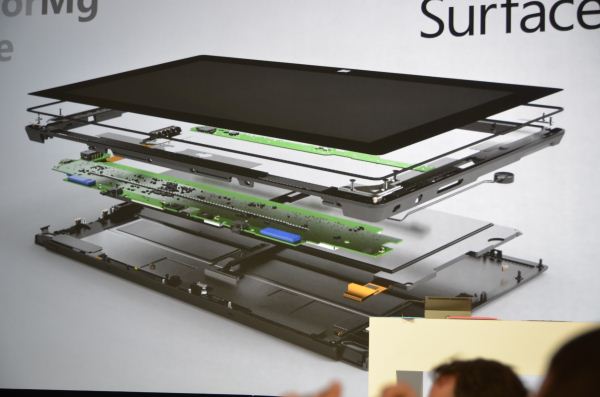 Also, a lot of talk about an emotional connection to your device. Closing the kickstand, having the acoustics match that of a luxury car door, including testing that in an anechoic chamber. The touch cover is only 3mm thick, so the typing experience is a little bit of a question, but Microsoft is staking their decades of peripheral use in delivering a good typing experience here. A lot of colours and again, like the Surface tablet hardware, there's a lot of layers and a lot of mechanical/electrical complexity here.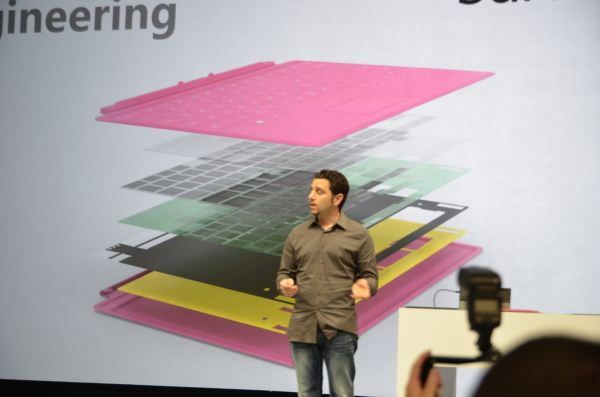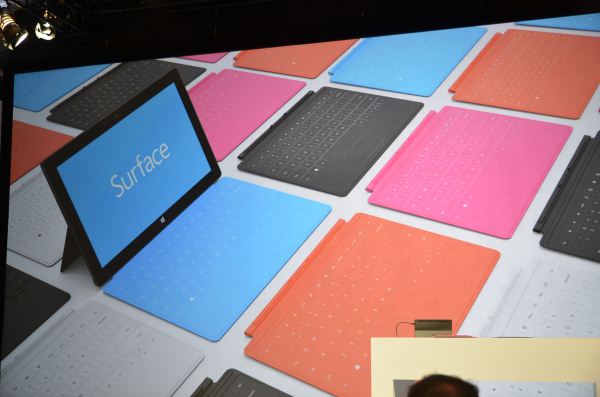 32 and 64GB models of the Windows RT Surface, priced competitive to other ARM tablets, and 64GB and 128GB models of the Win8 Pro Surface, priced competitive to similar Windows tablets. Availability of the RT model will be alongside the Windows 8 general launch, and the Intel Surface following 3 months later.