We've been hearing about the impending ASUS Transformer Pad Infinity with its 1920x1200 display for some time now with no concrete word on when it's coming to market, but in the interim we can now look forward to the new Acer Iconia Tab A700. Acer may just beat ASUS to the punch, too: the Iconia Tab A700 should be available for presale now, and will be shipping by the end of the month at just $449.
Most of the other specs are pretty much bog standard for a modern Android tablet running Ice Cream Sandwich. The Acer A700 is a 10.1" tablet powered off of NVIDIA's 1.3GHz Tegra 3 T30, sporting 1GB of LP-DDR2, 32GB of internal storage, and a MicroSD slot compatible with both SDHC and SDXC. It features a Micro USB 2.0 port, Micro-HDMI out, and a 3.5mm combo mic/headphone jack, along with front and rear-facing cameras. The internal battery is also rated at a substantial 36.26Wh, and the unit as a whole weighs 1.47lbs (0.67kg).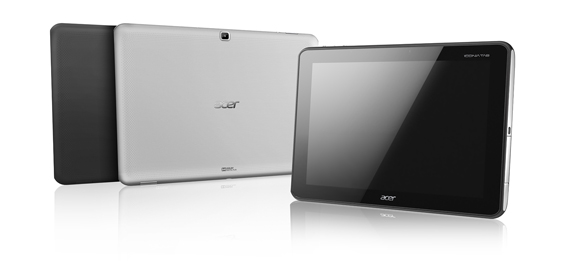 Hopefully Acer can hit a homerun with the A700 and its high-resolution display and back it up with better support than we've seen in the past. While ASUS received the Ice Cream Sandwich update for their Tegra 2 tablets near the beginning of the year, Acer didn't roll out the update until April, and Acer has a tendency to EOL tablet support somewhat sooner than we'd like.
Then again, that's part of what you should expect with a low price and 1-year standard warranty. If you're willing to take the plunge, though, as we said the Acer Iconia Tab A700 should be available for presale now or in the immediate future, and will be available in retail for $449. That should be less than what the ASUS Transformer Infinity sells for with a similar configuration, though build quality and other elements are still up for discussion.