During Nvidia's Tegra analyst day, more details were disclosed about both Nvidia's plans for Icera, and the upcoming codename Grey SoC with Icera inside. Earlier today we talked about how Icera 410 had been validated for use on AT&T's LTE and HSPA network, which itself is an exciting step towards a complete Nvidia solution. Nvidia just announced their upcoming Icera baseband, Icera 500, which is an LTE UE Category 3 device (building on 410 which is UE Category 2) and includes HSPA+ and other features from Icera 450. Because Icera's architecture is a software defined radio, it was hinted we might even see beyond UE Category 3 in the future. We'll have to wait and see for further details about what other capabilities Icera 500 brings.
"NVIDIA's second-generation LTE modem – the Icera 500 chipset - addresses high end smartphones as well as tablets and clamshell devices, and provides worldwide LTE support. We expect to see the Icera 500 modem in devices in 2013."
Nvidia expects Icera 500 to appear in devices by the end of this year, and Grey will appear with Icera 500 directly integrated later in 2013. This will enable Tegra to drive into lower cost platforms and smaller form factors in a way that only a few other SoC players can.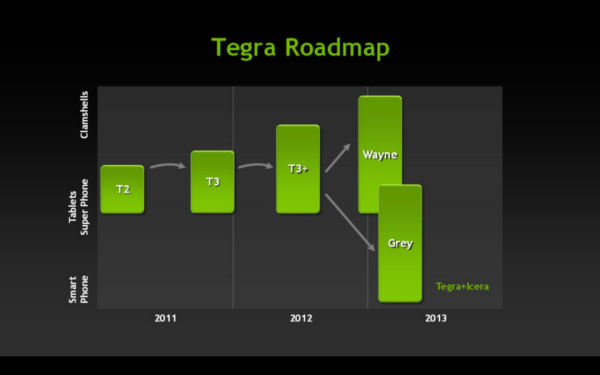 Nvidia is rapidly putting all the pieces together for delivering a complete solution with both their own SoC and baseband. Grey will definitely be a part to keep a watchful eye for.