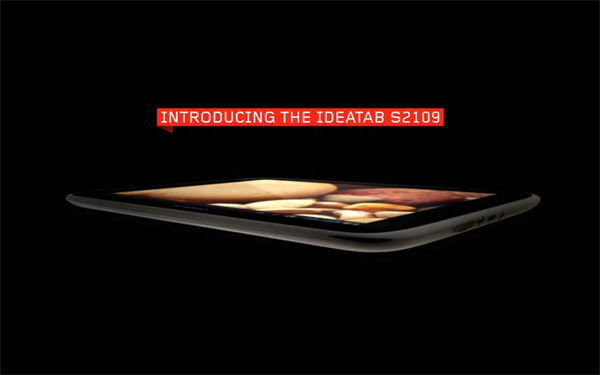 Just a few months after announcing the IdeaPad S2, Lenovo has brought the Android 4.0 ICS powered 9.7-inch IdeaPad S2109 to light.
In a YouTube video, Lenovo teased some of the specs of the tablet; it wields a 8.9mm-thick gunmetal unibody case wrapped around a 9.7-inch 1024x768 IPS screen. That's not a very impressive resolution, but it does match the iPad 2--which of course has now been superceded by the new iPad with it's 2048x1536 resolution LCD.
The S2109 comes with the now fairly standard setup of a micro-HDMI port, micro-SD expandable memory card slot, and a micro-USB port. Lenovo opted to only equip the S2109 with a 1.3-megapixel front-facing camera, with no rear camera present. Lenovo also claims the battery life for the S2109 will reach 10 hours. The final bit of info we've been given is that the back of the device features four SRS TruMedia-branded speakers. Just to leave us eager in anticipation, Lenovo has not yet revealed the SoC nor the onboard memory capacity for the S2109.
With Lenovo having just recently announced the IdeaTab S2, comparisons are begging to be made between the two. The IdeaTab S2 is just a hair larger than the S2109 at 10.1 inches and packs the brand new Qualcomm S4 MSM8960. That's just a fact to keep in mind while we wait for further details about what the S2109 may possess. For now price and availability are unknown, but we'll keep you updated as further details arise.
Source: YouTube