Microsoft's David Washington has penned another informational tome on the Building Windows 8 blog, this one about Windows 8 and its support for varying screen resolutions. The above chart lists the common (but not the only) resolutions that Microsoft is planning for, and while most of the listed display types won't surprise anyone (wall-to-wall 1366x768 and 1920x1080 for most desktops and laptops), it does appear as though Microsoft is planning for Windows tablets with a DPI that approaches or matches that of the new iPad.
Microsoft is planning for tablets that use both the 1024x768 and 1366x768 resolutions common in earlier and lower-end tablets as well as the high-DPI screens that are being (and will be) ushered in by the new iPad. To scale Windows elements so that they're still comfortable to look at and touch at these resolutions, Microsoft has put together some pre-defined scaling percentages: 100% when no scaling is applied, 140% for 1080p tablets, and 180% for quad-XGA tablets like the new iPad. These percentages were all chosen as "pixel density sweet spots" for 10" and 11" tablets with 1920x1080 or 2560x1440 displays. It should be noted that Washington's blog post focused entirely on Metro scaling - whether the Windows desktop will automatically scale using these percentages is unclear.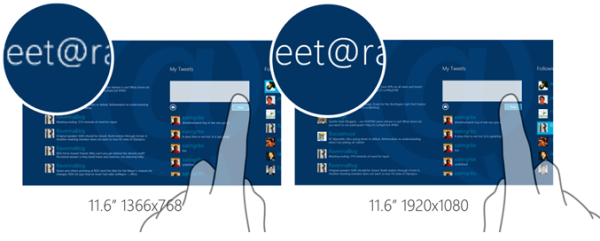 Microsoft's attention to these specific resolutions suggests that we will probably see some high-DPI Windows tablets when they launch in the fall, though we still don't know anything about the tablets OEMs are designing for Windows 8 and Windows on ARM. It's also telling that there are no 7" tablets on that chart - we may not see Windows versions of smaller tablets like the Kindle Fire or Nook Tablet.
Washington went on to explain the reasoning behind the minimum resolution requirements for Metro apps that we noticed in our Windows 8 preview review - 1024x768 for Metro apps and 1366x768 for the Metro Snap feature. Both choices were largely developer and data-driven: 1024x768 is a common low-end resolution for web developers and tablet app developers, and Microsoft didn't want to restrict these developers to a lower minimum resolution to account for the small percentage of 800x600 and 1024x600 displays that are currently in use.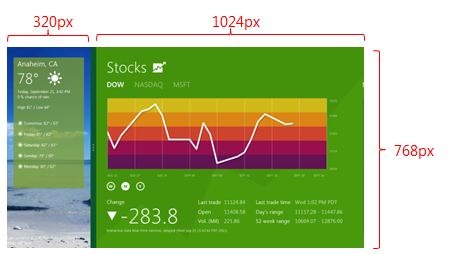 As for snapped apps: the size for a "snapped" app is always 320 pixels wide, which was again selected because developers have become used to it in their work with smartphones. A 1366x768 display is the lowest common screen resolution that allows for the 320 pixel width and the 1024 pixel minimum width for regular Metro apps.
Also discussed was the methods by which Metro allows programs to expand to take up all of the pixels in a larger laptop or desktop display: To help dynamically expand content to take up more screen space when the pixels are available, Windows 8 uses the same XAML and CSS3 features that are commonly used to accomplish this on modern web pages - examples of such features include the grid, flexible box, and multi-column CSS3 layouts. App templates provided with Visual Studio 11 all make use of these features automatically. Developers can also scale their apps to fit larger displays, which is useful for games or other apps that don't need to make use of additional pixels.
For more, including Windows 8's support for scalable graphics and the Windows Simulator tool that will provide Visual Studio 11 users the ability to test their apps at multiple screen resolutions, the full post is linked below for your convenience.
Source: Building Windows 8 blog