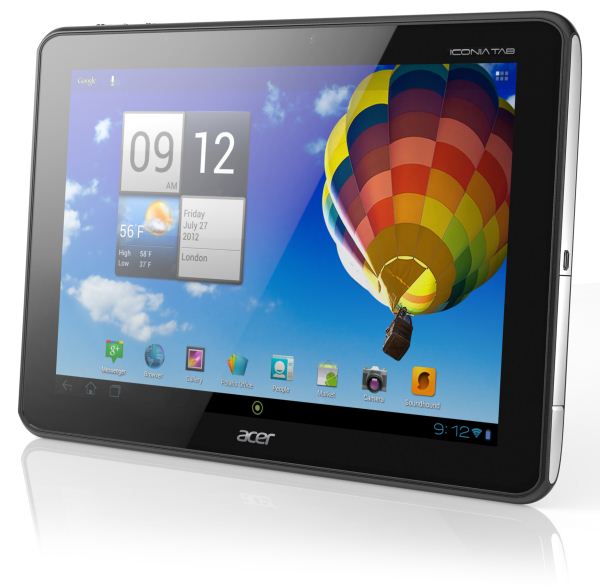 Asus's Transformer Prime just got some company. Available for pre-order today, the Acer Iconia Tab A510 brings the price of entry for a 10.1" Tegra 3-powered tablet down to a cool $449.99, $50 less than the similarly equipped Asus offering. Like the Prime the A510 features a 10.1" 1280x800 display, the 1.3 GHz Tegra 3 SoC with 1 GB of RAM and 32 GB of storage expandable by microSD. The base battery life on the A510 is an impressive 36.26Whr, not quite as much as the new iPad, but somewhat higher than its prececessor and the Prime. That big battery does lead to a somewhat portly frame, with a thickness cresting a centimeter and weighing nearly 100g more than the Prime. The frame is similar to the A200 we saw in January, but is actually a little thinner and with a textured back for extra grip.
Android 4.0 is on order for software, complete with Acer's Ring UI, a relatively innocuous skin that mainly seeks to put your most commonly used apps in easy reach. When we took a look at the A500, we were pleased with its display quality, not quite IPS but great for a vanilla LCD; we hope we can expect more of the same from this display. Software pre-load includes the usual branded media players and print software, along with Polaris Office 3.5 for productivity. Gone though, is the full-sized USB port, replaced by microUSB, though it remains compatibile with portable HDD up to 2TB in size.
There's no shortage of options for tablet buyers right now, and everyday another pops up. But if performance, battery life and price are your main criteria, the A510 may just be the tablet for you. Pre-orders start today for $449.99 at your favorite e-tailers; no ship dates are available.