The original 7" Galaxy Tab was already long in the tooth when it was refreshed in the form of the Galaxy Tab 7.0 Plus. That iteration brought Samsung's mighty Exynos SoC to bear on an otherwise meager tablet. Great isn't apparently good enough, though. Samsung's seen fit to produce a true successor, the awkwardly named Galaxy Tab 2 (7.0).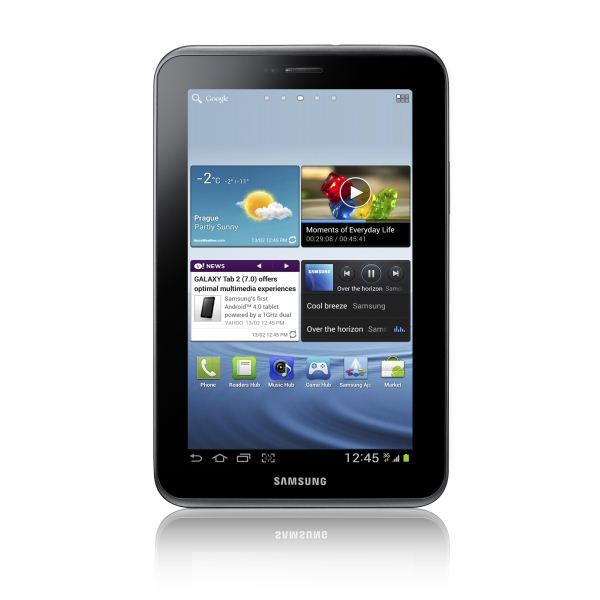 So what's different this time? The Tab Plus already padded out the length and width of the original, while slimming down the depth; the Tab 2 is just a little thicker this time around. The 7" screen remains a PLS panel with a 1024x600 resolution, nothing too astonishing. The SoC is based on a dual-core design clocked at 1 GHz even. We haven't previously seen an Exynos SoC clocked at 1 GHz, though it's not inconceivable. Qualcomm has some dual-core parts clocked the same, as does NVIDIA.
The only other notable feature of the Tab 2 (7.0) is that it will be the first Samsung-branded device running Ice Cream Sandwich (Android 4.0). Hewing to their old habits, Samsung has seen fit to bring TouchWiz to the ICS experience, and from the looks of things we shouldn't expect anything to groundbreaking. The usual assortment of Hubs will be on order (Music, Media, Social and Game), along with a new app curation tool S Suggest (kind of like an App Hub). They're also including a Motocast competitor called AllShare Play. Like Motorola's entrant, the AllShare Play app allows users to view media stored on their PCs or other Samsung devices from wherever they have an internet connection.
The presence of Android 4.0 might point us to another likely suspect for SoC: TI. Samsung's involvement in the Galaxy Nexus is no secret, and they have had the most time with the ICS code as any manufacturer. It's plausible that in order to expedite shipping their first ICS tablet, Samsung chose the Nexus' platform, TI's OMAP 44x0. If that's the case, GPU performance could take a hit versus the Galaxy Tab 7.0 Plus, particularly when that device gets updated to ICS.
Pricing and availability Stateside have yet to be announced; though UK availability is pegged for March. In just two short years, Samsung has gone from having no tablets to a stable at least six deep (more if you count the 10.1v and 10.1N). The Galaxy Tab 2 (7.0) may fall short in the hardware department, especially compared to something like the Transformer Prime, but the 7" form factor has long been a fan favorite, and at the right price this could be a great way to experience Ice Cream Sandwich on a tablet. We'll update when we have pricing and availability.
Source: Samsung