Belkin's product portfolio stretches across a huge range from A/V and networking solutions to iPod and Kindle cases. Their CES both focused primarily on their home electronics products with a layout aping your average small apartment. We took a tour and previewed some products that are ready to ship, and some still in development.
Belkin Thunderbolt Express Dock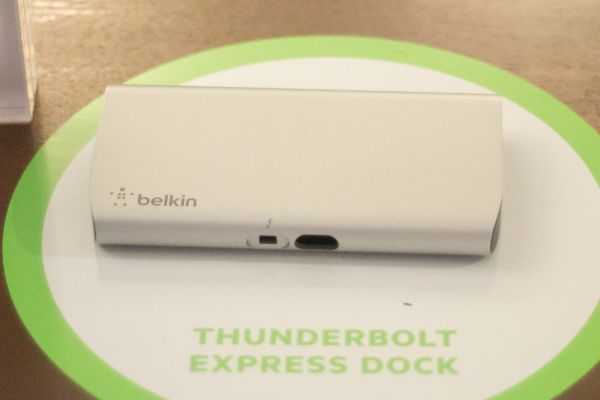 This mock-up of their Thunderbolt based dock sat temptingly alone on a desk, awaiting someone with a properly equipped laptop and an array of peripherals to connect. The port selection includes HDMI, GbE, Firewire, 3x USB 2.0, and 3.5 mm audio. Two Thunderbolt ports are present in order to facilitate daisy chaining devices. With a reported 20 Gbps total bandwidth (10 Gbps up, 10 Gbps down) the device will most likely be based on the Eagle Ridge chip. There's a glut of Thunderbolt peripherals at CES, and we're eager to test them out.
Belkin WeMo Home Automation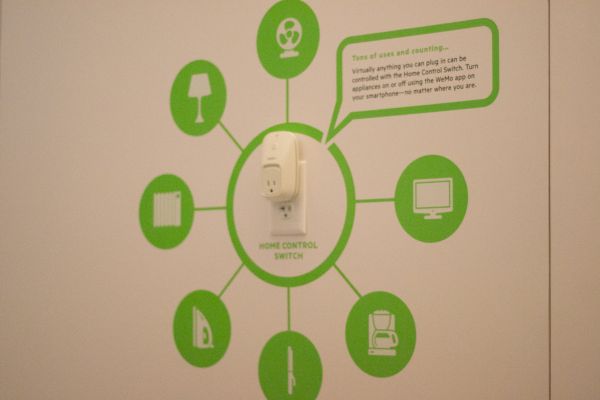 Several demonstrations were set-up for Belkin's new simplified home automation initiative, including two shipping products. The WeMo Home Control Switch places a WiFi connected switch between the outlet and your small home appliances or lights, allowing you to activate or deactivate them remotely through the iOS-only app. Paired with the switch is an available Motion Sensor that adds additional functionality to the switch. With these early devices, Belkin isn't trying to supplant more advanced home automation systems, simply make it more appealing and more accessible to users.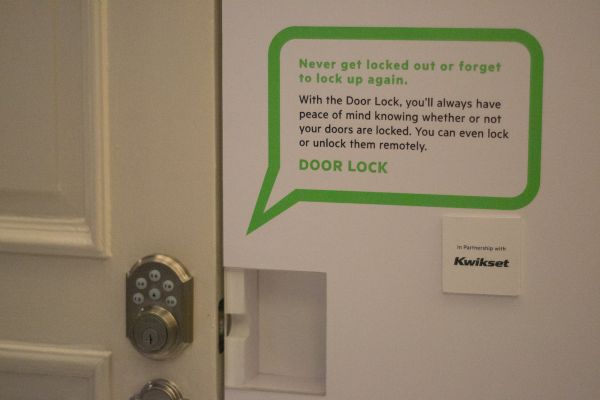 Belkin's four other demonstrations indicate the direction we can expect the WeMo line to take. A WeMo Door Lock, in collaboration with Kwikset, would allow remote opening of locks, while retaining a keypad and traditional lock. Perfect for the forgetful person that leaves without their keys. (Ed. note: I need this.) A lighting solution was demonstrated with a outlet connected switch providing wireless control of a WiFi equipped light bulb. This particular demonstration is a favorite among home automation providers. Though not available for demonstration, mock-ups of a remote garage door opener and baby monitor were also available. I question the wisdom of having users pull out their iPhones to open their garage doors while driving home, but the baby monitor seems like a sound application for this line-up.
Belkin Room Service Docks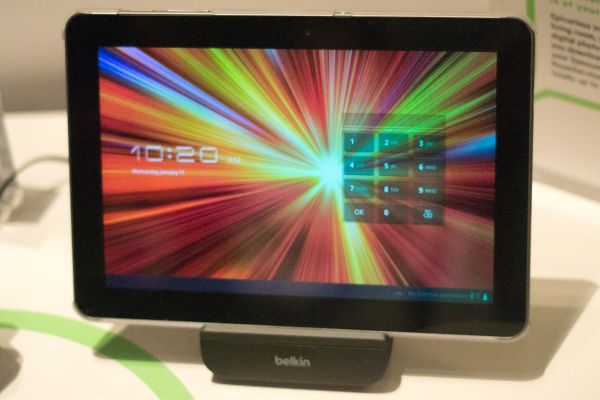 Though most of their tablet peripherals are aimed at the iPad, Belkin did have a rather interesting line of docks targeting the Samsung Galaxy Tab family. Featuring Samsung's proprietary 30-pin connector, 3.5 mm audio out with volume control and power connection, individual docks could be placed in different spaces throughout your home and each trigger a different application from the tablet when it is docked. Their concept might involve triggering a recipe app while docked in the kitchen or a music or reading app when docked in the living room.
Belkin Dyle Mobile TV and ScreenCast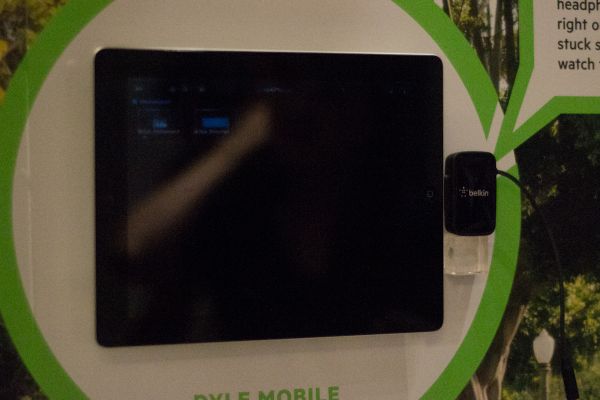 Joining Samsung as a hardware partner with Dyle Mobile, a demonstration of a mobile digital television adapter for the iPad was available. Dyle Mobile TV utilizes spectrum from a consortium of content and broadcast partners to transmit digital television designed for mobile devices. At present the devices require an external antenna, in this demonstration the antenna is formed through a set of headphones connected to the dongle itself. Obviously, this makes for a somewhat inelegant design, but perhaps in the lead-up to release they will find a way to internalize the antenna.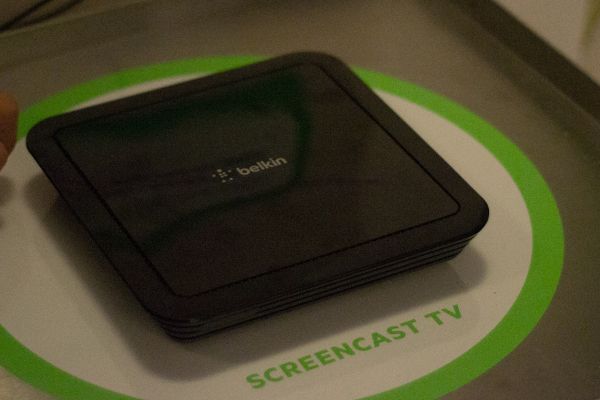 With the ScreenCast TV and AV4, Belkin is trying to bring simplicity and lower cost to place shifting and home theater installations. The ScreenCast TV is their SlingBox competitor, with apps designed for iOS and Android being tested. The device connects via component to your source, say a cable box, and either wired or wirelessly to your network, and then allows you to receive your content stream on your tablet or phone from wherever you have a reliable internet connection. A DVR solution is also being considered which would allow remote scheduling, recording and viewing of content. The product is in the early stages, and the demonstration worked well. Being limited to component, though, means that 1080i and two-channel audio are the best that can expected.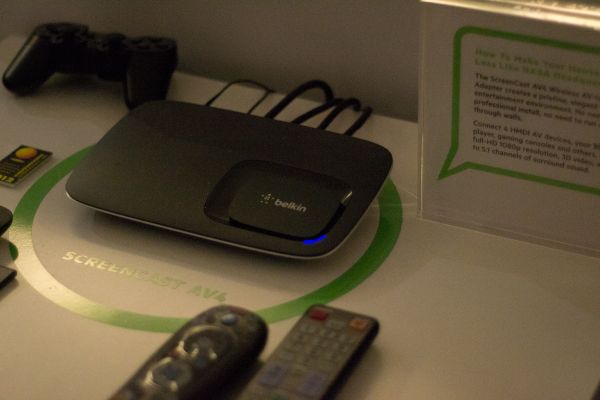 The ScreenCast AV4 is a product closer to production ready, and will appeal to those interested in keeping a clean and tidy TV viewing experience. The product uses two base stations, a transmitter and a receiver. The transmitter can connect to up to four devices via HDMI and transmits the signals over a 5 GHz band to the receiver which is connected to your TV by HDMI. Audio and video are included in the stream (up to 1080p and 5.1 surround), and in an area where the 2.4 GHz is even more crowded than usual, the demonstration had no difficulties.
Belkin N900 Dualband Router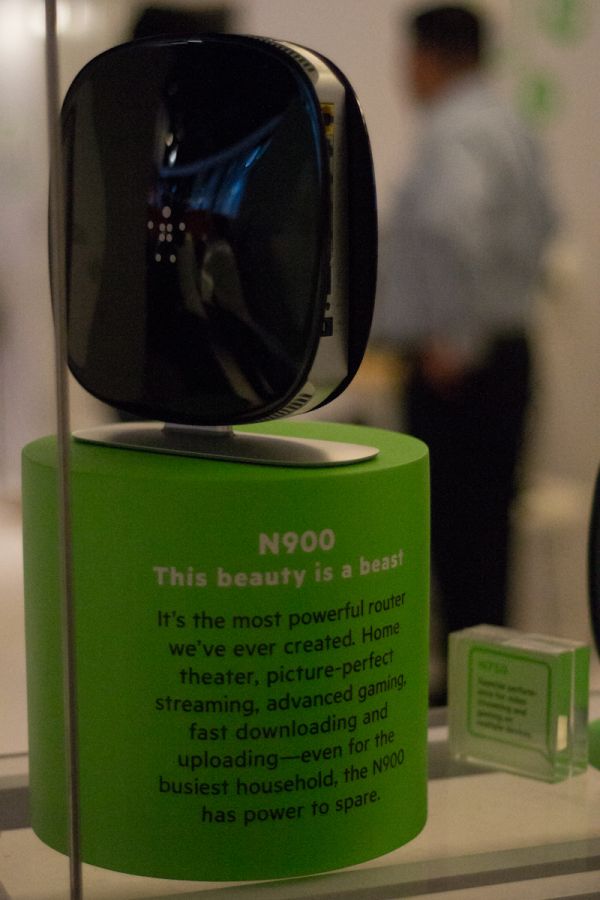 The only new networking product Belkin had on hand was sadly not an 802.11ac device. The dualband N900 does bring specified performance parity to devices from Cisco and Netgear with the ability to transact up to 450 Mbps of data on both the 2.4 GHz and 5 GHz bands simultaneously for a total throughput of 900 Mbps. The 3x3 router includes Belkin's latest QoS implementation, four GbE ports, and 2x USB 2.0 ports for attaching storage or printers. The router won't be released till April and will be expected to retail for less than $200.