Acer has formally announced the US pricing and launch date details for the Iconia A200, the follow up to the Iconia A500 tablet it launched mid-last year. The A200 specsheet reads pretty similar to the A500, with a 10" 1280x800 display, Honeycomb 3.2, Nvidia's tried-and-true Tegra 2 computing platform, 1GB of memory, microSD expandable storage, a full size USB port, and your choice of 8GB ($329) or 16GB ($349) internal NAND.
Some of the bigger changes include the deletion of the rear facing camera (a 2MP front facing webcam remains), but by far the biggest difference is the change in industrial design. The A200 has a much cleaner and more elegant design than the A500, with a smooth, rounded backplate done in a titanium gray soft-touch plastic (there's also a metallic red model available elsewhere in the world, though the Acer US press release makes no mention of its availability on this side of the pond).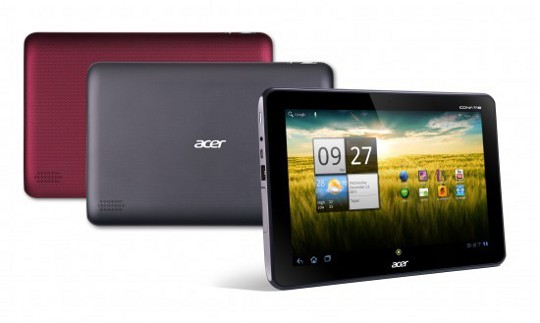 The overall look is more conventional and conservative than the A500, but it looks like it should have better build quality (our biggest peeve with the A500 being the ill-fitting plastic and metal pieces that made up the chassis) due to the single plastic part making up the body of the device. Also, the rounded edges and corners should make it more comfortable to handle than the previous Iconia.
The A200 will hit stores on January 15 with Honeycomb 3.2 installed; an upgrade to Ice Cream Sandwich (4.0) is promised in the mid-February timeframe. With its budget-oriented price and relative lack of features, the A200 is clearly aimed at the entry-level 10" tablet market. For performance users, Acer is expected to debut a high end Iconia Android tablet at CES next week, so stay tuned.