Introduction
Late last year, we took a look at the ASRock CoreHT 252B, a Sandy Bridge-based midrange HTPC. We liked the CoreHT quite a bit, noting that the small form factor HTPC was a solid choice for most users in this segment. It was hit all the key points, though it didn't do anything in particular to set itself apart from the rest of the SFF crowd. Our main complaints centered around the hard drive performance, and to that end comes the ASRock CoreHT Server.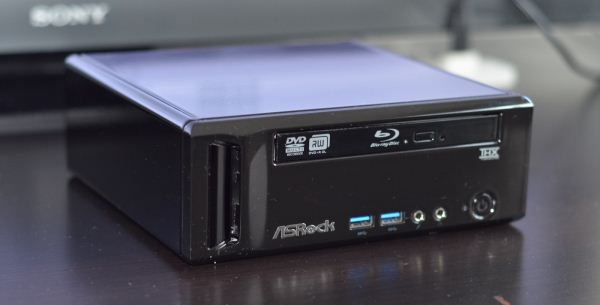 It's very similar to the CoreHT we reviewed before, even sharing nearly the same specs. The one major difference: there's two 500GB HDDs in the place of one, configured in RAID 0. Other than that, there's the same mobile Sandy Bridge internals, headlined by the HM67 chipset and Core i5-2410M processor.
ASRock CoreHT Server Edition HTPC Specifications
Processor
Intel Sandy Bridge Core i5-2410M
(2 x 2.30 GHz (2.90 GHz Turbo), 32nm, 3MB L2, 35W)
Chipset
Intel HM67
Memory
2 x 2GB DDR3-1333
Graphics
Intel HD Graphics 3000
650 MHz / 1.2 GHz (Turbo)
Hard Drive(s)
2 x 500GB 7200RPM 2.5" HDD (RAID 0)
(Western Digital Scorpio Black WD5000BEKT, Hitachi HTS7250)
Optical Drive
Blu-ray/DVDRW Combo
Networking
Gigabit Ethernet
802.11b/g/n (2T2R Atheros AR5B97 in AzureWave AW-NE121H mini-PCIE card)
Audio
Microphone and headphone/speaker jacks
Capable of 5.1/7.1 digital output with HD audio bitstreaming (optical SPDIF/HDMI)
Operating System
Windows 7 Ultimate 64-bit (Retail unit is barebones)
Extras
THX TruStudio Pro Audio Certification
IR receiver and MCE remote
Pricing
TBD
ASRock's Core HTPC line is their midrange model, slotting between the entry level ION-based machines and the high-end Vision 3D units. The Server is externally exactly the same as the 252B, so I'll refer you back to that review for more details on the unboxing experience. The CoreHT case is glossy black, mostly angular, but the industrial design is understated and fits well in an A/V cabinet. I like the two USB 3.0 ports on the front, as well as the understated nature of the design. The industrial design isn't premium by any means, but it's generally inoffensive and doesn't bring attention to itself, which is perhaps the most important visual trait for an HTPC.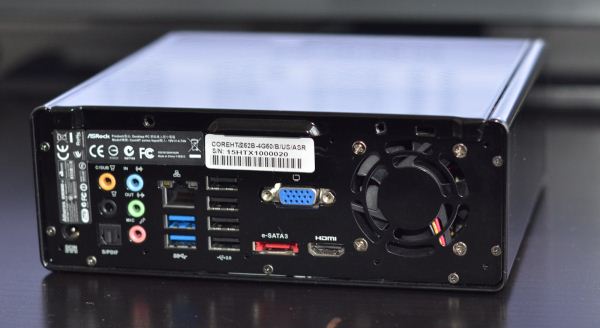 There's a decent array of ports on the back, with four USB 2.0 ports, another pair of USB 3.0 ports, eSATA, SPDIF, Gigabit Ethernet, VGA, and of course HDMI. Cooling is handled with an intake vent on the front of the system and a small exhaust fan at the back.