Introducing the Toshiba Qosmio X775
Toshiba's flagship Qosmio line of notebooks have been, for the longest time, big, flashy, red and black beasts. These juggernauts sported 18" screens with high-end graphics and processing power, but at the same time they were...well, probably not the most attractive notebooks on the market. But Toshiba's success with the 13" Portege has led to some design changes, and the Qosmio has gone under the knife. It's still a substantial desktop replacement notebook, but it's shed a couple pounds, an inch off of the display, and some of the gloss. Is Toshiba's major redesign a success?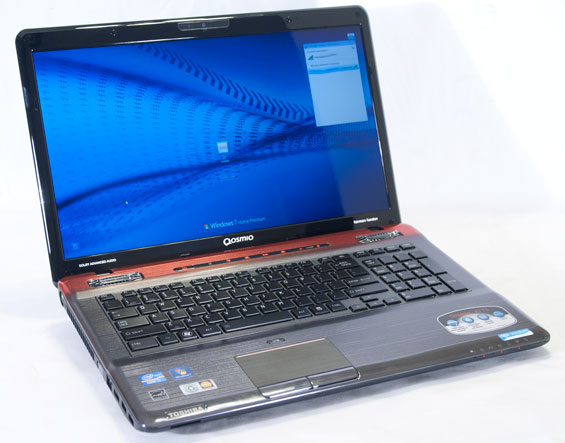 Toshiba's Qosmio line has tended to aim pretty high and unfortunately then as now they have some stiff competition. While the new Qosmios are priced to move and Sandy Bridge gaming notebooks aren't necessarily out in force at low prices, Toshiba still has to contend with ASUS's G74 refresh of our personal favorite budget gaming machine, the G73. ASUS kept the cooling system and fixed the keyboard, and we should have our review posted soon. For now, though, Toshiba has specced the new Qosmios across a number of price points, starting at an MSRP of $1,199 and going all the way up to a 3D-enabled model for $1,899. Here's the review system we received.
Toshiba Qosmio X775-Q7272 Specifications
Processor
Intel Core i7-2630QM
(4x2GHz, 32nm, 6MB L3, Turbo to 2.9GHz, 45W)
Chipset
Intel HM65
Memory
1x2GB Samsung DDR3-1333 and 1x4GB Samsung DDR3-1333 (Max 2x8GB)
Graphics
NVIDIA GeForce GTX 560M 1.5GB GDDR5
(192 CUDA cores, 775MHz/1550MHz/2.5GHz core/shader/memory clocks, 192-bit memory bus)
Display
17.3" LED Glossy 16:9 1600x900
(Samsung 173KT01-T01 Panel)
Hard Drive(s)
2x Seagate Momentus 7200.5 500GB 7200RPM HDDs
Optical Drive
MATSHITA BD-ROM/DVD+-RW Combo Drive
Networking
Realtek PCIe Gigabit Ethernet
Atheros AR9002WB-1NG 802.11b/g/n
Bluetooth v3.0
Audio
Realtek ALC269 HD Audio
Stereo speakers
Mic and headphone jacks
Battery
8-Cell, 10.8V, 48Wh battery
Front Side
MMC/SD/MS Reader
Left Side
AC adaptor
Exhaust vent
VGA
Ethernet
HDMI
USB 3.0 (sleep charge)
USB 2.0
Right Side
Headphone and mic jacks
2x USB 2.0
Optical drive
Kensington lock
Back Side
-
Operating System
Windows 7 Home Premium 64-bit SP1
Dimensions
16.3" x 10.8" x 1.1"-1.49" (WxDxH)
Weight
6.6 lbs
Extras
Webcam
Flash reader (MMC, SD/Mini SD, MS/Duo/Pro/Pro Duo)
USB charging
Blu-ray
Warranty
1-year limited warranty
Pricing
MSRP $1,449
Most of what we're seeing here we've become fairly accustomed to. Intel's Core i7-2630QM is practically ubiquitous right now, offering the most inexpensive mobile quad-core solution Intel's ever had, and Toshiba backs it up in this configuration with 6GB of DDR3; the 3D Qosmio, their $1,899 flagship model, bumps this to 8GB. The i7 and 6GB of DDR3 are joined by Intel's HM65 chipset, which doesn't support RAID.
The new blood here is the NVIDIA GeForce GTX 560M, which we haven't had a chance to really play with yet. This chip offers a very healthy bump in performance from the 460M; while it retains the 192 CUDA cores and 192-bit memory bus connected to GDDR5, the clock has gone up 100MHz to 775MHz (and correspondingly brought the shader clocks up to 1550MHz). The GDDR5 remains clocked at an effective 2.5GHz. Since i7-2630QM-equipped gaming notebooks are fairly common, we should be able to provide a fairly direct apples-to-apples comparison to see how much that clock bump affects the 560M's performance; given the specs, it should be roughly as powerful as a desktop GTS 450.
As for the rest of the Qosmio, it's fairly business as usual, with USB 3.0 and 2.0 support, a card reader, gigabit Ethernet, wireless-n, and Bluetooth. Toshiba opts to equip this model with a pair of 500GB 7200RPM hard drives; models further up the chain incorporate Seagate's Momentus XT hybrid drive as the system drive. There's a welcome Blu-ray reader, too, but your spirits will be dampened somewhat to know the screen is the exact same panel we just reviewed in our $700 Llano notebook: a 17.3", 1600x900 panel by Samsung. The only way to get 1080p in a Qosmio now is to buy the 3D Vision enabled $1,899 model. Boo, hiss!