It appears that this is the season of inexpensive Android tablets, and with Christmas less than two weeks away, a well-discounted Honeycomb tablet is an interesting gift idea. When Honeycomb debuted, it came hitched to the $799 Motorola Xoom, a device that was a solid first effort but had buggy software and a pricetag that was too high by half. In the following months, Honeycomb became a more mature platform and the price of entry to the Honeycomb club lowered as more devices were released, eventually settling in the $400-500 range.
Recently during the holiday shopping season, we've seen retailers mark some of the lower-end Honeycomb tablets down pretty significantly. We've seen tablets like the original ASUS Transformer, the Acer Iconia Tab A500, and the Toshiba Thrive break the $300 mark, with the Thrive at one point going as low as $199. In the $250-300 range, a budget oriented Honeycomb tablet is a pretty tempting buy. Is it worth saving 50% compared to a higher end tablet like the Samsung Galaxy Tab 10.1 or the new ASUS Transformer Prime? We decided to take a look at Toshiba's Thrive to figure it out.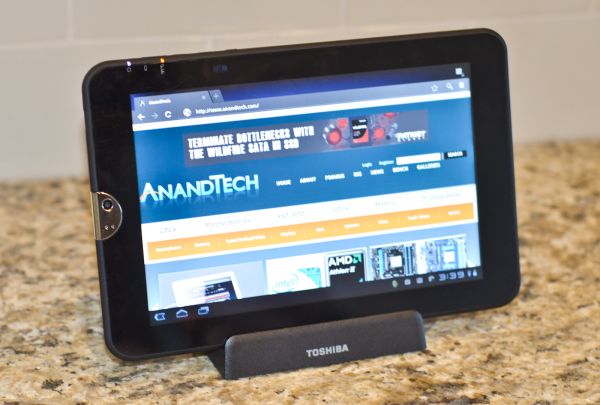 The Toshiba Thrive
Toshiba was a relative late-comer to the tablet game, with the Thrive hitting market in the second half of summer. When we first saw it at CES in January, it was still an unnamed Tegra 2-based tablet, one of the first in a series of Honeycomb tablets to be shown off at the trade show. Toshiba's tablet took a much longer path to launch than similar products from Motorola, ASUS, Acer, and Samsung. It leaked out as the ANT-100 in Newegg's item catalogue, then as the Japanese-market Regza AT-100. It hasn't exactly set the Android world on fire since its debut, but it's an interesting player in the tablet place.
Tablet Specification Comparison
Toshiba Thrive
ASUS Eee Pad Transformer
ASUS Eee Pad Transformer Prime
Samsung Galaxy Tab 10.1
Dimensions
271mm x 175mm x 12.95mm
263 x 180.8 x 8.3mm
256.6 x 172.9 x 8.6mm
Display
10.1-inch 1280x800
10.1-inch 1280 x 800
10.1-inch 1280 x 800 Super IPS+
10.1-inch 1280 x 800 PLS
Weight
725g
675g
586g
565g
Processor
1GHz NVIDIA Tegra 2 (2 x Cortex A9)
1GHz NVIDIA Tegra 2 (2 x Cortex A9)
1.3GHz NVIDIA Tegra 3 (4 x Cortex A9)
1GHz NVIDIA Tegra 2 (2 x Cortex A9)
Memory
1GB
1GB
1GB
1GB
Storage
8GB/16GB/32GB + full-size SD card
16GB + microSD card
32GB/64GB + microSD slot
16GB
Pricing (MSRP)
$379/399/479
$399
$499/$599
$499
Street Pricing
$299
$349
$499
$470
At first, it looks like a rather clunky beast; at 16mm and 725 grams, it's almost twice the thickness of the Galaxy Tab 10.1" and 150 grams heavier. And it's true, the Thrive is nowhere near as slim as any of the other tablets out there—the Motorola Xoom and ASUS Transformer are 3mm thinner, and even the rather portly HP TouchPad is a good 2.5mm thinner. This tablet is way, way thick, like MacBook Air thick. It's only half a millimeter thinner than my Dell Adamo 13, a laptop that's nearly three years old now. You want a really telling stat? The Thrive is three millimeters thicker than the Samsung Series 7 Slate, and that's packing a Core i5. Yeah, a real Windows Tablet PC.

The weight is also up there, just 5 grams behind the Xoom and TouchPad for the title of heaviest tablet we've tested thus far. However, due to the sheer size and bulk of the Thrive, it doesn't actually feel that heavy—it's not particularly dense like the TouchPad or the original iPad. The reason for this is actually pretty simple—the Thrive isn't particularly well built.
There's a fair amount of flex throughout the chassis, especially in the battery cover, enough to be a bit disconcerting. Even the screen has a bit of give, and the entire device is susceptible to torsional flex in a way that the class leaders aren't. Even Acer, never reputed to have the most solid systems in the world, did a better job here with the aluminum-bodied A500. It's a bit of a shame, because otherwise the Thrive is actually a relatively comfortable tablet to use.