Introducing the Cooler Master Storm Enforcer
It's a treat to get one of Cooler Master's enclosures in for review: they've been at it for a long time, and they have cases that cover virtually every price point on the market. They manufacture my personal favorite Micro-ATX budget enclosure, the Elite 360, an attractive $40 devil that makes for a fantastic budget HTPC case. They're also responsible for the crowd favorite enthusiast juggernaut, the Cosmos. What we have in today isn't the beast the Cosmos is, but it's not the pint size player the Elite 360 is either. From their Storm series of gaming cases we have the Enforcer. At an MSRP of $79 it lands right between our incumbent In-Win BUC and the budget ninja BitFenix Shinobi. Can it beat them both?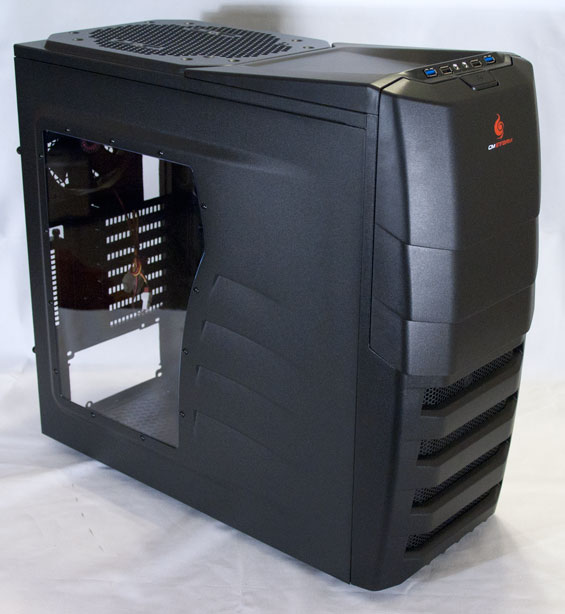 I wound up reviewing the Enforcer fresh off of working with the BitFenix Shinobi, so that entrant is still fresh in my mind. Opening the box and pulling out the Enforcer made me again feel refreshed to see that an inexpensive case doesn't necessarily mean "cheap;" while it's $10 more than the Shinobi, opening the case and poking around its insides revealed a modern design with more than a few thoughtful touches that we'll discuss in greater detail in just a bit. But first, the specs:
Cooler Master Storm Enforcer Specifications
Motherboard Form Factor
ATX, Micro ATX, Mini ITX
Drive Bays
External
4x 5.25" (includes 5.25"-to-3.5" external bay adapter)
Internal
6x 3.5", 2x 2.5" (includes adapter to add two additional 2.5" bays in 3.5" bay)
Cooling
Front
1x 200mm red LED intake fan (3-pin header w/ molex adaptor)
Rear
1x 120mm exhaust fan (3-pin header w/ molex adaptor)
Top
2x 120mm or 1x 200mm fan mount
Side
-
Bottom
-
Expansion Slots
7 normal plus 1 for fan controller/extra ports
Front I/O Port
-
Top I/O Port
2x USB 2.0, 2x USB 3.0, headphone and mic jacks
Power Supply Size
ATX
Clearance
15" without drive cage/11" with drive cage (Expansion Cards), 175mm (CPU HSF), 290mm without 2.5" drive cage/180mm with 2.5" drive cage (PSU)
Weight
19.5 lbs.
Dimensions
20.6" x 9.0" x 19.0"
Price
$79
The Enforcer also has a door that covers the external drive bays with a hinge on the right-hand side, which actually struck me as a little unusual since the Antec cases I've tested all hinged on the left. It's a minor point in the grand scheme of things, what may be less minor is the way the Enforcer supports USB 3.0: this is the first enclosure I've tested that uses the USB 3.0 motherboard header instead of just running a pass-through to the back of the case. Cooler Master includes a slotted expansion bay cover expressly for routing an adaptor cable to the back, but unfortunately the Enforcer doesn't include that cable, so if your motherboard is decidedly old school that way (since when did USB 3.0 become old school?) you'll have to buy it separately.